Lulo Kitchen & Juice Bar makes you feel good about your dining choices, about your health and about the world in general. The fresh, bright ingredients take care of the first two, and chef/owner Stefhanie Montoya's attitude creates the third. "You feel special when you're eating food made with love," she says. "When I cook I focus on that present moment, on making something special."
Opened one year ago, Lulo's small, efficient kitchen is located on the first floor of the space, along with a café-type dining room. The basement, officially known as the Restobar (though Montoya's husband Mario refers to it as "the speakeasy"), holds the bar and more dining space.
Whichever room you choose, you'll find a Latin vibe and only the freshest food. Lulo is a busy, popular place, which is why Montoya knows she's on to something. "When I talk to my customers after they have a meal, they tell me how special they feel — 'every time I have this dish I feel good,' [they say]. That is a confirmation to me that I'm doing the right thing."
Here are a few things to know about Lulo before you visit.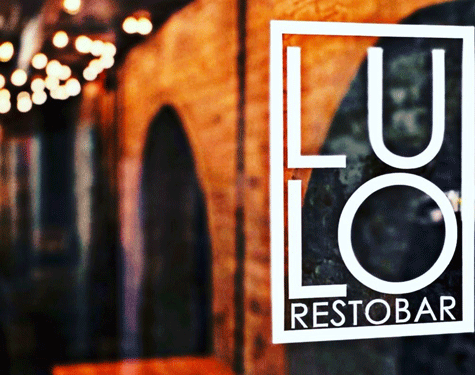 The Space
The main level of Lulo's vibrant West Ninth location is a little café space with lots of green plants, colorful art and light from the front windows. The colorful food is a design element of its own, but the real showstopper is Lulo's signature, black-and-white mural, an eclectic grouping of people chosen by the Montoyas. "It's a mural full of our favorite Colombian characters," Montoya explains, including Nobel-Prize winning writer Gabriel Garcia Marquez, singer/songwriter Carlos Vivas, and 1958 Miss Universe Luz Marina Zuluaga. Nights and weekends, the big show is at the bottom of the brightly lit, dark wood stairs in the Restobar. In addition to the bar, there's a dining space and a club-like vibe, with Latino music and a slightly different menu. "We add ceviches, different kinds of appetizers, but it's still a combo of flavors from Latin America," Montoya says. It's also a space that's becoming increasingly popular of birthday parties and similar social occasions, much to Montoya's delight. "We like that. It brings people together."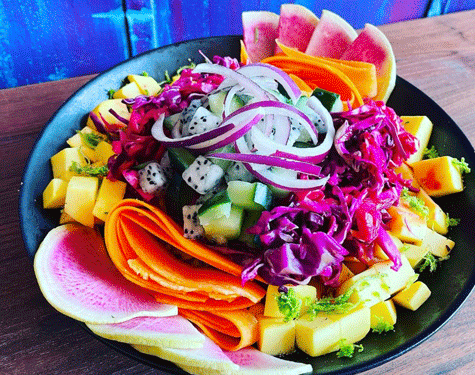 The Food
The watchword here is fresh, with homemade a close second. "Everything is made fresh, and all our salsas are homemade," says Montoya, "with a very Latin American inspiration." In response to customer needs, every item on the menu can be easily made vegetarian or vegan, simply by removing the meat and increasing the other ingredients. The carne asada ($16) is every bit as satisfying without the skirt steak, punching up the colorful, crunchy pinto beans salad and spicy Argentinian-style chimichurri over meat and served rice and sweet plantains. The offerings at Lulo are simple in that much of it — with the exception of the rice, meat, and a few additions — is uncooked, but the combination of chopped and seasoned ingredients creates a complexity that plays on the tongue. Grilled chicken ($15) begins with white rice, seasoned grilled chicken and lettuce. The spicy cherry tomatoes, fresh mint, and tostones (sweet plantains fried in sunflower oil) add three distinct elements that you can sample one at a time or all in one delightful bite.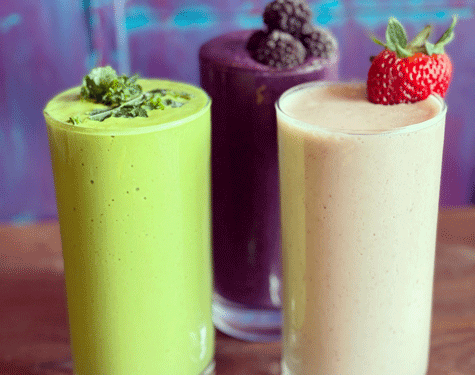 The Drinks
Lulo offers smoothies, juices, lemonades, iced herbal teas, and cocktails. The kitchen kicks into gear when each order is received. Want a mango smoothie or juice? ($9) The mango will be peeled, chopped, juiced or blended, and brought to your table in a glass. "It's surprising to people," Montoya says of their drinks creation process. "All our lemonades, juices and smoothies are made at the moment the customer orders." The iced herbal teas ($6) look more like tropical cocktails, complete with flower blossoms, rose petals, and bright ombre colors. Just as every dish can be made without meat, so can the cocktails easily be made alcohol-free. Try a popular berry mojito ($13), made with strawberries, raspberries, and blackberries, all chopped fresh for the weekend. "Sometimes it's hard," Montoya says of her commitment to freshness. "It's difficult to find pineapples that are sweet enough to make pineapple juice, and sometimes we have to squeeze a lot of limes, but I think it's a beautiful job we're doing, putting a lot of love into it, and people can tell."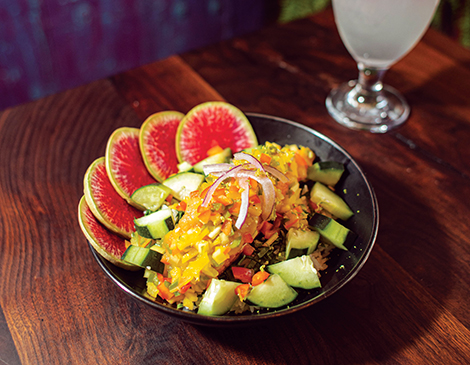 Try This: The Mango Salmon ($22) is "like a salad but not really a salad at all," says Montoya. Like a salad, it's meant to be eaten at once, rather than element by element. "The idea was to have a blend of food on the same plate," she says. "If you have the ingredients all separately, you don't give yourself the opportunity to taste them together." Unlike most salads, this dish is bright, hearty, textural and fascinating. Seasoned spinach, mango puree, pan-crispy salmon and mango salad, a colorful blend of peppers, mango, red onion and rainbow radish, are layered atop white rice and finish with refreshing chopped cucumbers and lime zest. "It's pretty simple," Montoya says, "but very rich in flavor."