Jessica Parkinson and Jill Vedaa — the team behind the beloved, decorated Lakewood small plates restaurant Salt — did not intend to expand to the East Side.
Both growing up in Lakewood, they're West Siders at heart. Driving across town just didn't make sense, especially as the team readies Evelyn, their forthcoming Spanish tapas experience in the former Spice Kitchen + Bar space in Gordon Square.
Then the Mueller family called. Margaret Mueller had opened Felice Urban Cafe in a cozy green house on Larchmere Boulevard in 2008 at age 79. The family was ready to sell the restaurant this magazine named one of Cleveland's Best Restaurants in 2018 — but only to the right buyer.
"'Change your face, Jess,'" Parkison remembers Vedaa saying to her as the two toured the property, which includes a three story building and gorgeous garden patio. "You start to see visions."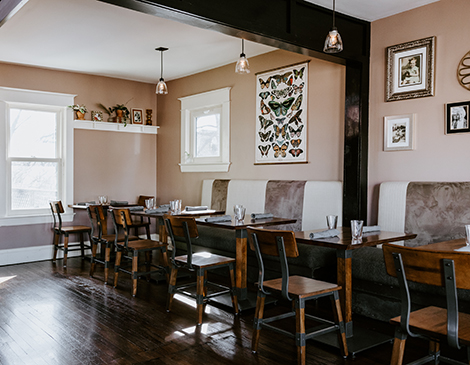 Today, that vision officially comes true as Parkison and Vedaa officially open their second restaurant, Poppy, on Larchmere Boulevard. Frequenters of Salt will find familiar dishes and food philosophies, presented with heavier entrees and a more international flair.
For the dynamic duo, who only first met just about eight years ago and have both been honored in our annual Most Interesting People feature, opening the space is a major next step in their journey.
"It's serendipitous that we're opening on International Women's Day," Parkison, who hosted a few nights of soft openings ahead of the official March 10 opening. "I can't stop smiling, right? It's just a proud moment for both of us."
The restaurant is now officially open and taking reservations. Right now, dinner service is Wednesday through Saturday starting at 5 p.m. and ending at 10 p.m., though lunch service starts March 20. The patio opens June 1.
Here's everything you need to know about the new restaurant.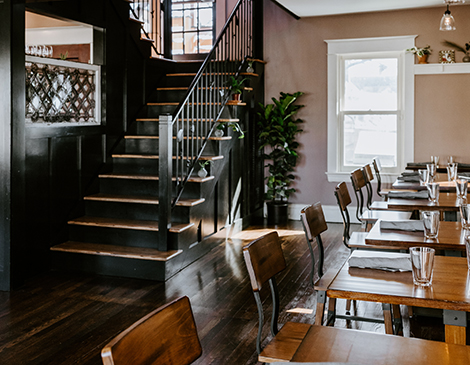 (Tiffany Joy, Courtesy of Poppy)
The Space
The 75-seat project took two months of renovations, a face lift that the Salt team took on itself that included a fresh coat of paint, installing a wall so visitors could no longer walk through the kitchen and opening up space on the second floor.
The charm hits as soon as you enter the enclosed front porch, which seats a handful of guests on one side and features swinging chairs and greenery on the other. The first floor hosts a cocktail bar and a dining room centered around a wood fireplace. On the second floor, the team ripped out a 10-seat bar and added banquet seating. The third floor is now closed for storage.
Despite the changes, fans of Felice are sure to still feel at home in the 115-year-old house.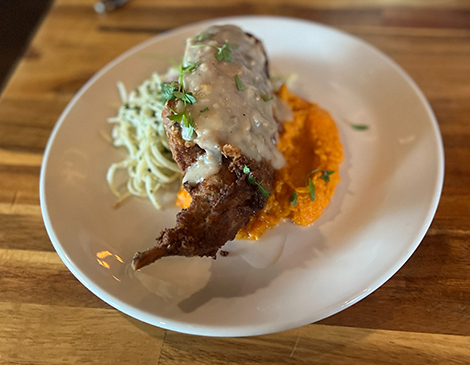 (Photo by Dillon Stewart)
The FoodThe latest menu from the James Beard-recognized Vedaa is a perfect foray into her culinary world for Midwesterners who shudder at the phrase "small plates."
"There's a very international flair to it," says Parkison. "It goes from small to large."
Those are certainly there in good measure — with classics like the White Bean Puree ($13) making the jump from Salt — and the menu is still plenty shareable. From our first visit, the potato leek fritters ($14) and ricotta dumplings ($21), served in a broccolini pesto with mushroom marmalade, put surprising spins on familiar comfort food.
But Poppy also offers more traditional, eat-it-yourself entrees than its Lakewood sister. The buttermilk fried rabbit ($28), which came on a bed of celery root slaw and mashed sweet potatoes, made me disavow chicken on the spot. The lamb burger ($18) with whipped feta, tomato jam and pickled cucumber even predates Salt, with Vedaa first presenting that dish as the head chef of Rockefeller's Restaurant in Cleveland Heights.
While Salt's menus are famous for constantly changing, diners can expect more stability from Poppy, which plans to rotate dishes seasonally.
"We had some small discussion. We really wanted to do a more traditional menu with appetizers, salads and entrees," she says. "With Jill, you just kind of let her creative brain take over."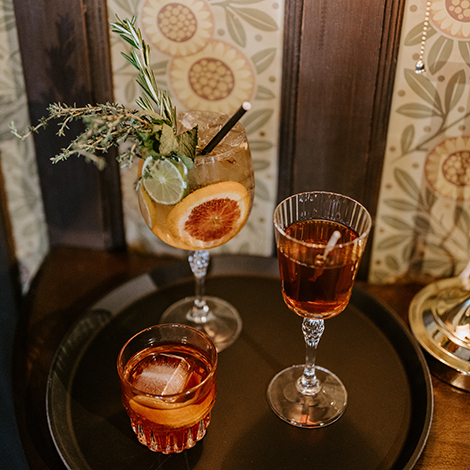 (Tiffany Joy, Courtesy of Poppy)

The Drinks
Parkison's drinks are shaken and stirred from a stained-glass window bar adjacent to the dining room. The menu has a Wizard of Oz theme after her grandmother's favorite movie.
"There are a couple of showstoppers," says Parkison.
Come Out, Come Out Wherever You Are ($15) features Espolon Reposado tequila, Aperol and Cocchi Americano lemon, and it gave us an almost peanut butter-sweet note. The I'm Melting ($15) puts a fun twist on tiki with a snow cone topping through which the shaken drink of rum, pineapple and lime is poured.
Another fun surprise is the "Adult Milk" and cookies ($9 or $16), a boozy take on a forever-favorite from grandma's house.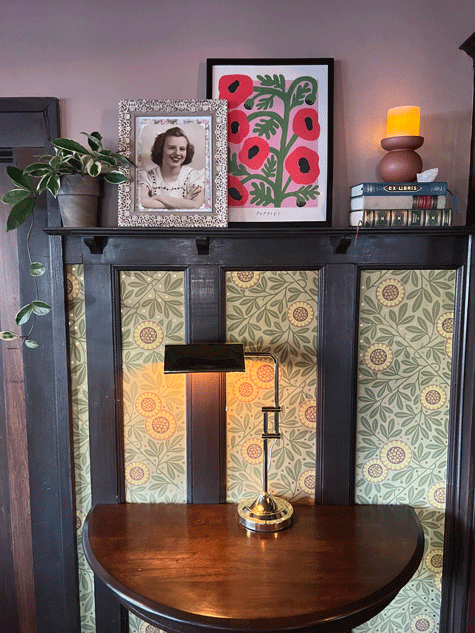 Who's Poppy?
Parkison grew up in her grandma Poppy Etta Hodgson's house on Northland Avenue in Lakewood. Poppy's father, Duke, named her after the poppy field near where he was stationed in France during World War II. "Waking up in a poppy field was the only thing that brought me joy," he told his wife.
"She was jovial and fun and kind and gave the best hugs," says Parkison. "I would sit on her lap every day. She loved it. Her house was like the center of our family. And I just was lucky enough to live with her."
Poppy created an idyllic home. Betty Crocker cookbook dinners awaited Parkison and the rest of the family every evening at five o'clock. When she came home from school, milk and cookies greeted her. With six kids and even more grandkids, Poppy's house was always full of love.
In fact, it's the reason she just couldn't pass up the house on Larchmere.
"The house that I grew up in is incredibly reminiscent of this house," she says. "We want to make it really cozy."
Bite into the Cleveland dining scene by signing up for our free weekly CLE Food & Drink newsletter — your guide to food and drink throughout The Land. Arriving in your inbox every week, this coverage fills you in on everything from mocktails to shareable plates — and more. Click here to subscribe.