Punch Bowl Social is going back to its roots. After less than a year in Cleveland, the Denver-based company is steering away from individual menus at each of its six location and creating a singular Southern based menu. Celebrity chef Hugh Acheson, known for his appearances on Top Chef and his Athens, Georgia restaurant Five & Ten, has come on board as Punch Bowl Social's culinary partner creating recipes and training chefs across the nation. "He's one of the pioneers of southern cuisine," says culinary operations director Christopher Cina. "[We're] getting back to being very southern focused." The new menu continues the social aspect of communal eating with more than 12 sharable plates and punches to choose from, while still offering a large amount of single plates. Here are a few you absolutely need to try on your next visit.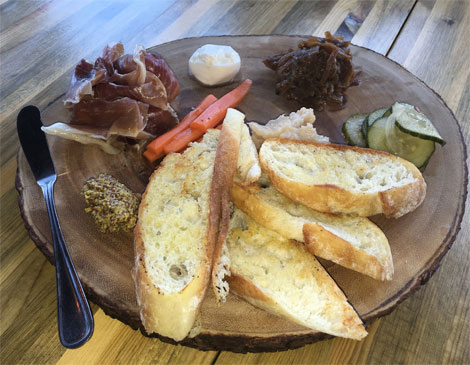 Farmer's Board ($14): If you're looking for something sharable, this plate offers versatility and creativity. Make your own prosciutto sandwich with ciabatta toast, burrata cheese and grain mustard, or make a meat wrap and stuff it with in-house pickled cauliflower, carrots and pickles and onion marmalade. There's no right or wrong way to eat it, and every combination we tried was delicious. Hopefully they keep the bread coming, because there was more meat, cheese, and veggies than there were toast.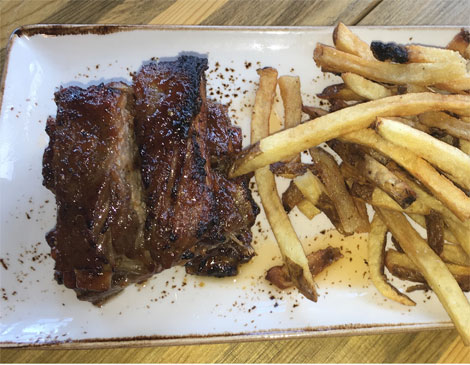 Confit St. Louis Ribs ($21): It's a hefty amount of ribs to believe it's just a half-rack. Our ribs were tender, with the whole piece falling right off the bone at a simple tug. They're cooked in fat, which explains the bold flavor, and were shyly slathered in just right amount of Memphis-style BBQ sauce while still having a nice crisp on top. The dish is served with fries and a lemon and olive oil based cabbage salad.
Mushroom Biscuits 'n' Gravy ($10): This dish was the star of our tasting experience. The brunch plate is a play on the southern staple of biscuits and gravy expect for the fact that the gravy isn't meat-based. Instead our taste buds were dancing at the white mushroom gravy slathered over soft buttermilk biscuits with two any-style eggs on top. Alongside of the main attraction are crispy potatoes, and cornmeal battered roasted tomato and some sliced avocado.