Just in time for spring, Sapphire Creek Winery & Gardens is expanding with a second, picturesque wine, food and event campus.
The Chagrin Falls-based company has purchased Thorncreek Winery & Gardens in Aurora. It plans to rebrand the space as the Orchid House Winery. The new concept, which opens March 30, features a restaurant, two event spaces and a members-only bourbon bar.
"It was a really nice fit for our brand because Thorncreek had the same kind of emphasis on the indoor-outdoor integration that we do at Sapphire Creek," says Kathleen Birkel Dangelo, who founded Sapphire in 2016 with her now late husband Andy Dangelo.
David Thorn opened Thorncreek in 2009 to combine Thorn's passions for landscaping and wine. During the past few days, Thorn has hosted a "sell-off" of the remaining bottles of wine.
"After spending years growing my business and investing in my building, grounds and employees, I am pleased to put this Winery in the hands of someone who will care for it and nurture it the way I have done," he said in a news release.
The garden vibe is not the only thing Dangelo hopes to bring to Aurora — though the manicured eight acres and 10,000-square-foot space offers that in spades.
More than just a winery, Sapphire Creek has made a name for itself as a premier event venue, especially for weddings. The Orchid House looks forward to offering two event spaces: the Hibiscus Garden, a smaller tented area for wedding ceremonies and outdoor dining, and the larger Lotus Garden, which can hold about 225 people and has an enclosed Gable Barn.
Sapphire fans are sure to rejoice over a second option for its Grand Brunch ($65), an over-the-top buffet with crepes, crudo, a carving station and more that's almost always sold out. The kitchen will be limited for a while until Dangelo finishes a full kitchen build-out with an entirely new menu.
Both Orchid House and Sapphire Creek source their wine from a private vinter in Napa Valley. This vinter is producing eight new wines specific to Orchid House, including a sparkling brut, sparkling rose, a reserve cabernet sauvignon, two pinot noirs, chardonnay sauvignon blanc, a red blend and a Vionnet. Bourbon drinkers should enjoy the exclusive basement watering hole in the aging cellar — called the Never Ordinary Bourbon Society, aka "No BS" — which offers a 20-foot raw bar and single pours of expensive bourbons like Pappy Van Winkle at cost. It will also have its own food menu.
With the restaurant, Dangelo hopes to serve a new audience as well as be more accessible to existing clientele. That said, the new location, which is about 20 minutes south of Sapphire, certainly has its own character.
"Sapphire Creek has a lot of different outdoor spaces and that has the same kind of feel, but Sapphire Creek is very modern with rustic undertones and Orchid house is traditional with some rustic undertones," says Dangelo. "We're really excited to embrace a whole new county."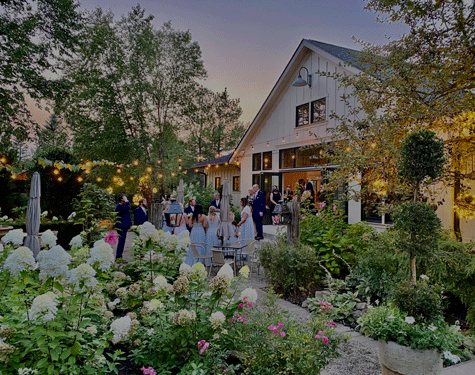 The Chagrin Falls-based company is also launching Tap Root Hospitality Group to be the parent club of both venues. Dangelo is president of Tap Root Hospitality Group, and Rick Bennett IV serves as general manager and executive chef. Tap Root is focused on launching the Orchid House for now, but its sights are set on future expansions — whether that may be a similar concept or something totally different.
Either way, the Sapphire Creek dedication to fine dining, great wine and hospitality is sure to continue in its forthcoming spot.
"I think people really like the California vibe that we project," says Dangelo. "We've got fine dining but in a relaxed atmosphere.That's why we thought Thorncreek was perfect because it feels the same relaxed atmosphere."
Bite into the Cleveland dining scene by signing up for our free weekly CLE Food & Drink newsletter — your guide to food and drink throughout The Land. Arriving in your inbox every week, this coverage fills you in on everything from mocktails to shareable plates — and more. Click here to subscribe.