What if grab-and-go sushi could hit all the high notes of a restaurant-grade roll?
That high-quality sushi experience from the comfort of your couch is exactly what founders Kumar Arora of Ilthy, Chef Fabio Salerno of Lago and Chef Kevin Wang of Akatsuki had in mind when they launched the sushi ghost kitchen Sora just over a month ago.
"We wanted to create a really beautiful experience in the home," says Arora. "We often see really cool bento boxes in the big cities, but we wanted to let people in Cleveland know you can have those luxury items."
And, you know, for me specifically coming back from LA to Cleveland, I just couldn't find good sushi anywhere. And I really still wanted to have that fine dining experience during the pandemic. So in some ways, I had the opportunity to work with Kevin and Fabio to create it.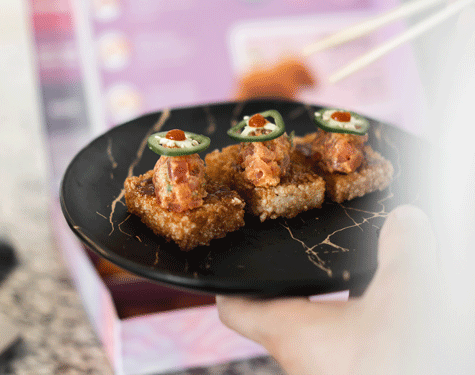 The grab-and-go Sushi Box ($45 single, $85 double) boasts a full sushi dining experience in one colorful lap-sized box. The neatly placed rainbow of rolls features two four piece rolls: a salmon and avocado roll and a chef's roll, which changes weekly. Sides include edamame and the spicy tuna-topped crispy rice, as well as a litany of sauces.
All in one box, flavors range from fried rice with a hint of spice, to cool and refreshing unadulterated fish.
"There's a perfect balance of a little bit of everything," Arora says. "We add an extra pair of chopsticks and an extra tray because it really is a party in a box."
The pickup-only Sora Sushi Box is perfectly Insta-worthy, so it's no wonder local influences, Cleveland Browns Myles Garrett and Baker Mayfield, and Fox 8's Elizabeth Norieka have all posted with theirs. The boxes have been so popular since their launch that they often sell out, so check on Instagram before placing your online order.
It's also no wonder that Sora Sushi has plans to expand, with the ownership group eyeing a few other Midwestern markets and hoping to launch a seasonal pop-up, much like Mason's Creamery's winter ramen concept, by the end of the year. Its already had popups at Lago.
"We've proven that concepts like this can exist in places like Cleveland," Arora says. "We're not just worried about creating a beautiful box, but we also really care about what goes in it."
When You Order: 4-10 p.m. daily, 1121 W. 10th St., Cleveland, 216-294-1800, eatatsora.com