Cloak & Dagger wants you to crack open its menu like you would a good book: dive in and find something you love. Part bar and lounge, part literary experience, each seasonal menu is themed to a book or author and adds to the fun. When co-founder and bartender Casey Hughes was trying to brainstorm a niche bar that Cleveland didn't really have yet in her mind, she kept thinking of something immersive and comfortable. "No TVs, no loud music, not overwhelming and very plushy." she says. "I was like, What would fit that vibe? The first thing that came to mind was an old retired author's study." Hughes steps us through her new Tremont spot that opened this month.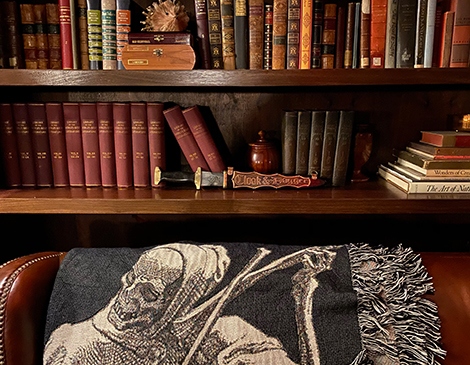 Inside Look
With walls covered in elegant picture frames, stacks of books everywhere you look around the lounge and soft lights creating a yellow glow, Cloak & Dagger is the perfect place to curl up with a good tome or drink. The lounge itself pairs dark woods on the floor and shelves behind the bar with touches of green on the curtains and the bar itself. As promised, Hughes brings plush into the bar in the way of velvet booths along one wall. "Everything's kind of tarnished and worn, but it's still like really good stuff," she says. "It's very warm, inviting, soft and just very comfortable."

Storied Drinks
In the spirit of the season, Cloak & Dagger's fall/winter menu is Tales of Life and Death, inspired by spooky literature, including Edgar Allen Poe (page two of the menu features a line from the author's short story, "The Premature Burial"). The 12 cocktails on the menu tell the story of the progression from life to death. The Almost Light ($12) made with chamomile-infused gin is bright and herbal, while the rye whiskey-based Messenger is dark and nutty. "The cocktails take you on a spectrum from light and bubbly and sweet, to dark, boozy and bitter," Hughes says.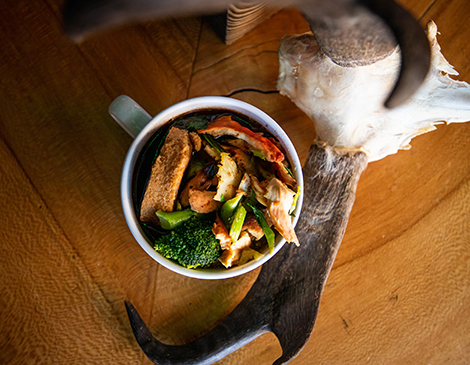 Savor The Moment
Cloak & Dagger's 11 food menu items, including entrees and bar snacks, are all vegan. Hughes says most of the staff are either vegan or vegetarian, so that was an easy choice to make. But the dishes, such as nachos ($8) with fried corn tortillas, sharp carrot cheddar cheese and pickled jalapenos, or a brisket sandwich ($10) made with mushroom and lentil, are perfect salty, savory matches for the spot's cocktails. "When we were coming up with cocktails, [chef Todd Kronika] took my flavor profiles, and he made it match well with the food," Hughes says. "So, everything you get is kind of comfort food."

When You Go: 2399 W. 11th St., Cleveland, 216-795-5657, cloakanddaggercle.com