The story of Ohio's first kava bar, co-owner David Kovatch likes to say, is kind of an accident.

In September 2021, Kovatch, a local chef and inventor, flew to Tampa, Florida, for a culinary conference. Typical in the COVID world, the conference was canceled, so Kovatch called up college roommate and Tampa local Mike Young for a reunion. Young suggested the two rendezvous at Bula Kavananda, a palm-tree lined bar in nearby Seminole Heights selling kava, a sedating, all-natural herbal root grown in the South Pacific Islands.

Two coconut shells full of kava arrived and Kovatch took a few sips. The anxiolytic effects overtook him: a wave of sedation, a bodily repose, a bitter numbness of tongue.

Therein dinged the lightbulb. Despite the herbal drink being legal for use as a dietary supplement across the United States, Ohio didn't have a single kava bar.

"As soon as I came back, I started looking for a space," Kovatch says.

That space is now Muddy Waters, a 2,000 square-foot herbal tea bar and coffee lounge on Detroit Avenue in Lakewood. Kovatch and Young, who opened the business in May with three other partners, hope to introduce Northeast Ohioans to the popular Polynesian social drink as not just a coffee-colored, natural anxiety salve but also as an alternative — and possible long-term substitute — for alcohol. In fact, "getting muddy" means "getting drunk" in Island culture.

Grown, harvested and consumed by Pacific Islanders for 3,000 years, kava is a shrub with roots packed with kavalactones. These alkaloids operate on the brain's gaba receptors as do Valium and Xanax. It's no wonder that the plant's Latin name, Piper methistycum, means "intoxicating pepper."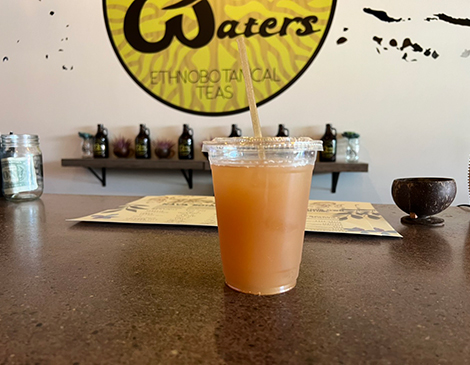 Unlike the Fijians of the past, Muddy Waters offers a spectrum of strains — like the "socially stimulating" Vanuatu ($4) to the "couch locked" Solomon Isle ($3.50) — from four different parts of the South Pacific. For kava virgins, Kovatch decided to prep the bar with a wide variety of recognizable flavors, from cold brew-blended kava lattes ($7) to refreshing spritzers ($7) and kava mule ($7), reminiscent of a Moscow mule. The introductory, catch-all philosophy extends to Muddy's interior design, a harmonious cross between an upscale hookah bar and a Belgian coffee house.
"I just want people to be relaxed as soon as they walk in the door," Kovatch says.
Retailers and baristas tout its non-addictiveness and lack of hangovers. In Polynesian social life, business deals are sometimes made over shells, and kava is already a staple in the Sunshine State since the first bar opened in Boca Raton in 2002. A map from a popular purveyor, Kalm with Kava, states that Florida now has more than 80 kava bars. Hawaii, nine. North Carolina, 11.
Ohio? None.

"It was only a matter of time," Kovatch says. "Somebody was going to be the first."

A self-described individualist raised in Westlake, Kovatch studied culinary arts and business at Johnson and Wales University with an aim of following Cleveland's budding food scene in the early aughts. After several years slinging dishes in West Side establishments, he grew disillusioned with the corporate power structure.

"I was overworked and underpaid," he says.

When he was 34, he opened Best Damn Tacos, a graffiti-logo, Mexican-inspired eatery with Bob Marley murals, in North Olmsted that aimed to serve delicious tacos while acting as a no-holds-barred, creative "safe space."
"I'm the only one in the West Side suburbs who's ever had the balls to host drag," Kovatch says, for example.

In 2012, sick of lethargy, Kovatch slashed booze from his diet. Nine years later, after convincing former restaurateur Young to partner with him, he found his as its everlasting replacement — kava.

"Alcohol can spur great conversation," he says, standing behind Muddy's bar. He serves me a cold shell of Tonga ($4), dispensed from one of four taps. The taste is simply one part cocoa, one part tree bark. Yet, in less than a minute, I feel more inclined to conform to the shape of my chair. "With kava, the conversations are more lasting, more worthwhile," Kovatch says. "And you're never belligerent."

Kava isn't void of controversy. In 2002, it was the main culprit in an Australian study that claimed piper mestheticum, kava's scientific name, caused liver damage or failure in 30 adults. It was subsequently banned or controlled in a dozen European countries. A German court reversed the case in 2014.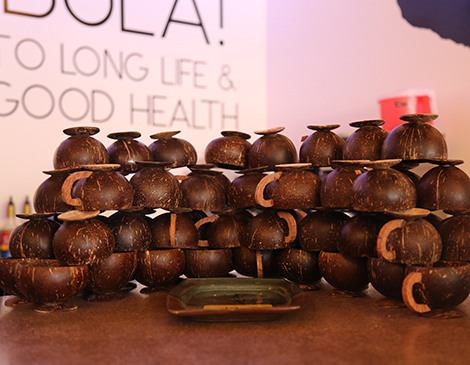 As with the "botanicals" Kovatch sells on tap or in a tea bag — kanna, kratom and Egyptian Blue Lotus ($6-$12) — the sedation or euphoric effects, by the glass, all have their histories of warnings. Kratom, for example, is still considered a "Drug of Concern" by the DEA. Kanna, nicknamed a South African "natural MDMA," can be lethal if mixed with SSRIs.

But Kovatch still swears by his new pastime, namely by his selection of only vetted suppliers from Fiji, Vanuatu, Tonga, the Solomon Islands, Indonesia, Malaysia and Thailand.
"I believe in the product," he says, prepping a grape-mixed kratom cocktail. So much, he boasts, he sees expanding Muddy Waters to six other locations by 2024. "Maybe University Heights? I mean, Coventry would love this, right?"

Across from him, Young palms a shell glass, one of 200 imported from Thailand. Around him are plush sofas, Colombian paintings and an acoustic guitar hanging on the wall. The men cheer in true island tradition, "Bula!"

"You have to say it collectively," Kovatch explains, holding up his chilled Tonga ($4-$14), a drink of choice for Island rugby fans. "That's the way kava's meant to be done."
Want to dig in to more great stories about Northeast Ohio? Sign up to receive our weekly newsletter.