The heart of Downtown Cleveland so needed this. I needed this.
Like many Clevelanders, I work Downtown, and often find myself a little out of options when it comes to casual brunch-like spots to spend my lunch hour solo.
When I first moved, I was looking for places I could quietly slip into, sit down, spend half of an hour to eight, and leave … casually. Coffee shops and little brick-and-mortar cafes are typically great for this, but after a couple of weeks, I found myself on the hunt for spots that served food above the muffin, croissant and jumbo cookie threshold. Someplace I could walk to from my office in Playhouse Square that served brunch without the air of group-only seating. Like many, the first source I reached out to was my Google search bar.
Googling "Brunch Spots in Downtown Cleveland" is a little bit like shoving your hand into a bag of crumpled paper blind. Half of the results have permanently closed, and others were pulled by a computer-generated filter that wasn't, well, the help I was looking for.
Dunkin is a brunch spot? I mean, yes, technically it serves breakfast sandwiches, but that's not what I'm looking for.
New search: "Cozy Brunch Spots In Downtown Cleveland." New search: "Downtown Cleveland Cafes." New search: "Does Downtown Cleveland Have Panera?"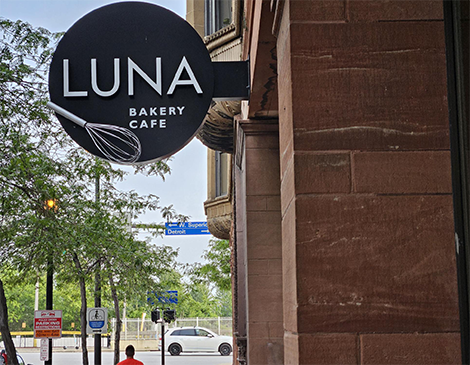 (Photo Courtesy Cleveland Magazine/Abigail Kussow)
After more time spent in The Land, I realized the locations I was looking for were all across the Veterans Memorial Bridge. They were all in Ohio City; just a hair too far for an hour's break (Not to mention how that bridge is really not walk-friendly. Honest take? I feel like I'm walking across the highway). Pause. Non-Clevelanders who stumble across this may ask, "Why not drive there and back?" Ha. Yeah, you pay my additional $10 parking ticket. For an $8 breakfast sammie and a cup of coffee, it just isn't worth the hassle of re-parking just for a bridge trip and 20 minutes maximum spent in a cozy-comfy environment.
Then, Luna Bakery and Cafe announced that they were opening a third location. The destination? Downtown Cleveland's Historic Warehouse District. East side of the Cuyahoga River. Score.
Not only is Luna's French-inspired cafe and patisserie perfect for laid-back remote working (it's still a restaurant so if you are looking for quiet hours,
check this list instead
), but it's also a haven for small groups and singles alike. Proof? I've been here since 8:30 a.m. responding to emails, taking calls and writing this very article. So has the gentleman across from me sporting an enviable
Beats headset
. It's cream-colored and I want one. Everyone between us? Groups of two to four eating soups and salads, others drinking iced coffees. All casually.
There's a variety of seating that I love from booths to short and long tables with pull-out chairs. It's honestly amazing that with the space they have, they've managed to make it seem so spacious and cozy. When compared to its Moreland Hills and Cleveland Heights location, I think it might be my favorite just because of its accessibility and layout, but time will tell if it stays my No. 1 go-to for brunching Downtown whether off the clock or on.
Start your day the best way by signing up for our free daily newsletter. Arriving in your inbox every morning to keep you in-the-loop on the best guides, home and style tips, and news briefs for all things Cleveland. Click here to subscribe.