Kathy Schriner's Rocky River bakery makes all sorts of traditional European pastries her customers' moms and grandmas used to bake. But Schriner doesn't have those same food memories. "I taught my mom how to bake, and she worked for me for 20 years," she says with a laugh. Not a baker herself, Schriner learned she had a knack for it years ago when she got a kolacky recipe from her friend's grandmother. "The first time I made them it was a disaster," she recalls. "Something just kept telling me to try again, and when I got it right I was hooked." So when she was laid off from her job in 1989, she opened a bakery two years later. She creates some recipes herself and gets others from her customers, like the popular lady locks she's carried for years after an elderly customer requested them. "She came in and spent the day here and showed me how to make them," she says. "She even brought in the clothespins to roll the dough that we still use. They're a huge hit." 19032 Old Detroit Road, Rocky River, 440-835-6570, kathyspastryshop.com
Our Pick: The glaze on the sticky bun ($4.50) creates its own layer of crisp crunch, followed by flaky, pliable croissant dough that gives before it tears.


Polish Kolacky
"These are traditionally made with cream cheese, but this recipe is made with sour cream, so the dough is a lot lighter. It's a whole different taste." — Kathy Schriner, owner of Kathy's Kolacke and Pastry Shop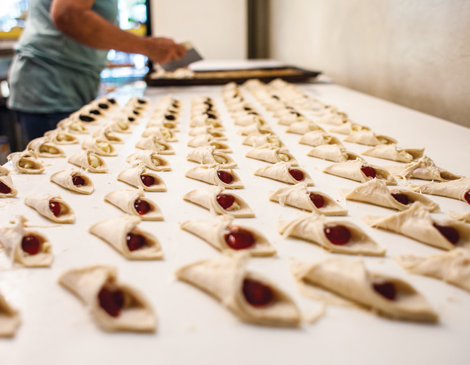 12 ounces of butter
3 cups flour
½ cup sour cream
2 teaspoons assorted fruit filling
Cut butter into flour until the butter resembles small peas. Add sour cream and mix well. Divide dough in half and wrap halves in plastic wrap. Refrigerate for 3 hours. Preheat the oven to 350 degrees. Using one half at a time, roll dough onto a lightly floured surface. Cut with large round cookie cutter (about 3 inches in diameter). Fill center with your choice of fruit filling such as apricot, raspberry or cherry. Bring up two opposite sides and pinch in the middle to close. Bake 12-15 minutes until the bottom of the cookie begins to brown. When cool, dust with powdered sugar.