On the surface, it sounds like a daunting task to give up eating animal products such as meat, dairy, eggs and any additives that are derived from animals. However, thanks to an abundance of research and resources that replace animal products with healthy, sustainable alternatives, it's easier to go vegan now than ever before.

When Justin Gorski, now chef and co-owner of Cleveland Vegan, and his wife Laura Ross adopted a vegan diet nine years ago, they were already vegetarians. But experimenting with a vegan cleanse showed both of them how much more energy they had when their bodies weren't digesting animal products like milk and cheese.

"We just realized how good we felt," Gorski recalls. "In the beginning, we just took the extra time to experiment and try a bunch of different things." If you love stir-fry, add peanuts instead of meat. Like tacos? Sample tasty salsas and vegan ground-beef replacements. "You have to reset your palate and kind of figure out what tastes good to you," he says.

--

Beet Jar Juice Bar's co-owner Joseph Joseph offers tips on how to make an easy transition to a vegan diet.

Long Game: Kick things off by replacing your favorite foods with vegan versions of the same meals. "Go for those familiar flavors and consistencies, like mac 'n' cheese or a burger," says Joseph. "Then, when you get bored with those, try new, exciting things." There's an abundance of research backing vegan diets, but you don't have to go cold turkey. "Baby steps are fine," says Joseph. "But I've found that once people have all the information about a vegan diet, they're motivated."

Switch Gears: For eight years, Joseph has sworn by equipment that makes meal prep smoother, such as using a Vitamix for sauces, dressings and toppings. "I didn't have to think about where I could get vegan meals, because I had this power in my hands," he says. "It allowed me to do things at home like make my cashew-ranch dressing, or smoothies or nondairy milk."

Food Frenzy: Cravings for specific animal-based foods are phantom cravings because they aren't really for specific items, argues Joseph, but for specific textures and flavors. "What you're craving are fat, carbs, things to chew on — all those things exist in a vegan diet," he says. "People need to get it out of their head that meat, cheese and ice cream is one specific [animal-based] thing. If you're craving something, there are so many vegan options that it's now easier than ever."

Taste Buds:
Giving up meat doesn't have to be impossible. Gorski goes over four tried-and-true ingredients that mimic beef, chicken, fish or pork, but still give you the meaty flavor and mouthfeel you're used to.
Mushrooms: Mushrooms are great on their own, but they remain an outstanding alternative in traditionally meat-based dishes. "Long-stemmed trumpets, shiitake and cremini mushrooms are the main ones we use," says Gorski. He suggests pairing it with rice in a stir-fry or with lentils to make a patty, but says long-stemmed trumpets could even replace scallops when cut into thick coins, marinated in nori rice wine vinegar, sesame oil and soy sauce, then lightly sauteed.
Seitan: Made of cooked wheat gluten formed into a dough, seitan has a texture similar to ground beef. Crumbled, it makes a solid replacement for sausage, but sliced thin, it can be a terrific sandwich component. "Meat's flavor often comes from the seasoning rather than the meat itself," Gorski says. "We'll add gyro spices to the dough and slice it, and it's got the same flavor and texture as gyro meat."
Tempeh: Tempeh, or fermented soybeans or grains, is chewy with a sharpness associated with fermentation. It's firmer than tofu, so its best chopped into cubes and tossed in a stir-fry. "Pan-fry it to make the outside crispy, or add oil and Cajun seasoning, then let it sit and fry and add it to a Caesar salad," says Gorski.
Tofu: Tofu, made from soybean curd, has so much to offer because it asserts so little in terms of taste. "It's a blank slate," says Gorski. He recommends marinating it in oil and vinegar, soy sauce and vinegar or Italian dressing overnight so that it absorbs all that flavor. Then, bread it with cornstarch and fry it on a skillet. "It's light and crunchy outside and flavorful inside," says Gorski.


Craft Cheese:
Nutritional yeast is so good, you won't believe it's not actually cheese. The flaky, deactivated yeast is packed with protein, vitamins, minerals and antioxidants, so it's good for you, too. Chris Palton, head chef at Jukebox, makes the case for using the faux cheese stand-in on popcorn for a white cheddar tang, or as a sauce in other entrees.

"Nutritional yeast to me is a way to achieve that kind of funk you get from cheese. What you're striving for when you use it is to get that additional flavor you can't put your finger on. It's not sweet, not salty — it's funky. It hits you in the back of the palate, rounds out other flavors, and gives you that warm cheesy kind of feel to it. Some would call it 'umami.' The main way I like to use it is for a cream sauce, like a cashew cream sauce. It tastes like Kraft blue box mac 'n' cheese, thickens as it cooks, and gives you that gooey, pourable cheese sauce."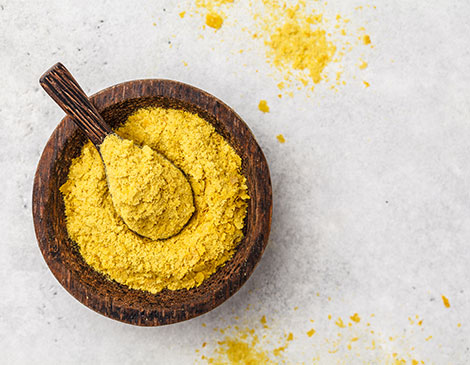 Cashew Cream Sauce:
Add 1 1/2 cups cashews (or mixed nuts), 1 cup nutritional yeast, 1 teaspoon paprika, and 1/2 pint cold water to a Vitamix or food processor and puree until smooth, roughly 3-5 minutes. Add another 1/2 pint water and slowly pour in 1 cup olive oil. Mix 2 more minutes. Season to taste with salt. Then, heat the sauce on medium heat for 2-4 minutes.