Sticking to simple ingredients builds a foundation for creating the perfect burger patty. Kyle Anderson, executive chef at Red, the Steakhouse, prefers a mixture of certified 80/20 angus ground beef, a few herbs such as chives, scallions or an onion mixture, and flavorings such as Worcestershire sauce and Dijon mustard. The real trick is how you form it all together.

Anderson suggests rolling enough of the mixture for one patty into a ball and throwing it back and forth between your hands, working out the air pockets. "The texture will change and become denser, so it doesn't break apart while cooking," says Anderson. "Fat melts, so while you're working it, it's melting in the heat of your hand. Put it back in the fridge for about 10 minutes to firm it back up. Then put a little divot in the center so it doesn't swell and turn into giant meatball."

Kyle Anderson's Recipe:

By hand, mix together:
3 pounds certified 80/20 Angus Ground Beef
3 thinly-sliced scallions
3 minced garlic cloves
2 tablespoons Worcestershire sauce
1 tablespoon Dijon mustard
Kosher salt
Fresh-ground black pepper to taste.

Form mixture into 6 balls (8 ounces each) and gently toss each portion between both hands until it has formed into a solid mass. Press each lightly into a 1/2-inch disc and chill for ten minutes.

Once chilled, lightly press down the center of each burger to prevent it from swelling while cooking. For rare to medium rare, grill uncovered for 6-7 minutes, then flip and cook 6-7 minutes more. For medium-well to well, grill covered at a lower heat (you want a slow cook, not a char) for 9 minutes, then flip and cook 9 minutes more.

Do not press the patty with the spatula once it's on the grill, Anderson notes, because doing so presses all the juice and flavoring out. Just flip it once. Add cheese 1 minute before removing from grill. Remove from heat and let patties sit for a couple minutes. Serve on a lightly grilled brioche bun.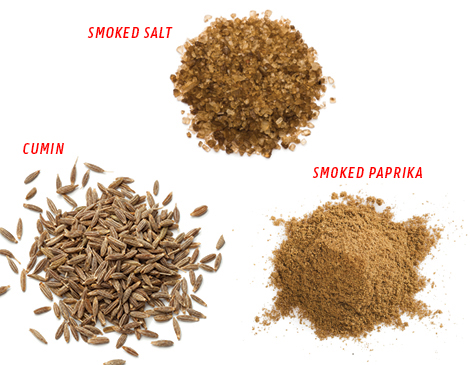 Well Seasoned: Just a few pinches of a spice or seasoning can elevate your grilled meat. Jill Vedaa, chef and co-owner of Salt, shares three of her favorites.

Cumin:
Rather than ground cumin, try using whole seeds with grilled pork, fish or chicken. "Once you grind something it tends to lose its flavor," says Vedaa. "Cumin has a real earthiness to it that a lot of people really like."

Smoked Paprika:
Vedaa uses this for an extra kick and suggests trying it on pork, chicken or in burger patties. "It's got a nice gentle heat and smokiness, plus it adds a beautiful orange-red color to marinades and makes a nice char," says Vedaa.
Smoked Salt:
There are many types of smoked salt, including alder wood, which Vedaa prefers due to its intense flavor. Try mixing it with kosher salt if you find it too potent. "This imparts a smokiness to the food without having to smoke it," says Vedaa.


Plant Source: Karen Small, executive chef and owner of the Flying Fig, shares three ideas for grilling vegetables.

Carrots
Whisk soy sauce, balsamic vinegar, ginger, rosemary, brown sugar, oil, salt and pepper, and baste small carrots for 10 minutes. Grill for 20-25 minutes. "Once on the grill, keep them moving so the sides don't get burned," says Small.

Eggplant
Cut into 1/2-inch rounds, salt lightly and lay on a cooling rack. Combine olive oil, chiles and cumin seeds, then brush the discs before placing them on the grill for 6-8 minutes, turning once or twice. "The skin gets crinkly, they'll soften and char," says Small. Add lemon, curry and cayenne to plain yogurt, swoop a bit on a plate and top with eggplant, salt and toasted almonds.

Heirloom Tomatoes
Slice these thick, coat them in a combination of chili, garlic, ginger and olive oil, and grill individually. "Get them on, let them crinkle, then put them on a platter or sheet pan," Small says. Finish with toasted cilantro, coriander and cumin, drizzle with oil and finish with flaky sea salt.
On Fire: Catherine St. John, co-owner of Western Reserve School of Cooking, shares three grilling items that will up your cooking game.

Bag Well's Sealable Bag Holder ($8.99)
This collapsible stand is your extra pair of hands. Place a gallon zip-lock baggie on it, and it becomes an ideal spot for marinating meat or veggies without creating extra mess. "Load it, seal and marinate," says St. John. "Open it up, almost like a bowl, and put it next to the grill when you're ready to cook."

Kelly Craig's Smoked Cedar Cooking Wraps ($10.99 for 12)
No soaking required: These single-use wooden wraps for fish, poultry and beef are ready to go right out of the box. "If you want a smoked flavor on the meat, you wrap it up, put it on the grill, and it's kind of like a cedar plank, giving [the meat] a light smoky flavor," says St. John.
Maine Man's Fish Spatula ($9.99)
Fish can be delicate when handled, especially on a grill. This fish spatula is specifically designed to make things easier with long, thin, angled slats that help lift up the meat. "It can be hard with a regular spatula to flip a piece of fish effectively," says St. John. "This is specially designed for the more delicate texture of the meat."