Oysters, those little pillows of briny bivalve tenderness, are hard-shelled products of their environment, picking up a variety of characteristics from the water that surrounds them. But wherever you get them, Adam Smith owner of CLE on the Half-Shell, a Cleveland-based oyster-shucking service, says they're all shucked the same way.

"They should be kept at 38-43 degrees and the shell should be sealed," says Smith. Scrub each one thoroughly in cold water, then dry them and tap them with an oyster knife. "They should have a 'clink' sound to them," says Smith. "If it sounds hollow, throw it away." Using a glove or a clean bar towel to protect your hand, hold the oyster down on a nonslip surface such as a cutting board. Insert a stainless steel oyster knife or paring knife into the back hinge of the oyster and rotate the knife back and forth to gently pop the oyster open.

Then, carefully slide the knife along the top shell to cut the muscle free. Remove the top shell and slide the knife along the bottom to cut the muscle so that it sits freely in its shell. "They come on their own little plate," says Smith.

Coaster Key: East Coast oysters are on the briny side while West Coast oysters tend to be sweeter. Smith shares a few of his favorites from coast to coast.

West Coast Oysters:

Fanny Bay: Available from August-May, these 3-inch oyster shells are tough from rattling up on rocky Vancouver Island beaches. "Sometimes they taste like a not-so-ripe melon or cucumber, with a grassy finish," says Smith.
Gold Creek: This year-round variety is farmed for three years in Washington's Hood Canal and grows to an average of just under 3 inches. "They've got a briny iceberg lettuce flavor and a firm, plump meat," says Smith.
Sun Hollow: These hail from Puget Sound, Washington, where they grow caught between two tides — a process that creates strong, plump muscles. "These are pretty intense," says Smith. "They start out briny but sweet and finish with a super earthy profile."

East Coast Oysters:

Raspberry Point: These large and lovely oysters hail from the waters of New London Bay off the coast of Prince Edward Island. "There's a lot of farmland around there, so they get a real, almost-grassy taste," says Smith.

Saint Simon: This year-round oyster from Shippagan, New Brunswick, hits all the right notes with a fresh briny punch and sweet, butter finish. "They're well-washed naturally and have almost translucent shells," says Smith.

Savage Blonde: Available year-round and tumbled by the Savage Harbor tide off Prince Edward Island, these smaller shells have a ridged outer exterior. "They present very well as they are all about the same size," says Smith.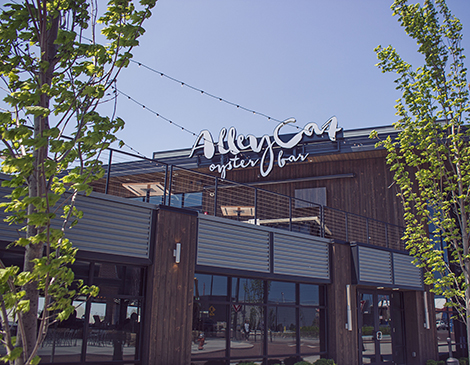 Shell Shocked: Zack Bruell, owner of Alley Cat Oyster Bar, shares three ways to divvy up your oysters for your next meal.
Oysters And Pasta
Bruell recommends a chardonnay cream sauce with sauteed onions, carrots, celery, parsley, lemons, fishbones, chardonnay, whole black peppercorns, unsalted butter, cream and Pernod. "The licorice of the Pernod, the cream and the brine — it just works together," says Bruell.
Oysters On The Half Shell
Bruell's definitive way to enjoy oysters is on the half shell: raw, on crushed ice and still alive within the first three minutes of shucking. "The [oyster's] liquor is the taste," says Bruell. "That's the salinity of the oyster." For texture, try a French approach with mignonette sauce made with red wine vinegar, diced shallots, parsley or chives.
Oysters Rockefeller
This rich, cooked oyster dish involves a pungent yellow sauce sometimes made with spinach and lemon juice or a lemon puree with fish sauce, shishito peppers and pork belly. Whatever the combo, top the sauce with the oyster and breadcrumbs before broiling. "Broil for a minute at the most," says Bruell. "Don't overcook or they'll turn into erasers."

Ocean's Options
Thanks to quick air freight, Northeast Ohio is a fine place to procure outstanding oysters. Here are three places to try.

Catanese Classic Seafood
1600 Merwin Ave., Cleveland, 216-696-0080, classicseafood.com
Euclid Fish Co.
7839 Enterprise Drive, Mentor, 440-951-6448, euclidfish.com
Fresh Catch Seafood
564 E. 185th St., Cleveland, 216-738-0080, facebook.com/freshcatchseafood