Dress up the summertime favorite with these three recipes.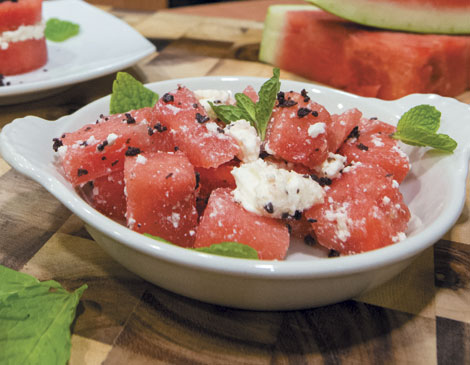 Watermelon Salad with Dried Kalamata Olives, Feta and Mint
For a Greek spin, add dried kalamata olives, salt, a cup of feta and a handful of chopped mint to a bowl of cubed watermelon. The richness of the cheese complements the sweetness of the fruit, while the fresh herbs brighten up the dish. "All these flavors, along with the sweet watermelon, tastes so good," says Anna Harouvis, chef and owner of Good to Go Cafe and Catering. Use a stainless steel round mold to layer the watermelon with cheese and mint for an elegant presentation.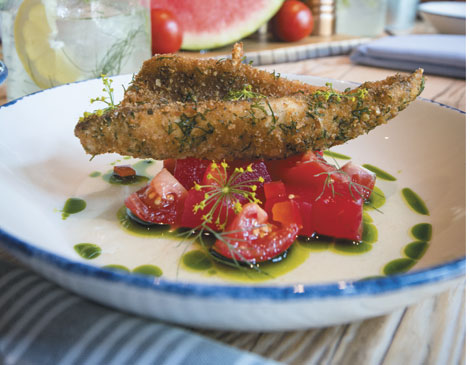 Tomato and Watermelon Salad with Fried Perch and Dill Oil
It may seem too hot to break out the fryer, but these crispy flash-fried yellow perch filets are paired with tomatoes, watermelon and red bell peppers dressed in a pickled brine for a cool, refreshing meal. "Watermelon plays well with fish," says the Chef's Garden executive chef Jamie Simpson. "It's a savory application." Complete the dish with a drizzle of dill oil and dill blooms.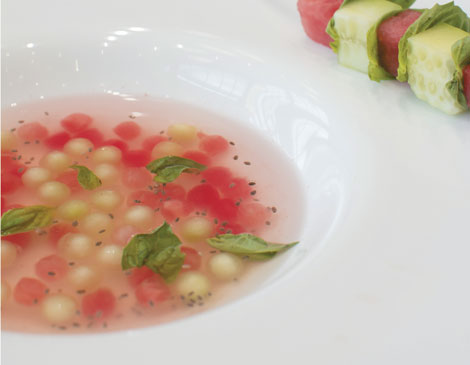 Watermelon 'Gazpacho' Consomme
A quick spin in a Vitamix turns cubed watermelon, peeled ginger and lime juice into an effortless summer starter. Before serving, pour the cold soup over a mixture of diced cucumber, diced watermelon, halved cherry tomatoes and basil. "What grows together goes together. Cucumber really is the natural complement to watermelon," says John Selick, senior culinary manager at University Hospitals. "This soup is hydrating and satisfying for hot summer days."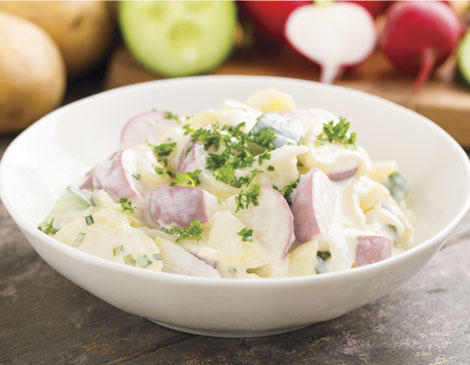 You've been asked to bring that trusty potato salad to a picnic. But if you're getting bored with your go-to recipe, you're not alone. "People make so many bad versions," says Nolan Konkoski, chef and owner at Soho Chicken & Whiskey. "Cold potatoes and mayonnaise doesn't sound very appetizing." Here's his recipe for a potato salad you'll be proud to share.
Buttermilk "Ranch" Potato Salad
Boil 5 pounds of fingerling potatoes until just tender. When cool, slice into 3/4-inch pieces and set aside. Blend 1 cup buttermilk, 1/2 cup mayonnaise, 1/2 cup sour cream, 1 tablespoon Dijon mustard, juice of 1 lime, 1 tablespoon red wine vinegar, 1/2 tablespoon sugar and salt and cracked pepper to taste. Then add 2 tablespoons each of chopped dill, chopped parsley and chopped basil. Toss potatoes in dressing and refrigerate for a few hours before serving.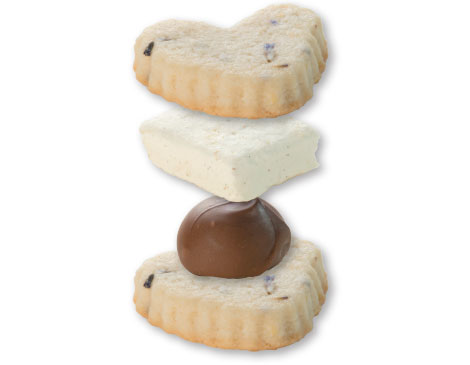 Try this CLE-version of the campfire classic at your next bonfire.

The Cookie
Made with real lemon juice, lemon zest and dried lavender, Annie's Signature Sweets lemon lavender cookies ($20 per dozen) provide a sturdy base. "I had a dessert in Costa Rica that combined lavender and chocolate," says owner Ann LoParo. "It sounds weird but it's really good." anniessignaturesweets.com
The Marshmallow
Switch out that mass-produced puff for Sugar Bomb Confections handcrafted vanilla bean marshmallow ($4 for 3 ounces). "It's super-soft, melt-in-your-mouth," says owner Diana Jankowski. "It's refined and grown-up." sugarbombconfections.com
The Chocolate
Don't go too dark here. The rich flavors of a dark chocolate treat can overwhelm the rest of the s'more. Instead, opt for Fear's Confections milk chocolate lavender truffle ($1.50). "Our lavender truffles are milk chocolate through and through," says owner Cassandra Fear. fearsconfections.com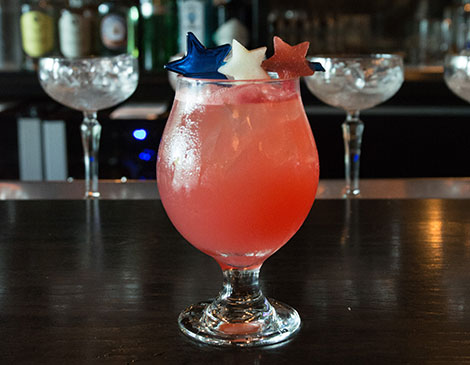 Celebrate the good ol' USA with this red, white and blue cocktail.
The 14 Bus Jump Muddle
Place 6 1-inch watermelon cubes and 6 mint leaves in a shaker glass. Add 1 1/2 ounces vodka and 1/2 ounce fresh lime juice and shake vigorously. Strain into an iced 10- to 12-ounce glass and top with a splash of ginger beer and Great Lakes Brewing Co.'s Holy Moses White Ale. Garnish with melon, watermelon and blueberries.
"This commemorates Evel Knievel, with his bike and his red, white and blue cape, jumping 14 buses at Kings Island," says Karen Gorman, chef and co-owner of
Crumb & Spigot.