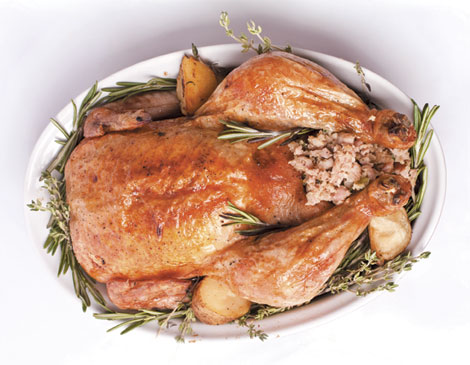 Party Fowl
Jazz up that turkey with one of these adventurous recipes.

Brined, Wine-Braised Bird with Cranberry Glaze: This calls for the bird to be quartered first, which makes the final presentation casual from the get-go. Instead of a traditional trussed bird, you'll have hunks of meat that you can cut easily or leave as is. "This is kind of caveman-esque in the way it's eaten, but it's a lot of fun," says Jill Vedaa, chef and co-owner of Salt. Brown sugar and black pepper in the brine create a hot, sweet flavor profile, and the allspice and thyme put an autumnal spin on it.
Rosemary Sage-Brined Turkey: The name of this recipe might sound fancy, but it's far easier than you think to create deep, rich flavors. Just place your bird in a brine of rosemary, sage, thyme, garlic and peppercorns for up to 24 hours before cooking. "This recipe is excellent because it takes a lot of the mystery out of cooking and seasoning a turkey," says Ben Bebenroth, chef and owner of Spice Kitchen & Bar. "The seasoning makes its way throughout the entire bird and leaves the meat juicy and tender and prevents the breasts from drying out."
Buffalo Wing-Style Turkey: For Brandt Evans, his Thanksgiving is all about watching football. So he uses one of his favorite game-day foods to create a turkey day touchdown. "Make the turkey like a big chicken wing," says the chef and co-owner of Pura Vida and Blue Canyon Kitchen & Tavern. "Baste it with Buffalo sauce and inject it with Buffalo butter to really get the flavor soaking through." You'll score extra points by serving it with blue cheese dressing and celery sticks.
---
Mind Your Manners
Whether you're the host or a guest, Lisa Costin, co-founder of A Charming Fete, Event Planning & Design, helps you put your best party face forward.
HOST
Go digital. "If you want to keep things casual, an electronic invitation is fine. It's important to request an RSVP. That way you have a guest count and can organize a spreadsheet for what people are bringing. "
Know your limits. "Don't invite too many people. You want it to be comfy and intimate enough for conversation and quality time, since that's the purpose of the gathering."
Make assignments. "Divide the menu out: protein, carbs, vegetables, alcohol, dessert. And give parameters: Is this a traditional meal with fixings? Say so. You could request that people bring background dishes, from their own heritage."
GUEST
Keep it together. "It's pretty simple. Be on time, show up and behave."
Be responsible. "If you're assigned to bring something, bring it. If you want to change the dish you bring from the one you were assigned, contact the host so they can plan an alternative."
Offer to help. "Offer to help with cleanup, even for a casual party. Even if your host says, 'No,' at least help clear the table. And if you can do it, offer to host next year's Friendsgiving to keep the tradition alive."

---
A Punch We Love
Spice Kitchen & Bar's beverage director Tony Smith show us how to make this punch in a big batch — with an old-school ice ring thrown in for good measure.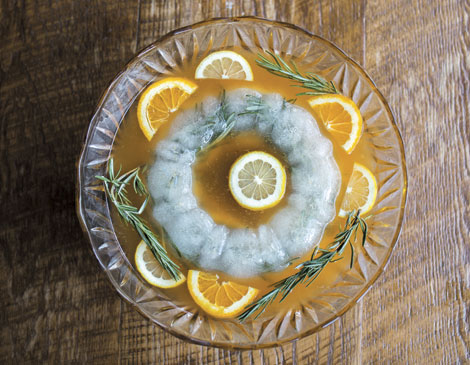 4 cups Sailor Jerry spiced rum
3 cups brut Champagne
2 cups Tom's Foolery applejack
1 cup orange juice
1 cup lemon juice
1/2 cup sugar
30-40 dashes Full Measure Bitters
4 ounces rosemary, separated into 2 bunches
2 cups roasted butternut squash, cubed and cooled
2 lemons, sliced
2 oranges, sliced
The day before your party, place spiced rum and butternut squash in an airtight container and refrigerate overnight. To make a simple syrup, combine sugar with 1/2 cup hot water and 1 bunch rosemary, stir and let cool at least 30 minutes. To create an ice mold, layer second bunch of rosemary, 1 sliced lemon, 1 sliced orange in Bundt pan, fill with 1 inch water and allow to freeze. The day of the party, strain simple syrup into a punch bowl. Add applejack, orange juice, lemon juice and bitters. Add ice mold and top with Champagne. Stir and garnish with remaining lemon and orange slices. Ladle over ice and serve.
---
Side Quest
Heather Haviland, owner and chef at Lucky's Cafe, shares three easy dishes your friends will fight over.

Turkey Rolls
Perfect for the guest who can't imagine any sort of Thanksgiving dinner without the staples, these rolls combine thick slices of deli meat, boxed stuffing mix, cranberry relish and canned sweet potatoes topped with turkey gravy. "[My mom] loved the holidays and often would make this dish for us anytime of the year when she was missing them," says Haviland.
Sweet Potato latkes with Spicy Maple Sour Cream
These savory pancake-shaped appetizers are easy to whip together and fry up before a party. But it's the dollop of homemade spicy maple sour cream that takes it to the next level. "The heat from the spices balances out the cool of the sour cream and the sweet of the maple syrup," she says.
Cranberry Trifle
Macerated strawberries, pound cake pieces, cranberry relish, whipped cream and toasted pecans create delicate layers that can be served in rocks glasses. "This recipe is so, so easy," she says. "Serving them in a glass makes this perfect for mingling with other guests, because you can carry it with you."