Celebrate National Repeal Day this Dec. 5, the day in 1919 that Prohibition was overturned, with these holiday-themed, homemade cocktails from the Speakeasy at Quintana's Barber and Dream Spa. While the barbershop and speakeasy is temporarily closed due to COVID-19, you can order any of these recipes for take-out, along with a charcuterie board or other small plates. Or, you can play mixologist at home and create them yourself following these simple recipes. "[These cocktails] are easy to do, not too detailed," says Olivia Flanagan, a bartender at the 1920s-themed lounge. "At the bar you have everything that you need, but at home it's better to have a few quick ingredients."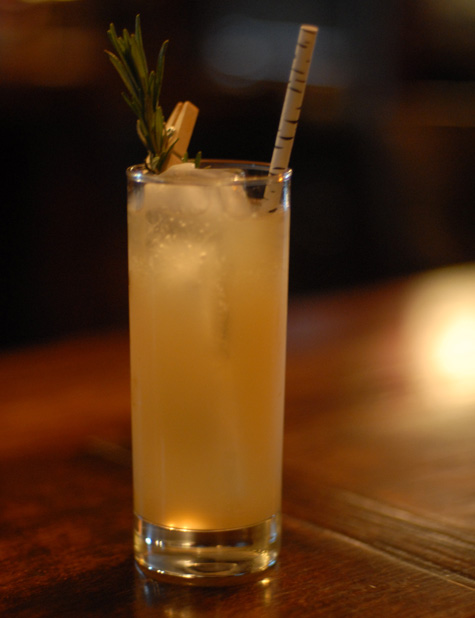 Cabin Fever
This recent addition to Quintana's winter menu is perfect for sweet tooths and curling up by the fire. "Rosemary and maple are two really good fall-winter flavors that go really well together," says Flanagan. While you might think you need fancy bartender skills to infuse liquor, it's really just mixing fruit or spices with liquor in a jar and letting it sit. "Herb infusions are super easy to make because they strain out really easy," she says. "You don't have to worry about any natural matter sticking around."

Infuse 4 rosemary sprigs into one bottle of Beefeater gin for 12-24 hours. Add 1.5 ounces of the rosemary-infused gin, 1 ounce lemon juice and a 1/2 ounce maple syrup to a cocktail shaker. Add ice and shake 20-30 times. Strain over fresh ice in a tall glass. Top with sparkling wine and garnish with a rosemary sprig.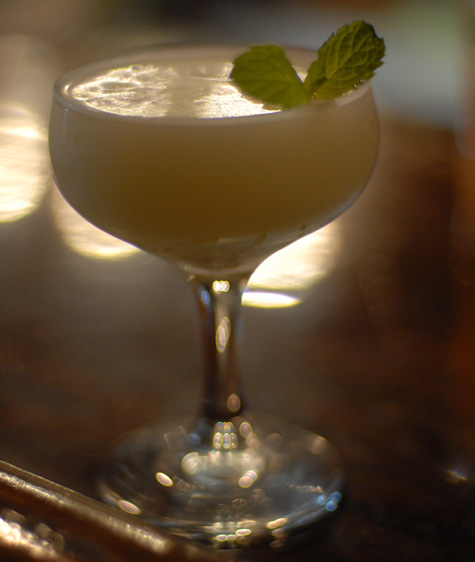 Christmas Vacation
A few of these and you can survive any Christmas company you may have. Or if you're staying home this season, a few more will send you on a brain-tingling holiday trip. "This one is kind of like your tropical holiday cocktail," she says. "The coconut gives you that tropical flavor while giving you the aesthetic and the look of snow. [The coconut is] a little bit thicker so it gives the texture and consistency of the drink a little more body."
Add 2 ounces Bacardi Light Rum, 1 ounce lime juice, 1 ounce creme of coconut and 8-10 fresh mint leaves to a cocktail shaker. Shake 20-30 times and strain into a martini glass. If possible, double strain over a sieve to keep mint bits from floating in your drink and to uphold the snowy aesthetic.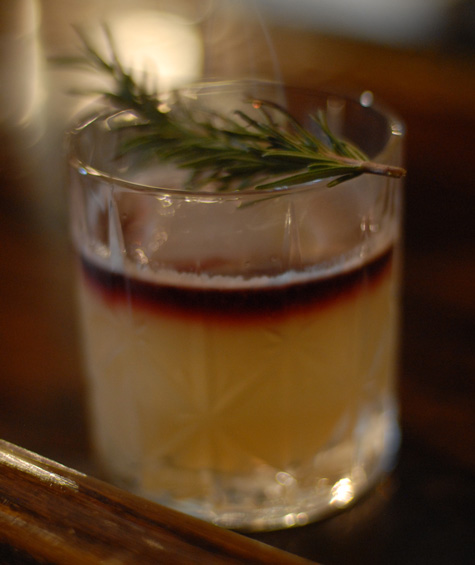 New York Sour
So you already checked out our Christmas tree tips but still want to take your holiday décor to the next level. Mix up this decorative cocktail for the foreground of an epic holiday Insta pic. "Once you burn a little bit of that rosemary and the oils express into the drink, it adds a great flavor, and it actually looks, tastes, smells like all those fall and winter flavors." Flanagan says. "[With] a nice light cocktail at the bottom and then a little bit of red wine and then the rosemary sprig on top, it's almost like a Christmas tree."
Heat equal parts sugar and water until combined on a stovetop to make simple syrup. Let cool. Add 1 ounce simple syrup, 2 ounces bourbon and 1 ounce lemon juice to cocktail shaker. Shake 20-30 times and strain over fresh ice in a rocks glass or short glass. Slowly add red wine until there is about a 1/2 inch float in your glass. There should be noticeable separation. Pour slowly and directly over an ice cube to maintain this. Garnish with a sprig of rosemary and use a lighter to burn the ends of the rosemary.