It all started with a pineapple. Muhammad Edwards, owner of smoothie bar Fawaky Burst in South Euclid, wanted to import some South Beach flair to Cleveland by serving his cold-pressed juices in a carved out pineapple like the island-inspired libations in Miami. So he switched to smoothies for a spill-free, refreshing treat. He breaks down his most popular blend, the Fawaky Green, so you can get a little taste of summer at home — pineapple optional.
1. Greens
Three kale and spinach leaves pack a superfood punch. Edwards recommends utilizing the entire leaf. "You're getting more nutrients and benefits by eating the whole vegetable," he says. "There's a lot more nutrients in the actual stalk than in the leaf."
2. Pineapples
Three chunky pieces of pineapple can either be thoroughly blended or left a little chunky for added texture. "The pineapple gives it a sweet, lathery taste," he says.
3. Apples and bananas
It's not just ice that adds texture to a smoothie. Frozen bananas and apples complete a cold and creamy treat. "I like using whole pieces," he says. "[Bananas] don't taste good as a liquid, but the frozen bananas give the smoothie a creamy texture and they're a natural sweetener."
4. Pineapple juice
Edwards tops off this smoothie with 10 ounces of cold-pressed pineapple juice. Avoid corn starch and sugar by making your own pineapple juice at home. "You can peel a fresh pineapple and juice it or just take the pineapple, blend into a finer form and use that as your juice," says Edwards.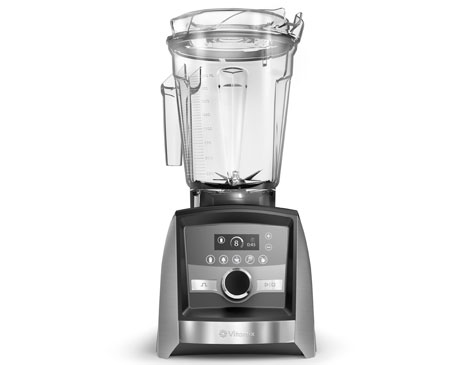 Blender We Love: Vitamix A3500
From kneading dough to whipping cream, the Vitamix A3500 blender ($619.95) is built for more than smoothies and purees. The Cleveland-made appliance comes with five custom programs including a hot soup setting that heats cold vegetables in five minutes of fast metal friction and self-detect technology that sets blend times based on container sizes. "We're really taking the guesswork out of it by having these preset settings that run perfectly every time," says recipe developer Jennifer Horvath. With a 10-year warranty and Bluetooth technology, this blender makes a loyal and adaptable partner for any home cook. Even cleanup is hassle free. Simply hit the self-cleaning button, pour in a little soap and water, and let the blender do the rest. "It takes a blender to daily use," says Horvath, "something you use two or three times a day as opposed to once a week." vitamix.com
Spin Masters
Jennifer Horvath, a recipe developer at Vitamix, shares three unlikely items you can make in your blender.
Baby food
The Spin: Swap preservatives for a little bit of planning. Puree vegetables and fruits such as steamed sweet potatoes and apple slices for a nutritional meal tailored for baby's burgeoning palate. As your child matures, pulse — don't puree — for a chunkier meal. The Ingredients: Steamed vegetable and fruits Pro Tip: "You always want to add a little sweetness. Breast milk is sweet, and that's what your child is used to tasting," says Horvath. "Apples and vegetables pair really nicely and add that extra sweetness."
Macarons
The Spin: This French treat becomes a quick fix in a blender. Begin by whipping egg whites into stiff peaks on low speed with cream of tartar and a pinch of salt. Then impress your friends by blending whole almonds into flour and transforming granulated sugar into its powdered counterpart in one minute. Simply fold the ingredients into each other and chill before baking. The Ingredients: Egg whites, cream of tartar, salt, granulated sugar and almonds Pro Tip: Mix up a filling. "We make a buttercream by using butter, powdered sugar and whatever flavoring we want," Horvath says.
Coffee sugar scrub
The Spin: De-stress by blending your own decadent cosmetics at home. By blending simple ingredients such as oils and butters, you can save money and time. Grind the coffee beans and sugar in the blender until the course scrub is fine enough for your face. The Ingredients: Coffee beans, coconut or almond oil, and sugar Pro Tip: "You can add whatever natural or essential oil you want," says Horvath. "With these sugar scrubs, the more you experiment, the more fun they become."