Save time each week by making a few meals in advance. Anthony Vicente, owner of Flying Garlic Personal Chef and Catering Services, offers up these three easy dishes that utilize many of the same ingredients.


Crudite Carrot and Green Bean Salad
This salad will stay bright and fresh for three or four days in the fridge. Start by blanching a good quantity of beans and chill them to keep the nice color. Peel some extra carrots and chop them for the cod recipe. "If you know you're going to keep this for a few days, make the dressing when you serve the salad," says Vicente.


Spicy Creamy Cod with Honey Carrots & Brown Rice
Use the peels and trimmings from the carrots and green beans to create a flavorful vegetable stock. Since you've already chopped up extra carrots earlier, this recipe comes together quickly. "To play with color, white fish looks better for presentation," says Vicente. "But salmon works well here, too."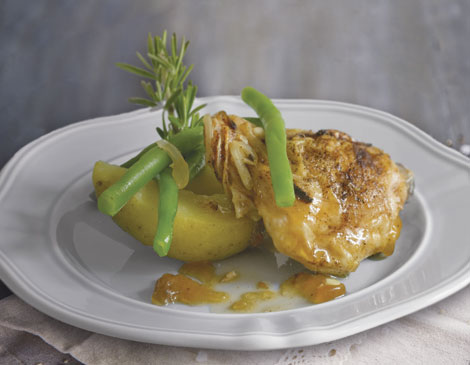 Roasted Chicken Thighs with Paprika Sauce, Oven Baked Potato & Green Beans
This meal gets even better after a day or two when the flavors have a chance to meld together. Vicente says to keep some of the chicken skin on to keep the meat moist until you're ready to eat — then remove it. "Chop the parsley and rosemary fresh when you're ready to serve," he says. "That way you still have fresh elements in the dish."
Prep School
Jean Gruber, owner of the Cooking Jean, a professional personal chef service on the East Side, shares her meal prep tips.
Prepping
Take time to search online for dishes that look interesting or easy to meal-plan. But don't try to over-plan. "I try to do three or four meals at a time, not a two-week plan," she says. "Because that gets overwhelming."
Shopping
First, check your pantry and fridge to see what you need. Never buy an expensive or obscure ingredient you're not going to use again. "Try a substitute," says Gruber. "Like if something calls for a 1/4 cup of white wine, you can find out how much vinegar to use instead."
Cooking
Get in the habit of cooking in bulk. If you're marinating chicken breasts, marinate six instead of four. "If you make the basics ahead, like the protein, then you can kind of get creative with the rest of the meal," she says.
Contain Yourself
The right containers will help streamline your make-ahead cooking process. Here are some take-along, freezing and pantry favorites.
Freezer
Sur La Table's 10-piece glass set of containers ($29.95) works great in the freezer (as well as the fridge), and can go to and from the oven with ease. Each piece has vented, locking, BPA-free silicone lids for letting off steam in the microwave. 28819 Chagrin Blvd., Woodmere, 216-378-1800; 218 Main St., Westlake, 440-250-0463, surlatable.com
Pantry
Keep the pantry stocked thanks to PrepWorks by Progressive's ProKeeper line ($12.99-$17.99). Available at the Loretta Paganini School of Cooking, each one offers clear sides and airtight silicone seals. There are measurement markings so you can see how much time you've got before the next flour or rice run. 8613 Mayfield Road, Chesterland, 440-729-1110, lpscinc.com
Take-along
Plastic is the way to go when you're packing a meal, and Lustroware's crystal-clear style ($4.99-$8.99) from the Container Store lets you see exactly what's inside. These BPA-free containers feature flexible lids and are unbreakable. 2101 Richmond Road, Beachwood, 216-682-7575, containerstore.com

SHOPPING LIST
8 chicken thighs
2 pounds cod filet
1 1/2 cups brown rice
2 pounds potatoes
3 pounds fresh carrots
3 pounds fresh green beans
1 shallot
1 bunch of arugula
1 bunch of cilantro

1 onion
1 head of garlic
1 bunch of parsley
1 package of rosemary
2 ounces dried cranberries
1/4 cup cream
black sesame seeds
PANTRY/FRIDGE STAPLES
whole grain mustard

curry powder
balsamic vinegar
ginger
turmeric
honey
chili powder
paprika
extra-virgin olive oil