We've all talked about the music we'd make or the book we'd write if only we had more time. Two-and-a-half weeks into self-isolation, those dreams are becoming a reality for some. Just go on Instagram right now. There are probably 10 different accounts going live with attempts at dance routines, crafting projects and live performances of every kind.

Ohio's First Lady Fran DeWine is no different. With all eyes on her husband Governor Mike DeWine's daily coronavirus conferences, Fran has expertly positioned herself for a career as a social media influencer when this is all said and done. I mean, she's already got those Martha Stewart vibes down.


During the March 21 presser, Fran took the floor. The wholesome moment immediately went viral as grandmother-of-the-year candidate Fran Dewine explained how she's used this time to teach her grandchildren how to make homemade play dough and chicken and noodles.

The recipes to which can conveniently be found on facebook.com/frandewine, where she's since shared instructions for macaroni and cheese, finger paint and more. But if Fran was going to become our new favorite social media star, we needed to put the chicken and noodle recipe to the test.

It did not go well.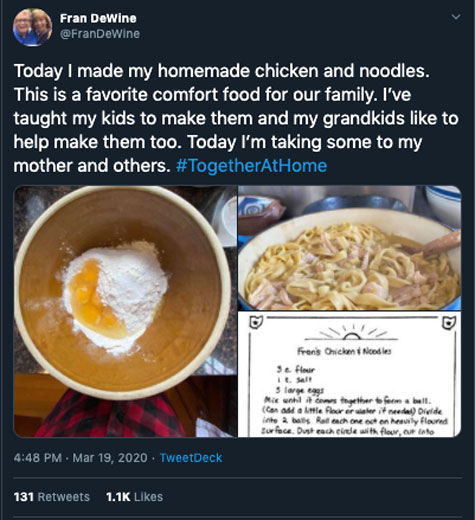 Fran's chicken and noodle recipe was one of the worst things I've ever eaten — and I like gas station food. But that's not Fran's fault. Well, mostly not. I take about 85% of the blame for this bland, ugly monstrosity. But I do have some critiques.

For starters, I'm decently experienced in the kitchen. I'm not an expert, but a chef's knife sits comfortably in my hand and I know my way around a sous vide. But my domain is more Mike Symon than Dante Boccuzzi. I'm a wings on the grill, steak in the cast-iron and ribs in the oven kind of guy. Low and slow. Making homemade noodles is a three-ingredient science experiment that has haunted my entire cooking career.

But I just couldn't use boxed noodles. If Fran is going to become the social media star we need in these tough times, I had to follow the recipe to a T. But that wasn't so easy.

For one, I'd just got my Wine With DeWine on and there were a few instructions that were just screaming coronavirus infection to me. First should I be spreading the dough out on a heavily floured counter? How about a heavily sanitized counter, Fran? Even after a good scrub, I didn't feel comfortable with that.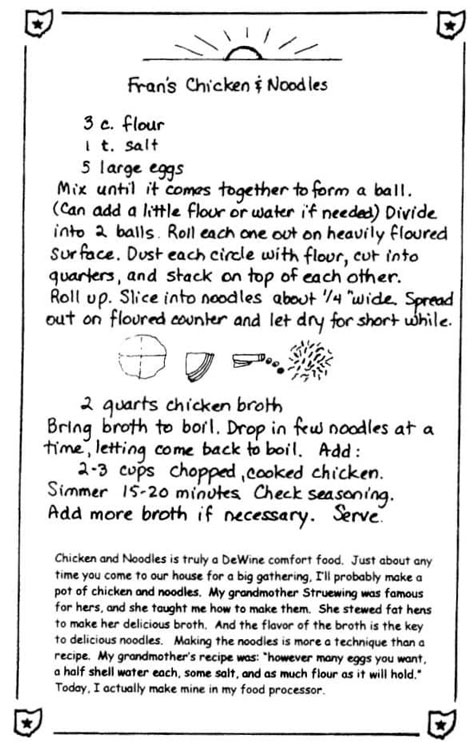 So I went with one of those plastic cutting boards instead, but it wasn't large enough and it slid around, which made things a bit difficult. I also couldn't find my rolling pin due to a recent move, but I couldn't bring myself to use a can or a wine bottle like I used to use in place of a rolling pin. So I just ended up washing my hands really well and pressing it with my palm, which left the dough way too thick.

Secondly, those little scribbled diagrams on the recipe card are adorable, but I had no idea what they meant. Fran, if you want to be an influencer, you've got to join TikTok. No one wants to, but it's a necessity. We need video instruction of that secret family technique.

One place I did cheat was on the broth. "Grandmother Struewing stewed fat hens to make her delicious broth," Fran writes. But Grandma Struewing wasn't in quarantine. So I boiled water with some chicken bouillons instead. (The broth ended up being the only truly edible part of this entire dish.) Then I made some chicken in the InstaPot, and dumped that in with what I thought were expertly cut noodles."

Look at those," I prematurely bragged to my fiancee. "These are going to be good. I'm a master."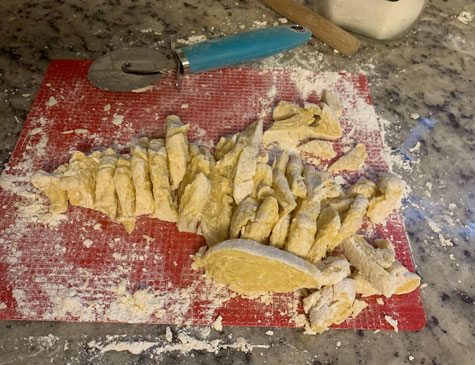 I am not a master.

As they boiled, my noodles took on the shapes of bloated states. They just kept getting thicker and thicker until it was like sticking five tough nocces together. By the time I'd simmered the mixture for 15-20 minutes, the noodles were the size of large hamburger buns, which I solved by chopping them up with kitchen scissors, and as dry as a bad matzo ball.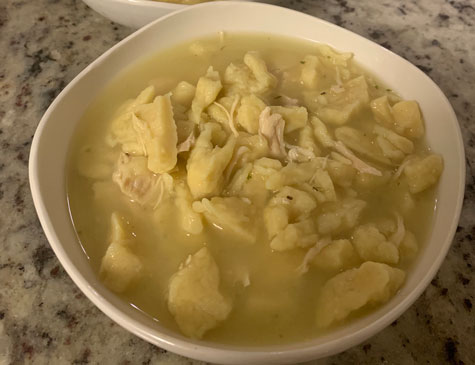 I served the dish to my fiancee with a heavy dose of grated Parmesan cheese on top to mask the monstrosity that I was serving her. She simply sipped the broth, ate the chicken chunks and left a heaping pile of flour nuggets in her bowl. I begrudgingly finished my entire serving, as she reminded me that I used two pounds of the chicken we'd stocked up on and the rest of the flour to make this so I better enjoy it. I have not enjoyed it, but I have eaten it for breakfast, lunch and dinner for the past week.

Now, is this a tale of my incompetence in the kitchen or an indictment on Fran DeWine's digital foodie skills? Probably the former. But before Fran's career as the First Lady of Instagram really takes off, someone needs to get her to pivot to video because the handwritten recipes, while cute, were not cutting it for me.

Or maybe I'm just jealous that I'm not spending my days in isolation making play dough with Fran and her grandkids.