It all comes down to ketchup.
The basic tomato-based condiment serves as an example of Anthony Scolaro's cooking philosophy.
When he launched 111 Bistro, an American progressive restaurant, along Medina's state Route 18 in June 2014, the handcrafted seasonal menu challenged what residents in the rural suburb expected — large portion meals with salad, bread and a hearty entree like those at Applebee's or Olive Garden.
While dishes such as bone marrow and foie gras polarized some customers, Scolaro didn't veer from his goal of using fresh ingredients to handcraft everything from salad dressings and sauces to even the simplest of things — ketchup.
Blended with leeks, ginger, basil and coriander, the condiment takes three days to make. It's a pain in the ass, but worth the hard work even if it sometimes goes unnoticed.
"People don't realize how much we put into innocent ketchup," he says, "let alone the rest of everything else that we do."
For the 4-year-old restaurant, it's been a balancing act — getting customers to be more adventurous while not pushing too far. Today the menu strikes the right amount of risk and reward. Safe bets like a salmon entree and a hanger steak are tucked into the lineup, but it also packs surprises such as the kimchi rice balls.
"We've been challenged to change, but we haven't," he says. "We're going to cook everything that you order. And we're going to do it with the best quality ingredients, and we're going to make it taste better than anything else around."
That unwavering approach has amassed a dedicated group of regulars at 111 Bistro and caught the attention of local foodies who make the 35-minute trek from downtown Cleveland for a meal.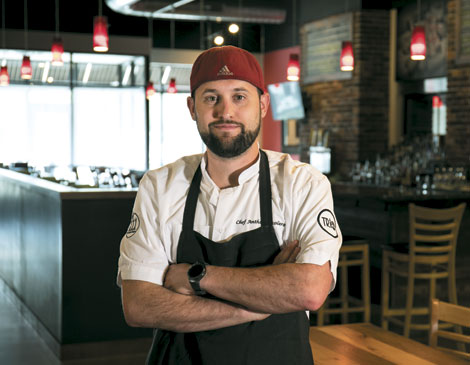 It's also prompted Scolaro and his partners to open a second restaurant this June. Taking over the former Bac Asian American Bistro & Bar in Tremont, Trio gives Scolaro more room to be daring.
"It was another opportunity for us to keep evolving from a culinary standpoint," he says. "There's food that's more adventurous and it gives us the ability to keep growing and learning and showing our stuff."
Plenty of standouts among 111 Bistro's menu of starters, small plates and entrees should clue customers in on what to expect from his latest venture.
While the 111 Fries ($6), served with a malt vinegar aioli, and the fried calamari rings ($11), topped with banana peppers and a smoked tomato sauce, are worth ordering, opt for starters such as the kimchi rice balls ($6) and the medjool dates ($9.50).
A happy accident, the Asian-inspired dish stems from a desire to utilize the extra house-made kimchi and sushi rice used for the 111 ahi tuna small plate ($11). It captures the tangy, funky flavors of fermented vegetables wrapped inside a crunchy tempura outer shell.
While it seems every restaurant has a version of stuffed dates — or devils on horseback as they're fondly called — Scolaro employs locally made chorizo and bacon to pair with the chewy, sweet fruit. He shows restraint by not throwing in Manchego or goat cheese, but topping them instead with a piquillo pepper coulis, a sweet sauce that takes the dish to new heights.
"I've had people that swear up and down they hate dates, and they order it every time they come," he says.
For another traditional dish that gets a subtle twist with a big payoff, try the poutine ($9). The Canadian specialty of fries and cheese curds is mostly replicated here. But instead of that thick gravy you'd find at other spots, Scolaro opts for a demi-glace, a rich sauce made with veal stock. Topped with an over-easy egg, it's a good-messy melange of flavors and textures.
A more refined dish, the 111 ahi tuna elegantly pays homage to the versatility of the seafood. Originally conceived as a sandwich, this version is grounded by a bed of toothsome Chinese black rice. Slices of the seared tuna tossed in a ginger soy dressing and a handful of house-made kimchi add brightness and acidity. But the drizzle of wasabi mayo brings everything together for one harmonious bite.
"It has evolved. Every time we tweak it, we do something a little bit better to it," says Scolaro. "It's probably the best it's ever been."
If you tend to bypass chicken entrees in favor of steak or short ribs, rethink that decision here with two stellar options.
Our favorite dish at 111 Bistro challenges the notion of traditional American-Italian cuisine. The chicken "Parmesan" ($19) shatters the confines of the breaded chicken cutlet drowning in marinara sauce for a fun, filling and forward-thinking meal. Creamy tomato-Parmesan risotto cradles a juicy airline chicken breast topped with a house-made tomato sauce.
This alone would be a vast improvement over the classic dish. But Scolaro elevates his interpretation even more by adding a ball of fried burrata cheese. Once cut open, it oozes onto the plate, providing a melty backdrop for mixing and pairing ingredients.
"We ate the cheese with the sauce and we were like, Holy crap, this is really good," he says. "I wanted to do something crazy, and it turned out to be this really well-balanced, great dish."
While even something as mainstream as chicken and waffles ($16) has raised a few eyebrows in Medina, the response has been overwhelmingly positive. House-made thick ricotta cheese waffles anchor a piece of fried buttermilk chicken. The addition of pickled jalapenos and a Tabasco compound butter bring the heat, while bourbon-maple syrup balances out the salty-sweet treat.
"I have so many people that come in and they're like, 'Chicken and waffles, really?' " he says. "And I'm like, 'Yeah, where have you been? This is where it's at.' "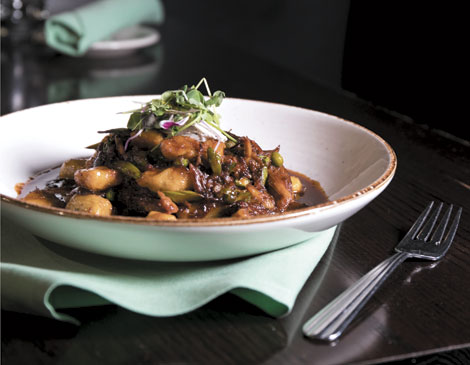 The 72-hour short ribs ($21) have been a mainstay since 111 Bistro's opening days. While it's been a featured element in iterations such as a risotto and pasta, the current form highlights tender, handmade gnocchi and relies on the strength of seasonal vegetables such as peas, asparagus and morels.
The hearty fork-tender meat — thanks to a three-day sous-vide — complements the crisp, lightly cooked vegetables. Paired with an earthy demi-glace and topped with truffle whipped goat cheese, it manages to somehow feel and taste light and airy.
As Scolaro continues to push his customers to expand their palates and their minds, his creativity, passion and focus on fresh ingredients remain at the forefront of what makes 111 Bistro a welcomed presence in Medina and beyond.
"We invented a market that's been testy as far as environment goes," he says. "What's good and challenging at the same time is the fact that we want to push the envelope, and I feel like our menus will always try to do that."
When You Go: 2736 Medina Road, Medina, 330-952-1122, 111bistro.com
Tue-Thu 4-10 p.m., Fri & Sat 4-11 p.m., Sun 10 a.m.-2 p.m.
Try This: If you consider yourself a CTO (chief taco officer) like us, try the steak taco ($10). Two handhelds come stuffed with strips of tender hanger steak, mango salsa, a cilantro-avocado sauce and a bright, zesty lime crema.

Good To Know: Brunch aficionados should have 111 Bistro's Sunday offerings on their radar. From a smoked salmon hash ($10) to a Frosted Flake-crusted French toast ($10), these dishes are whimsical and fun to eat.