Chefs are always cooking. Even when they're not in the kitchen, their minds simmer with ideas and concepts. Thoughts for new dishes pile high like a towering plate of lobster nachos.
While Demetrios Atheneos had been fueling his culinary creativity with larger-than-life menus at the Oak Barrel, his gastropub in Valley View, and Forage Public House, his farm-to-table concept in Lakewood, he was salivating for more.
The chef who had chopped, sliced, poached and grilled his way through the kitchens at Giovanni's Ristorante in Beachwood, Bodega in Cleveland Heights and Deagan's Kitchen & Bar in Lakewood was looking to open a restaurant in downtown Cleveland. He had an eye on the former La Strada space on East Fourth Street, but that ultimately went to Michael Symon's Mabel's BBQ. So he let his ideas marinate while searching for the best spot.
He found it when Ken Stewart's East Bank closed last October. The steakhouse's prime location was in the newly redeveloped Flats East Bank. It was in the same building as the Aloft Cleveland Downtown hotel. It offered valet parking. It was just what Atheneos and his business partner Fady Chamoun were looking for. They snatched it up and opened just a week after the Akron restaurateur closed up shop.
Crazy? Of course, says Atheneos.
"It was pretty nuts," he says. "I'm not going to lie."
After making minimal decor changes and bringing in the management teams and cooking crews from his two other restaurants to help train new staff, he launched Bold Food and Drink in mid-October.
While farm-to-table in many respects, the restaurant is almost a greatest hits of the dishes he's been turning over in his mind, cooking and reworking and storing away until he found the right time and right audience.
"You've got to have good steak and seafood pieces on your menu in order to be sustainable year-round," he says.
And that he does. In true Atheneos fashion, the menu covers just about every taste, craving and price point from tiny duck wonton appetizers at $5 to a la carte rib-eye steaks at $34.
"There's not too many restaurants where you can have one table eating burgers and a chicken sandwich with a craft beer, and the next table eating steaks and sides of Brussels sprouts and a nice $100 bottle of wine," he says.
So whatever your mood, you'll find something here. A small, curated appetizers section includes blue cornmeal-crusted oysters ($7), Maine lobster nachos ($9) and the more indulgent seared duck foie gras ($15) served with a fried egg, French toast baguette, crispy pork belly and Ohio maple syrup in a cast-iron pan.
Diners can see the intent and playfulness of each dish in Atheneos' small plates. It's here where you'll find the shrimp tacos ($13) made popular at Deagan's Kitchen & Bar. Time hasn't changed his simple but impressive preparation of chopped tiger shrimp with white cheddar, guacamole and cilantro — his favorite ingredient.
"It definitely brightens everything up," he says. "I have people who come in that hate cilantro, and I'm like, Well, you ate three things that had cilantro. They had no idea."
Don't paddle past the fish 'n' chips ($8) thinking it's your typical Friday night battered cod or walleye. Using local smelts, he soaks them in buttermilk and Sriracha before frying them and serving them with fries coated in a malt vinegar dust. Dip both in a creamy remoulade topped with tobiko caviar or a spicy house-made ketchup.
A house favorite, the grilled octopus ($12) may seem like a risk, but it pays off with perfect execution. Atheneos braises it for two hours, ensuring each bite is tender, then gives it a quick turn on the grill and tops it with a bright chimichurri. Paired with a refreshing Moroccan salad made of tomato, cucumber, hearts of palm and feta cheese, it's a tasty tribute to Atheneos' Greek heritage.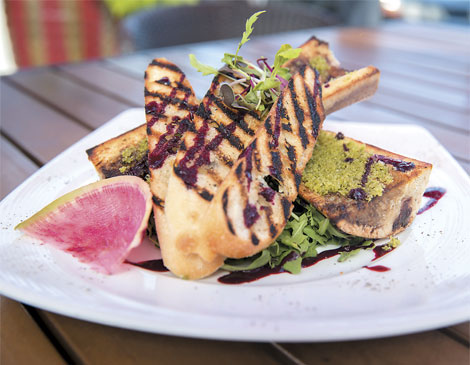 For another unexpected surprise, try the roasted bone marrow ($15). While decadent, it highlights local ingredients such as a tangy gastrique made with foraged huckleberries and Ohio maple syrup, and baguettes from Blackbird Baking Co. in Lakewood.
If the appetizers and small plates let Atheneos experiment with themes and ingredients, the confident lineup of entrees shows off his restraint with flavors and textures while still offering plenty of excitement.
The short rib osso buco ($33), which originally started out as a dish at Forage, is a must-try. Braised for about an hour-and-a-half, the fork-tender meat is glazed with a mouthwatering ancho chile jam and nestled around white hominy grits amped up with Parmesan and chives. The grits are so creamy and flavorful that we could easily eat them alone (and lucky for us, we can order them as a side for $5).
If a chef has been working on a dish for 20 years, as Atheneos has with the honey-cured duck breast ($18), you can and should expect something spectacular. After curing the duck for three days in soy sauce, honey, garlic, ginger and sherry, Atheneos renders the fat and then cooks it rare.
Be forewarned: the accompanying cornbread stuffing will put your mother's Thanksgiving version to shame. Made with sage, vegetable stock and honey, it seems simple, but one taste will have you thanking Atheneos for this creation.
For steak lovers, the a la carte part of the menu provides selections such as a 14-ounce New York strip ($30) with a roasted garlic beurre blanc and pink peppercorns or an 8-ounce filet mignon ($33) from New Creations Farm in Chardon with a Madeira wine reduction. While you can add gulf prawns ($3 each) or a Maine lobster tail ($15 each), order one or two of the creative sides.
Options such as white truffled cream corn ($7) feel luxurious without being overwhelming, while the sauteed Brussels sprouts ($6) are a study in contrasting flavors and textures as sweet Ohio maple syrup and dried cranberries play against the tangy apple cider, crunchy pepitas and earthy vegetables.
"It's pretty wild when your Brussels sprouts side sells as much as your mashed potatoes side," Atheneos says. "So we're doing something right there for sure."
He's doing a lot of things right. So much so that he's still cooking up ideas for the future: fast-casual, Italian, Greek.
"I got a couple other tricks up my sleeve that I've been thinking about," he says. "There's definitely a lot more in my wheelhouse that I'm trying to accomplish."
Try This: Don't overlook Bold's separate lunch menu. Many dinner favorites can be found here, including the stuffed chile rellenos ($11). Two poblano chiles are filled with cotija cheese and smothered in a chile and tomato sauce and lime crema.

Good to Know: If you can't get enough of the shrimp tacos, head to the Flats for Taco Tuesdays. At $2 a piece, options include Amish chicken with white cheddar and roasted chilies, pork carnitas with house-made slaw or grilled mahi mahi topped with lime crema.
When You Go: 1121 W. 10th St., Cleveland, 216-696-8400, boldfoodanddrink.com, Mon-Thu 11 a.m.-10:30 p.m., Fri & Sat 11 a.m.-11:15 p.m., Sun 11 a.m.-10 p.m.