Breakfast service at the Blue Door Cafe & Bakery has just closed on a Tuesday afternoon, and chef Alejandro Najar is drinking wine.
His big bear claws, tattooed with El Jefe across the knuckles, clutch a clear glass, into which sommelier Kyle Hardy pours a bright orange Basque cider. "This goes really well for me with —"
"Shellfish," Hardy interrupts excitedly. He's just been training a group of servers and chefs at a table nearby.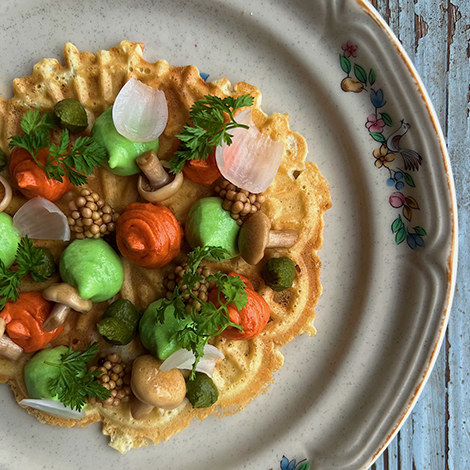 (Photo courtesy chef Alejandro Najar)

"That's fantastic," says Najar. "With oysters? Ridiculous. I love how orange it is. We had orange wine earlier today." Najar takes another sip, turns back to me and smiles his big, squinty smile. "I mean, we have a sommelier on staff," he says. "Who has a sommelier on staff? It blew my f— mind."
Then again, the Blue Door Cafe & Bakery in Cuyahoga Falls has never been just another brunch spot. Opened in 2009 by Marine veteran Michael Bruno, the cafe had a dedication to local and scratch-made food before those were buzz words. Bruno's upbringing in Germany gave him a love for European bakeries and French cooking. Locals took to its brunch menu quickly — but until now, it's never really offered regular dinner service.
Meanwhile, Najar, who joined the Blue Door team as executive chef earlier this year, is a big man with big dreams. He talks of winning James Beard Awards and Michelin stars; fostering incubator-like kitchens for young, creative chefs in Northeast Ohio; and turning Summit County into a foodie destination. Nothing really seems off limits for Barberton High School's most famous offensive lineman since Bo Schembechler.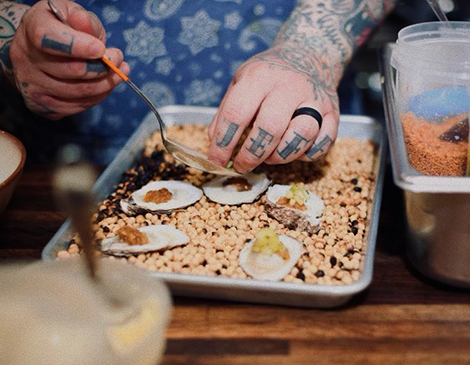 (Photo courtesy chef Alejandro Najar)
"Summit County has never really experienced anything like Blue Door — and they definitely haven't experienced anything like Blue Door dinner," says Najar. "We're seriously trying to change the whole food scene in this area out of one small restaurant."
After all, he's done it before.
In 2022, Najar was cooking at UnHitched Brewing Co., a former bowling alley largely responsible for reviving its Louisville, Ohio, street. Brewer Garrett Conley served locals classic saisons and lagers made from Midwest hops, and the Big Man, El Jefe, churned out flatbread pizzas and Bavarian pretzels in an open kitchen. Najar played on Asian and Mediterranean undertones to reinvent classic American gastropub grub. Some of his most successful dishes included the puffy hearth-roasted pita with farmhouse cheese and za'atar and the harissa fried cauliflower.
But on the weekends, the Chef's Counter — a beer and food tasting experience with a prix-fixe menu — gave the then-28-year-old a space to experiment. Over four courses, the young chef impressed with dishes like koji-aged beef Ssam and scallops in butter with fermented corn. "I felt I'd helped cultivate a different food scene in Stark County," Najar says.
Others took notice. In January 2022, Najar was invited to appear on Gordon Ramsay's Hell's Kitchen. When the show aired in September, viewers watched the young chef quickly transform from a deer in set lights to a leader on the "20-somethings" team — even winning a challenge with his UnHitched-
inspired za'atar-dusted wings. Spoiler alert: Najar made it to the final round.
"It's a fight or flight situation," Najar says of the show. "You're in a new kitchen working dinner service with seven other chefs who you've never met, but at the same time, it's a competition that you need to win."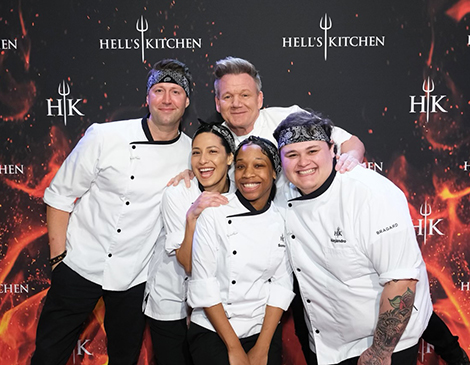 (Photo courtesy chef Alejandro Najar)
Behind the chaotic game show, Najar built a unique bond with his teammates and mentorship from its host.
"Off camera, (Ramsay) is one of the nicest people I've ever met," Najar says, despite the celeb's persona as a dictator in the kitchen. "I learned so much from him just about being a better chef and a better person."
When he returned home after Hell's Kitchen, things had changed.
"Celebrity life is weird," says Najar. "In Barberton, where I live, I can't even go to the grocery store any more."
Furthermore, he'd outgrown brewery food. He decided to take a new opportunity at Blue Door earlier this year.
"[UnHitched] has one of the best management crews I've been part of, and the clientele was very open to the new foods I was trying," he says. "But it was time to focus on taking the next step in my life and building a brand."
Blue Door embodies that step forward, both for the Summit County food scene and Chef Alejandro, who sees it as a chance to bring his food to a larger audience.
While he takes cues from the country's big food cities, Najar finds some of his best inspiration right here in Cleveland. Inspired by Larder chef Jeremy Umansky, Najar brought on sous chef Roman Moretti, a gifted butcher who also spent time working at Cordelia. His sharp knife breaks down whole shoulders of pork from Gifted Grass Farms or slices copa steak, a rare loin cut from near the pig's neck that Blue Door serves as a ribeye.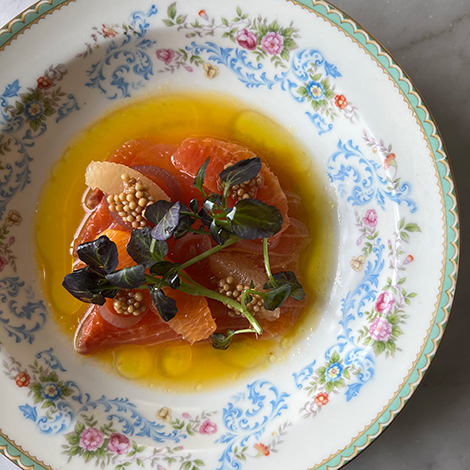 (Photo courtesy chef Alejandro Najar)
As for influence, he also mentions the shareable plates and ever-changing menus at Douglas Katz's Zhug and Jill Vedaa's Salt.
"I'm all about big, bold flavors," he says. "Those are the dishes that are remembered by customers."
They also inspire memories, like the wafer-thin pizzelle ($16), topped with ramps, capers, pickles and a spicy spread of cheese, which tasted like a delicate summer hot dog. Meanwhile, the fried chicken ($16) in hot honey masa miso is a take on the famed Barberton fried chicken: a poke in the eye of his new clientele and former rivals.
"I'm a Barberton boy," says the former lineman. "We played Cuyahoga Falls every year for the bell. It was a big rivalry. So, I had to put fried chicken on the menu and just make it way better."
The night we visited, the special — a deboned, sausage-stuffed Ohio trout served in a pool of "Midwest" green curry — was the showstopper.
Now a food scene savior and reality TV star, Najar can't stop reinventing local cuisine. After such a whirlwind year, some might expect Najar to slow down. But to him, one objective remains.
"How do I chase a James Beard Award?"
Bite into the Cleveland dining scene by signing up for our free weekly CLE Food & Drink newsletter — your weekly guide to food and drink throughout The Land.