Eddie Tancredi is a natural competitor.
While at the Le Cordon Bleu Institute of Culinary Arts in Pittsburgh, he was a member of the Junior Hot Foods Team, a group that battles against other culinary schools. He participated in individual competitions through the American Culinary Federation (even winning its Chef of the Year contest in 2013) and landed a spot on the IKA/Culinary Olympics team in 2010 and 2012, scoring a bronze during the 2010 Culinary World Cup.
All the while, Tancredi was fine-tuning his knife skills, plating techniques and cooking methods in a lead-up to the ultimate test: running his own farm-to-table restaurant.
Though there's no judge's table, cheering crowd or podium during a frosty late-January evening, Tancredi bounds around Distill Table like he's going for gold.
He greets diners at the door, picks up cocktails from the bar and puts finishing touches on entrees coming out of the open kitchen of his communal, farm-to-table restaurant with such precision and ease that his performance scores big with those watching.
Despite leaving the competition circuit behind years ago, the fight to win and be the best still is part of the Solon native's makeup.
"I've always been a competitive person, so I've always combined cooking and competing," says Tancredi, who left his executive chef post at downtown's Adega in 2016.
Distill Table shares space with Western Reserve Distillers in Lakewood's Fridrich Building, a former moving and storage facility now owned by Kevin and Ann Thomas. Since opening in August, the restaurant and distillery have formed a partnership aimed at living up to the trendy farm-to-table concept.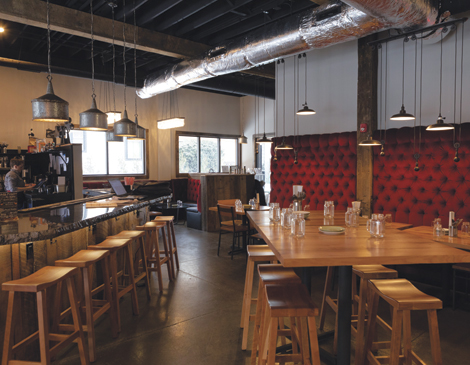 Spent grains from the distillery are used to feed cattle at West Salem's Twin Parks Farms, which supplies Distill Table with its beef and pork. A build-your-own meat and cheese menu sports the likes of Lake Erie Creamery and Yellow House Cheese. This spring, Tancredi is partnering with the Boys and Girls Club of America's Cleveland chapter to grow vegetables to use in the restaurant. And, of course, there's the extensive cocktail menu infused with Western Reserve Distillers' house-made gin, vodka and rum.
"Our mission is what stays local, grows local," says Tancredi. "I really want to make sure that we're utilizing [local] items and kind of going back to the grassroots of things before technology and the ease of getting ingredients. That's how menus were structured. It was based on what you had available in your means."
But it's a slow process. For example, building a steady supply of cattle means that Tancredi doesn't always have prime cuts available, such as the strip featured in a recent steak and avocado entree. When that happens, he whips up meatloaf or brisket specials that use other parts of the animal.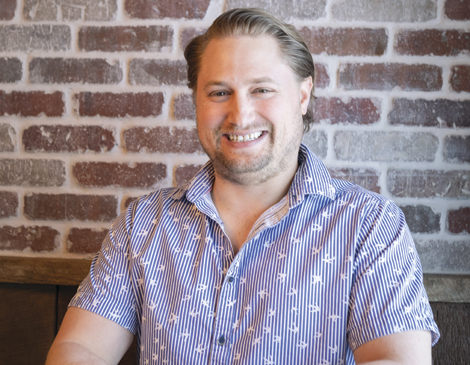 "When we do specials, they're actually special," he says. "We're not just trying to clear the cooler out. This is coming right from the farm and we're making a special out of this, and we'll have the special until it runs out."
The wide-ranging menu feels like a mix between tricked-out bar snacks, cozy comfort dishes and bright Mediterranean bites. It's easy to find something you'll want to order here, especially from the "Crispy Cravings" section.
If you order a whiskey flight ($12), this is a good place to land. There are plenty of options ready to soak up the alcohol without feeling too heavy, overly fried or boring.
The crispy Brussels ($9) takes the of-the-moment vegetable and throws it on a slice of ciabatta with whipped ricotta infused with shallots, thyme, lemon zest and fresh lemon juice. A play on bruschetta, this version is layered with acidity, brightness and smokiness — thanks to caramelized Brussels sprouts that are amped up with bacon and honey.
"It's kind of like the concept of an open-faced sandwich," says Tancredi. "[The Brussels sprouts] kind of come out like candied because when you fry them, they get [those] nice crispy leaves."
Tancredi's version of poutine ($11) could be viewed as blasphemy by any Canadian or fan of the traditionally cheese curd-laden dish. He forgoes those squeaky nuggets — or any kind of cheese for that matter — and focuses on developing rich flavors with chorizo gravy poured over Distill Table's signature barbecue potato curls (essentially french fries dusted with tangy seasoning). A poached egg and avocado cream make us (almost) forget about those cheese curds.
While there are sandwiches, such as the Ohio beef burger ($12) featuring ground beef from Twin Parks Farms, and five Neapolitan-fired pizzas good for sharing, the entrees or "Chef Specialties" are where you really begin to understand Tancredi's culinary approach.
At first, the citrus balsamic salmon ($23) seems like your standard salmon dish. But Tancredi, who knew that variety of fish was a big hit with customers in Cleveland, strove to make it anything but basic.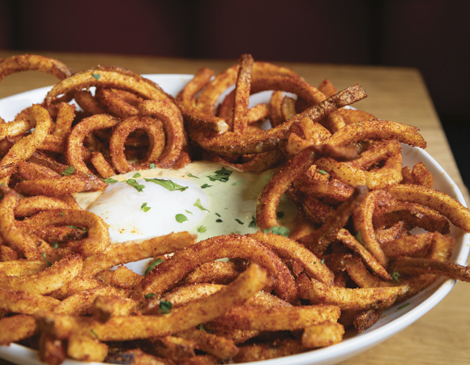 "I wanted to deliver a dish that was also like a power food as well," he says.
Infused with clean, healthy Mediterranean flavors, an orange balsamic glaze on the salmon imparts a bright, citrusy base for a bed of toothsome quinoa, chickpeas, roasted red peppers and basil.
While the Tancredi Sunday sauce ($20), a hearty pasta filled with pork shoulder, beef, Italian sausage and a rich red wine tomato sauce, pays homage to the chef's childhood — a time when his German mother prepared his Italian father Italian-style meals — it also shows his deep connection with food and the farm-to-table approach at Distill Table.
"You use leftover meats throughout the week and you add garlic, tomatoes, and make a sauce out of it," he says. "Everyone shares it and that becomes the Sunday dinner when everybody gets together."
That innate sense of cooking with what the land gives you and supporting those around you can only serve Tancredi as he starts to increase the percentage of local vendors he works with — he's aiming for 75 percent — and continues to grow his cattle program with Twin Parks Farms.
It's definitely harder, but as Tancredi pings around the restaurant clearing plates and thanking diners for stopping in, one realizes it's a task he's trained for his entire life.
"We really preach about being for the community," he says. "In a return, I want to make sure I'm doing the same thing — practicing what you're preaching."


When You Go:
Distill Table, 14221 Madison Ave., Lakewood, 216-505-5188, distilltable.com, Tue-Thu 4-10 p.m., Fri & Sat 11 a.m.-midnight, Sun 11 a.m.-4 p.m.
Try This: A gluten-free snack, the cheese puffs ($7) are light and airy. Ricotta, breaded with semolina, is frozen then fried for a treat that's golden brown on the outside and gooey on the inside.

Drink, Please: A stellar cocktail menu is worth the trip alone. Many are named after notable Clevelanders, such as the Carol Kane ($8). Like the Unbreakable Kimmy Schmidt actress, this one is fun and refreshing with hints of grapefruit, lemon, orange bitters and Western Reserve Distillers vodka.