Brett Sawyer wants to talk about hamburgers — and he has a lot to say about them. The 38-year-old chef, who grew up in Lorain County, has eaten his way through Northeast Ohio's burger scene, doing plenty of research and taking copious notes along the way.

Sawyer can rattle off the history of the California-based Big Boy chain, which served the country's first double-decker burger in the 1940s — "Everything after the Big Boy burger is a copy of that," he declares — and he'll wax poetic about the mayonnaise-based sauce atop the burgers at Elyria's Midway Oh Boy, which he enjoyed at the Lorain County Fair as a kid.




At Good Company, the '50s-style-diner-meets-modern-sports-bar concept he opened in Battery Park in January, Sawyer is putting all that burger knowledge to good use with a small but formidable menu centered around the sandwich he knows best.

"Your average sports bar does burgers and wings and french fries," he says, "but we wanted to put a little more love into it than your average corner bar."

Since opening the Plum in Ohio City in early 2016, Sawyer and his business partners have had their hands full. Their innovative bistro boasts an ever-changing menu and a frequently full reservation book, but the trio wanted to launch a casual concept elsewhere in the city — with a tried-and-true menu that doesn't change as often as the Plum's, if at all.

And though other restaurants have floundered in the Battery Park location Good Company now calls home, Sawyer feels confident about the burger joint's chances.

"It seems like everybody wanted something here where they could grab a beer and watch the game," he says. "Our concept seems to fit the neighborhood and situation really well."

Located in an industrial brick building just across the Shoreway from Edgewater Park, Good Company is all bright lighting, white brick and exposed ductwork, plus a long row of flat-screen TVs to make sure diners can catch a Cavs game or watch the Tribe while chowing on elevated versions of classic American favorites.

Sawyer knows, though, that it's almost impossible to create the best version of an item as beloved and iconic as the hamburger — so that's not his goal.

"Most people's gauge of what is the best is something they grew up eating, so your favorite isn't necessarily somebody else's version of the best," he says. "We don't want to be the best burger. We just want to be your favorite."

Indeed, the Good Boi — Good Company's signature sandwich, and the conceptual culmination of a lifetime of hamburger recon — may give your current favorite a run for its money.

To create it, Sawyer's team spent eight hours at the Certified Angus Beef headquarters in Wooster, trying cuts of beef in order to determine a signature grind (and a tightly held secret) unique to their menu. "Most people won't ever know we spent so much time and were so involved in that," Sawyer says, "but this is all just so we feel good about what we're putting out."

The Good Boi is what's known as a "smash burger," with a patty so flat that the server doesn't ask how you'd like it cooked. It's available as a single ($6) or double ($8), cushioned between a pillowy milk bun with a sprinkling of poppyseeds, and it's topped simply: shredded lettuce, white American cheese, griddled onions, a couple of thinly sliced pickles and "company sauce." "I'm afraid of people not wanting it once they hear what's in it," Sawyer says of the sauce.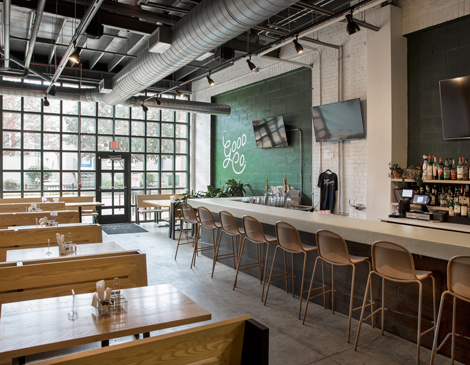 But it's a risk he's willing to take. Created in homage to the tartar sauce-like concoction on the Ohio Big Boy, it's made with Kewpie-style mayonnaise — a rice-based Japanese condiment — and blended with pickled eggs.

The result isn't nearly as alarming or acidic as it sounds — it's a lot like regular mayonnaise with a bit of a zing.

All that to say: When you bite into the Good Boi, expect to feel conflicted. How can you possibly abandon your longtime favorite burger from that other place? And yet, after tasting this glorious creation, how can you not? Juicy and flavorful without being greasy or overly messy, it's an all-American delight — perfect with a side of crispy, salty french fries ($3), all served on a paper-lined lunch tray.

Don't eat meat? Sawyer, whose menus at the Plum frequently include creative, plantbased offerings, wants vegans and vegetarians to feel as comfortable at Good Company as their burger-loving brethren, so he created the Veg Boi ($9), a mushroom patty topped the same way as the Good Boi — and as with the Good Boi, he won't reveal how it's made.

"We basically make a mushroom terrine in a similar manner to a chicken terrine," he shares, "and that's as far as I'm going to go with that."

Two other sandwiches on the menu are paired similarly: The Chicky Boi ($9) is Sawyer's version of the school cafeteria chicken patties he loved as a child, while the vegetarian Bonzo Boi ($9) is made with chickpeas. Both patties are slightly crunchy on the outside and soft and smooth inside, and they're topped the same way as the burgers (minus the onions).

"Basically, we spend a lot of time creating something that essentially tastes like something you got out of a freezer," Sawyer jokes. But he's selling himself short: His charmingly nostalgic renditions, while simple in presentation, are grown-up versions of childhood favorites that harken back to the '90s in ways more sophisticated than any elementary school lunch lady could've imagined.

The fried bologna cheesesteak ($10), too, gives off throwback vibes. A cross between two of Sawyer's favorite sandwiches from childhood, it's part humble fried bologna and part tribute to Mr. Hero's hulking Romanburger, resulting in a hefty, house-made hoagie stacked with thin, crisp meat, plus gooey cheese that holds the peppers, onions and roasted mushrooms in place. Unlike its lowly muses, though, it's clear that some serious thought and culinary care goes into the creation of this massive (and massively satisfying) sandwich.

Indeed, Good Company's limited menu is a result of Sawyer's commitment to making everything in-house, from curing the capicola on the Gabagool ($11) to churning ice cream for the boozy milkshakes ($12) to baking burger buns fresh from scratch each day. The only things not made on-site are the ketchup and mustard — but every other condiment, from the tofu ranch dressing to the red relish on each table (another tribute to Big Boy) comes from Good Company's kitchen.

"The idea was something that, on the outside, looks simple and more approachable than the Plum," Sawyer says, "but in the background, we put as much love and sweat and work into it as anything we do at the Plum."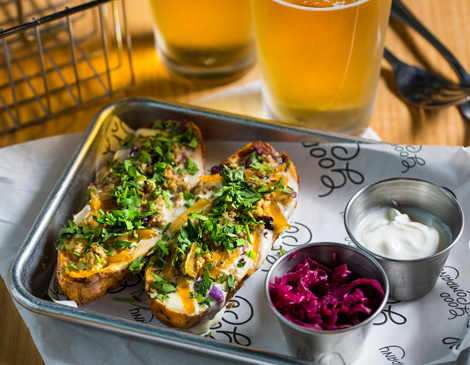 It's an approach that may go under-noticed by diners, which is the point — but it certainly doesn't go untasted. The twice-baked potato skins ($5), for example, look like standard bar fare, but in fact they're a Cleveland-inspired mashup.

"The idea behind it was pierogies as potato skins," Sawyer says. Topped with crumbled bratwurst, griddled onions and caramelized cabbage, these cheesy potato boats are a far cry from the heavy, oily version popularized in dive bars.

And unlike at the Plum, if you fall in love with something on Good Company's menu, you can expect it to stick around for a while.

"We spent months testing everything to make sure that once it's on the menu, it's not coming off," Sawyer says. "There's a wonderful stability about having a menu that we don't change all the time."

Try This: The beer-battered celery root ($9), a vegan take on wings to rival the real thing, is available in six sauce options. The blended Buffalo sauce, tasty with tofu ranch, is a blend of three popular hot sauces and a mish-mosh of spices.

Bottoms Up: The Henny Loggins ($10), made with Hennessey, honey syrup, orgeat and bitters, is an upright classic turned celebratory sipper that both your stoic grandfather and your favorite rapper would love.
When you go:
1200 W. 76th St., Cleveland, 216-331-0318, goodcompanycle.com, Mon-Thu 4 p.m.-midnight; Sat 11 a.m.-1 a.m.; Sun 11 a.m.-11 p.m.