Hook & Hoof's Hunter Toth grew up surrounded by food while working at his grandparents' grocery store in Euclid. But not until he left to study graphic design at the Art Institute of Fort Lauderdale did Toth realize he'd made a mistake.
"My roommate was in the culinary program," he recalls. "I just always saw all this food, and I would hear stories of the culinary world that were a lot more appealing than what I was going to class for."
It also didn't help that he befriended a few Colombian and Brazilian students who would gather on the beach with their families to prepare meals.
"Just the smells of cooking on the beach," he says, "the wood and the charcoal and the saltwater. Something about that was just so romantic to me — how food can make someone feel that alive."
He knew then that he wanted to a chef.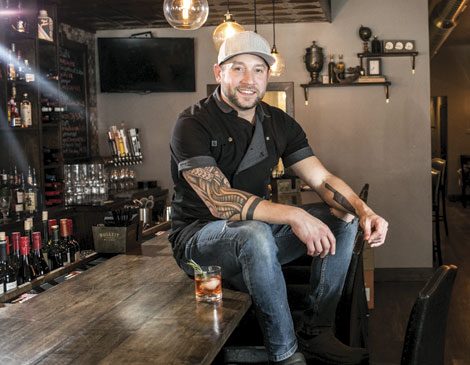 So he quit school, moved home and washed dishes in a friend's restaurant. During stints in various kitchens, he did everything from bartending to working in the front of the house. Most importantly, he learned how to cook.
"I hopped from job to job," he says. "But I was taking in every little lesson I could learn."
Thinking he was ready to venture out on his own, Toth and a few partners opened the Pub on 6 in 2011. But after eight months, he left the Willoughby Hills spot.
"Maybe I was a little too excited and that excitement led to what seemed to be a little bit of cockiness," he says, "like, Oh, I've got a restaurant. This is going to be easy."
He landed others gigs, including at Crumb & Spigot in Bainbridge Township, where he honed his skills alongside chefs and co-owners Karen Gorman and Ryan King.
"I really learned how to care for food," he says. "I really learned how to build a sense of time management and priority when working in a kitchen."
Toth again toyed with the idea of opening a spot. Friends suggested he meet with Chaz Bloom, a bartender at Mentor's Noosa Bistro, who was looking for a restaurant partner.
After two meetings, Bloom and Toth came up with the concept of Hook & Hoof, a play on Toth's love for seafood and meat. Over the next 16 months, the two renovated a 2,000-square-foot space in downtown Willoughby for their cozy 65-seat restaurant.
Its rustic decor — rich wood tables and chairs, copper ceiling, exposed brick wall and low-key lighting — makes it feel like you're dining inside someone's cabin in the woods especially with the faint whiff of smoke coming from the open kitchen.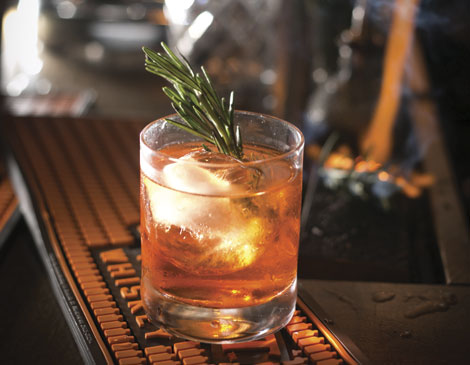 With a well-curated menu of familiar and comfortable dishes, Toth explores new flavors and techniques while respecting the tradition of family and food.
"This menu comes from my childhood," he says. "We just had these great get-togethers and big family meals. At a young age, I was having escargot and scallops and lobster. I just thought that was normal."
The smell of garlic and butter, the crunchiness of bread, the brininess of oysters were seared into his subconscious. "Those things are so memorable," he says. "There's no way they couldn't have stuck with me."
Toth can't help but create his own unforgettable experiences for guests at Hook & Hoof.
Take the jumbo shrimp cocktail ($12). What appears to be an unassuming appetizer impresses with three gigantic shrimp from Catanese Classic Seafood that requires a knife and fork to eat. Toth poaches them in butter and white wine then serves the shellfish with a smoked cocktail sauce.
"We wanted to be obnoxious with our shrimp cocktail," he says.
He gets a little campy with the smoke kissed clams and mussels ($13). Served in a covered enamel mussel pot, it reveals a cloud of smoke when opened. It's a playful presentation that creates a buzz around the clams and mussels cradled in an addictive broth of chorizo, Negra Modelo and coconut milk.
"If other people see you from across the bar or tables, they're just so interested in whatever it is that just happened at your table," he says.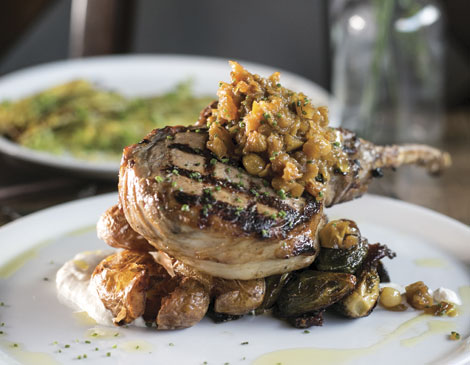 For another head-turning dish, order the tomahawk pork chop ($27) topped with an apple and green tomato chutney — a take on pork chops and applesauce. While pork can easily get dried out — especially a cut as thick as a tomahawk — Toth sidesteps that issue by brining the meat for eight hours in sweet tea.
Each bite is tender and on point especially when paired with the tangy horseradish crema. But he doesn't stop there. Herb-fried fingerlings with pecorino Romano cheese, and Brussels sprouts caramelized with Demerara sugar and sprinkled with bacon take this old-school dish to new heights.
The wild mushroom and artichoke ravioli ($23) showcases the care Toth puts into his ingredients. After roasting the vegetables, he mixes in sun-dried tomatoes, shallots, goat cheese and mascarpone to create a rich and luxurious filling where one ingredient doesn't overpower the other. The delicate balance pays off in big flavors when the house-made raviolis arrive topped with a nutty pistachio pesto, red pepper coulis and just a splash of white truffle oil.
Not one to avoid taking risks, Toth enjoys swimming in open waters. His cast-iron swordfish ($29), for example, won't be found in many other Northeast Ohio restaurants.
"Every one of my friends who cook told me not to put swordfish on the menu," he says. "It won't sell."
But the alluring entree has snagged fans with its sweet mild taste, heartwarming sides of cinnamon- and cumin-roasted carrots, and a grape and caper pan sauce made with cabernet.
Don't overlook the specials. Whether it's a braised rabbit leg with caramelized onion and Gruyere potato gratin, a grilled double bone-in elk chop with duck bacon creamed farro or a whole roasted branzino with pickled onion and fennel rocket salad, Toth and his kitchen staff have fun with the land and sea aspect of Hook & Hoof's philosophy.
In Toth's quest to pay homage to the classic, comforting dishes of his youth, he not only evokes nostalgia in each bite, but also pushes us to think about something as simple as a pork chop in different ways. And while he's creating these little magical, tasty moments, he's also building new ones for himself.
"Some of the best feelings in the world come from seeing someone take a bite out of something you made, and they actually smile and talk about it," he says. "It's not something I take for granted."

Try This: Sweet and salty, the braised beef cheek toast ($12) is like a grown-up version of peanut butter and jelly. A crusty baguette is layered with local goat cheese, a poblano and cranberry compote, wild mushrooms, honey and flavorful beef cheek. Drink Up Hook & Hoof's cocktail menu includes a list of classics such as a whiskey sour and Old-Fashioned, plus original options created by Chaz Bloom. Try the Smokebomb ($9), made with mezcal, Aperol and Lillet Blanc, and served with a smoked ice sphere and torched rosemary.
When You Go: 4125 Erie St., Willoughby, 440-571-5312, hookandhoofdtw.com, Mon-Thu 4-10 p.m., Fri & Sat 4-11 p.m.