When Jack Messer first started smoking meat, he didn't know what he was doing. Now, Landmark, the smokehouse he co-owns with his best friend Constantine Katsaros, is known for its incomparable smoked meats — all made on-site by the two of them and their small team. How'd they get it right?

"You have to ruin a lot of meat and eat a lot of really crappy barbecue for a while until you figure it out," Messer says, laughing.

Luckily for him and Katsaros — and for diners who've fallen in love with Landmark's top-notch brisket, flavorful pulled pork and other offerings — those not-so-great barbecue days are long behind them.

"We're interested in food and food technology, and we're not scared to Google it," Messer says of the duo, who attended Westlake High School together. "Someone on YouTube knows how to cook the perfect piece of fish — so I'm going to watch it 20 times and do it until I can duplicate it."

Their shared perseverance, paired with bachelor's degrees in business from Miami University, drove Messer and Katsaros' decision to go into the restaurant business together, even with no formal culinary training.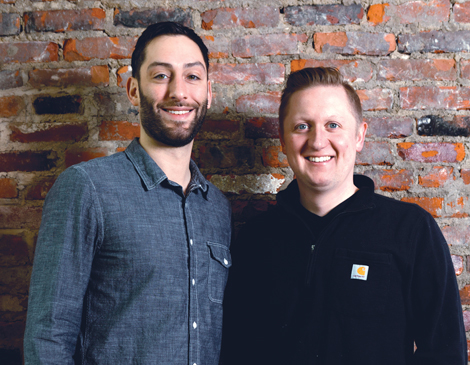 When Katsaros' uncle John, a local LGBTQ activist, died in 2014, the pair took over the neighborhood bar he'd long owned — the popular Twist Social Club on Clifton.

By then, it had been three years since Messer and Katsaros started their meat-smoking hobby, and they knew they wanted to eventually open their own restaurant. First, though, they committed to turning a profit at Twist and refurbishing the dilapidated building that housed it.

"We continued to have this passion [for smoking meats] and wanted to figure out a way to get into it," Messer says. "We continued to practice, serving a lot of food to our Twist customers and figuring out what they liked and didn't like."

To say their endeavors were a family affair is an understatement. In 2012, Messer's now-wife, Suzie, gave him a loan to buy their first smoker, which they housed in his brother Jim's garage. "He was the guy that drew the short straw," Messer jokes.

Though much of their smoking education came from trial and error, they also learned from Katsaros' dad, Pete, and godfather, Chris, owners of the Tick Tock Tavern catty-corner from Twist.

After purchasing the pit, they smoked every weekend for an entire year. Meanwhile, Messer was selling construction equipment full-time, while Katsaros worked in wealth management. At night, they manned the bar at Twist, which meant long days and little to no sleep.

"It's this entrepreneurial spirit we've always had," Messer says. "It's a lot of hard work and perseverance. There have been many times when we thought it wasn't going to happen."

But it did. In summer 2018, Messer and Katsaros opened Landmark in the space next door to Twist. On weekends, the nightclub's dance music pulsates through the shared brick wall, a distinct contrast to the chill, '90s alt-rock usually playing in the smokehouse.

Bright and airy with a modern vibe, the space resembles an upscale Chipotle — a deceptively casual atmosphere for a place that turns out such high-quality food. Katsaros chose most of the interior decor, which features slick, shiny wood furniture, exposed brick and bubbly glass light fixtures. He even researched the color rendering index, which measures light sources' ability to illuminate colors faithfully, to achieve just the right lighting for customers' Instagram photos.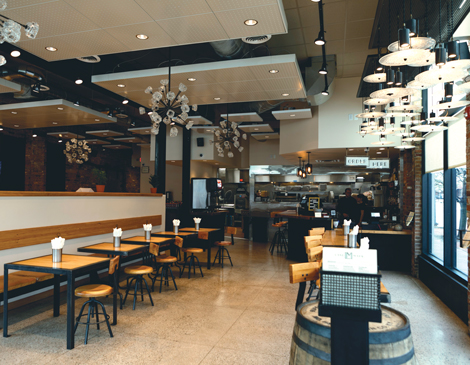 "One of the things we noticed at every barbecue place was that it's dark," Messer says. "We thought, Why can't we do it differently?"

They took a similar approach to their menu, differentiating themselves from other smokehouses by smoking and curing their own meats while also offering lighter fare to appeal to a broader audience.

One of their most popular items can't be found on any other menus in Cleveland: Montreal-style smoked meat, a peppery, dry-rubbed version of its spicier cousin, pastrami. Landmark's version comes with mustard on rye ($15) or atop two massive latkes ($16) with sides of coleslaw, fresh horseradish and sweet applesauce.

While visiting Montreal on his honeymoon, Messer struck up a conversation with the owner of Schwartz's Deli, one of Canada's oldest delis, to learn how to perfect this local delicacy.

"I really had an aha moment," he says. "It was one of those moments when you're just like, Oh my God, this is amazing. I've never had anything like this."

Making it requires a worthwhile but complex process. First, the meat is coated with a dry rub of curing salt, regular salt, bay leaves, coriander and black pepper. It's stored in a cooler for 10 days and flipped daily to ensure a proper distribution of the curing mixture. On day 11, it's rinsed, soaked, de-salted and dry rubbed again, then smoked for 10 hours, rapidly chilled, and, finally, steamed.

Every serving is hand-sliced to order — and sometimes demand is so high that the restaurant runs out of it entirely. Messer estimates that his team currently cures 20 Montreal-style smoked briskets a week, plus a similar number of standard briskets and pork bellies. "I can't even put a number on it," he says. "It's getting to be a lot."

Of course, all smoked meat needs a stellar barbecue sauce, and Landmark offers four versions, each inspired by a different state's style of barbecue. Messer's favorite is the tangy, mustard-based South Carolina sauce, which pairs equally well with brisket, pork or turkey. Landmark's meaty half-slab of Smoked St. Louis Ribs ($16) comes slathered in the Kansas City sauce, which has a sweet taste and a thicker consistency in the vein of Sweet Baby Ray's.

The spicy, tomato-based Memphis sauce is adapted from Messer's Aunt Judy's recipe, while the North Carolina sauce is influenced by summers spent visiting Katsaros' family in Wilmington. "We grew up going down there and eating pulled pork with vinegar sauce," Messer recalls of their childhood.

The best way to get a taste of everything is to order the one-pound smoked meat tray ($25), piled with brisket, pulled pork and turkey, plus fixings like coleslaw, quick-pickled onions and white toast. Many of Landmark's menu items are available with your choice of smoked meat, including the rich, creamy mac 'n' cheese ($12), made with a gooey mix of Gouda and cheddar cheese, and the deconstructed burrito ($13), a brightly colored jumble of jasmine rice, Chihuahua cheese, black beans, avocado, pico de gallo and other fresh veggies.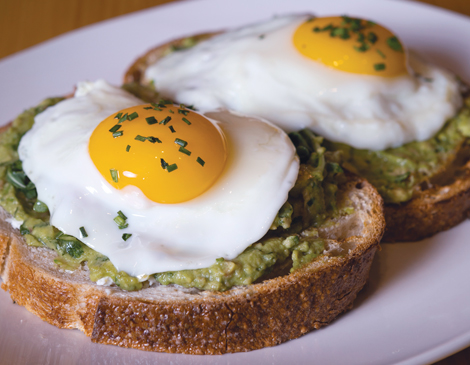 And though smokehouses aren't usually a meal destination for vegetarians and vegans, Landmark offers a few thoughtful meatless options that allow carnivores and herbivores to dine together in peace. "It's always interesting to balance that — a vegan coming into a smokehouse," Messer says. "We really try to be accommodating."

Their best-selling plant-based option is the vegan burger ($12), a house-made black bean patty with peppers, onions and a spicy house seasoning. Slathered in North Carolina sauce and served between slices of toasted sourdough, it looks like a cheeseless patty melt, but tastes like a healthier version of a sloppy Joe.

Messer and Katsaros continue to taste-test new items with customers at Landmark and Twist. They'll soon introduce a robust bourbon program, and they also hope to start selling smoked meats by the pound, a common deli practice they've yet to master.

"To smoke something for 12 to 14 hours over just wood, you have to be patient and you have to have people who really care," Messer says.

Overall, these energetic entrepreneurs have no plans to rest on their proverbial laurels any time soon. "We love this place," Messer says. "It's the best decision we've ever made — and the hardest thing we've ever done."

Try This: Go off the standard smokehouse script with the Thai Peanut Bowl ($13), one of Landmark's most popular non-smoked dishes. This lighter offering is chock-full of grilled chicken, healthy veggies, pineapple and a zingy, house-made Thai peanut sauce.

Morning Star: Landmark is the only barbecue spot in town that offers a full breakfast menu. You'll find options such as avocado toast ($10), buttermilk pancakes ($9) and a hash ($14) made with Montreal-style smoked meat.

When You Go: Landmark, 11633 Clifton Blvd., Cleveland, 216-230-4040, landmarkcleveland.com, Daily 7a.m.-10p.m.