Rob Records' favorite way to research and brainstorm new recipes is to travel around the country — and to eat everything he possibly can in each place he visits.

"I went to Chicago for 16 hours and ate at 30 restaurants," laughs Records, the executive chef of Lindey's Lake House in Beachwood. He's done the same thing during trips to Texas and Florida. "You don't take their ideas, but you go, 'Hmm, how could we do something like this, but make it better for us?' "

The veteran chef from North Olmsted brings back everything he learns and finds a way to work the best of it into his menus here at home — not just at Lindey's, but also at Cedar Creek Grill, located next door and owned by the same company, NCR Ventures. After seven years as the executive chef there, he's currently doing double-duty between the two restaurants.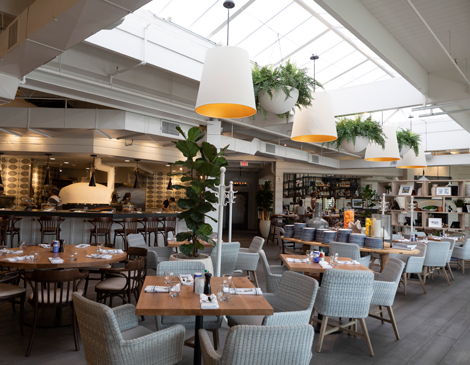 But Records, who also spent 10 years as the executive chef of Johnny's Bar in downtown Cleveland, didn't originally set out to work in a kitchen. In the late 1980s, when he started college at the University of Akron, he planned on becoming an accountant. But after failing a big accounting test, he started to rethink his plans, honing in on his newfound love of cooking for his roommates. He changed his major and went on to earn a degree in Akron's newly launched culinary arts program.

"Everyone's fit for some kind of job in this world, and it takes some people a few careers to find it," Records says. "It only took me one. Things come natural to me — the things I make just work."

Rick Doody, the business brains behind Lindey's and the founder of popular local restaurants such as Bravo and Brio, clearly agrees. He asked Records to head up the culinary side of his newest venture, starting with the November 2018 opening of Lindey's in Beachwood.

It's just the start of a larger Lindey's empire: In early April, Doody opened a second location in the Flats East Bank, in the spot previously occupied by his own Coastal Taco.

"He's my mentor," Records says. "Obviously he's the business side of things, but he's also a culinarian and knows great food."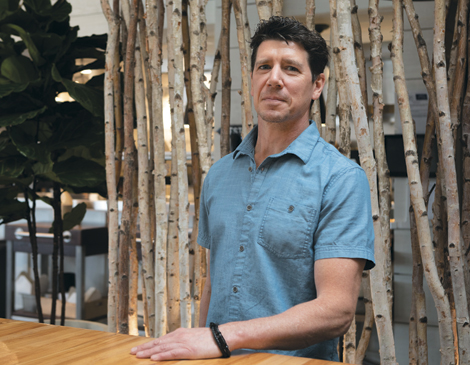 The unassuming but elegant Lindey's is Doody's homage to his childhood. The restaurant itself is named after a bistro in Columbus originally owned by his late mother, Sue, and the beach house theme recalls summers spent on Michigan's Walloon Lake.

Inside, Doody's wife, designer Wendy Berry of W Design in Chagrin Falls, has created a space reminiscent of the luxurious lakeside cottages that dot Lake Erie. Though the restaurant is located about 20 miles from the water, the interior — all white-washed wood and wicker, with gray and blue water-themed accents throughout — almost makes you forget your inland surroundings.

"If you go up to the lake and sit at the lake house, it's very casual and calm," Records says. "That's the basis of how Lindey's Lake House came about: a super casual place where you can eat with friends and family and get a great grilled fish or a great piece of meat."

He's put together an upscale but down-to-earth menu that reflects that vibe, featuring humble, identifiable seaside comfort foods elevated by their fresh, robust flavors. Sure, that means plenty of seafood dishes, but you'll also find tacos, cracker-thin flatbreads and a few turf-without-the-surf entrees.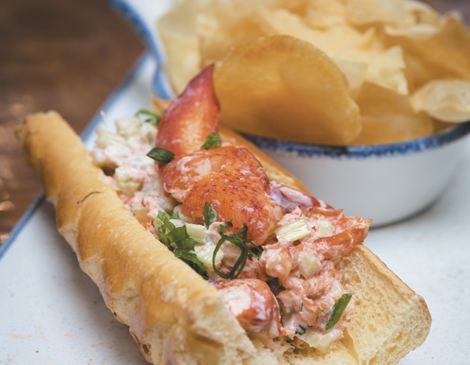 Take, for example, New England's quintessential seaside food, the lobster roll. It could be hard to it get right in a landlocked state like Ohio, but Lindey's version ($25.95) isn't just reminiscent of the Maine Coast — it's a delicious replica. Made with huge chunks of fresh lobster meat shipped in from the Atlantic coast, it's lightly dressed with lemon-tarragon mayonnaise and chopped celery, overflowing from a toasted, split-top challah bun.

Lindey's lamb chops ($29.90), served over a bed of shredded Brussels sprouts salad and sweet potatoes, are a landlubber's dream. The strong, salty flavor of melted blue cheese goes up against a slightly sweet sauce, making for an unexpectedly complex flavor in such a seemingly straightforward dish.

The portions are manageably sized, but don't be afraid to order one of the small plates as your main dish. A few of the menu's bestselling entrees are available in this easier-to-manage size — including the lamb chops.

The small plate version ($16.95) is served over succotash-style "Lakehouse hash," which subs edamame for the traditional lima beans and includes kernels of corn so freshly shaven from the cob that they're still stuck together in little bundles. This colorful, healthy mix is a constant throughout the menu, serving as a base beneath many of the menu's other proteins, too.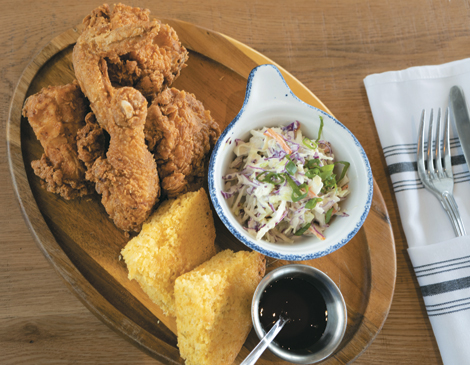 The fried chicken ($20.95) goes a much heavier route, paired with a skillet of dense cornbread and a ramekin of creamy blue cheese coleslaw. The chicken itself — from an Amish farm in nearby Wayne County — marinates in a highly spiced (but not-too-spicy) brine for 24 hours before being double-breaded and fried.

"It makes it super crispy outside and keeps the inside really moist," Records says of the process. "It almost seals the chicken together." The result is a massive, mouth-watering meal that can absolutely hold its own against legendary Southern renditions — and will probably require a doggie bag.

For lighter fare, turn to the menu's five flatbreads, served on a crust so thin and crispy that you can eat the whole thing without realizing you've just consumed an entire pizza.

Emmy's BBQ Chicken Flatbread ($13.50) is topped with that same Amish chicken (grilled this time), plus chunks of thick-cut bacon and fresh scallions. Its contrasting sauces, a salty sofrito and a sweet apricot barbecue, make for a pleasant flip-flop between salty and sweet in each bite.

Overall, Lindey's imaginative but unpretentious food, paired with an ambiance that hearkens to sunny days spent on front porches with friends, truly does conjure that waterside feeling — even though there's not a body of water in sight.

And Records, who has set high standards for himself, his staff and the food they put out, is committed to experimenting until everything feels right. His menu will continue to evolve in the coming months with possible additions like ribs and trout.

"If it's good now, we continue to try to make it better," he says. "We aren't satisfied with OK or good. We want it to be great."

Try This: A departure from the flavors of the rest of the menu, the Korean barbecue wings ($11.95) are glazed with a spicy sauce made with gochujang, a Korean chili paste.
Eye on the Pie: Leave room for dessert at Lindey's, where the pies are baked fresh daily and the options rotate on a seasonal basis. Solidify that summer-on-the-lake vibe with the Key lime pie ($9), which is cold and creamy with a thick graham cracker crust and a dollop of whipped cream on top.



When You Go: Lindey's Lake House 2101 Richmond Road, Beachwood, 216-342-5030, lindeyslakehouse.com, Sun-Thu 4-10 p.m., Fri & Sat 4-11 p.m.