When you're here, you're family. That's the way of life at Nora in Little Italy.
From the time chef and owner Eddie Zalar decided to open the charming Italian restaurant at Murray Hill and Edgehill roads in 2015, his parents enthusiastically stepped in to assist him.
His father helped with bookkeeping, while his mother decorated the 40-seat space and currently works as the restaurant's pastry chef. They still stop by the restaurant three to four days a week — dropping off new welcome mats or to plant coriander in the flower pots outside.
"Maybe I went into it a little bit naive," Zalar says, "not knowing how much work it was actually going to take."
But with the support of family, the 30-year-old has created a warm and inviting place — even if he bought the restaurant and opened it in the same week that his wife gave birth to their daughter, Nora.
"I don't know if Nora is an Italian name or not," he says. "I think it's a cute name and I can't think of a better name for a restaurant than Nora. How could we not name it after her?"
For the Culinary Institute of America graduate, a return to Cleveland after stints in Cape Cod, Colorado and New York City felt like stepping back into the Chardon childhood home where food and family where central.
"I grew up with a Slovenian mother who shoved food down my throat," says Zalar. "If I was like, Oh I don't feel good, she would be like, Here, eat something. You'll feel better."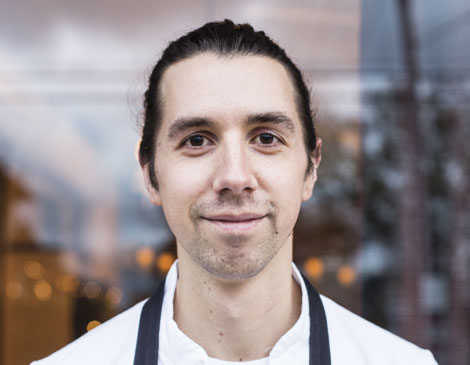 It's a comforting sentiment that runs the gamut of Zalar's well-curated menu of 15 or so items. While rooted in Italian principles, many dishes exhibits French technique. Although dishes can change weekly, the one constant is hitting on well-known flavors that evoke memories and just simply make you feel good.
Take the hearty pappardelle (half $16, whole $26), a house-made flat pasta noodle entree covered in wild mushroom-tomato ragout with tender duck confit, preserved orange and rosemary.
"My dad told me that when he was growing up, he would eat spaghetti and ground meat casserole like once a week because that was the only thing he knew how to make," says Zalar. "There's always going to be a noodle with a red sauce served in a cast-iron pan as an homage to him."
A limited menu also allows Zalar and his chef de cuisine Kayla Kenney to think about each element of the dish — tinkering with ingredients to adapt to seasons and tastes.
"A lot of our dishes are really labor intensive," he says. "If we only have like 15 things, then they're going to be really nice. We're going to put lots of effort into it and hopefully people taste that."
Diners will benefit from such care and attention to detail in antipasti options such as the seafood bruschetta ($8). Packed with cherry-smoked mussels and braised octopus that's been cooked sous vide in red wine for four hours, it's partnered with a spicy tomato jam and a touch of squid ink emulsion.
"Most people think bruschetta is just some diced tomatoes, basil and garlic," says Zalar. "But this is time-consuming — it takes up a good part of our day."
The burrata ($12) — fresh Italian cheese made from mozzarella and cream — delights with its simplistic, yet flavorful, approach. Our new favorite way to eat cheese and crackers — just pick up a piece of crusty rosemary crostini, cut a slice of the soft, stringy and slightly sour cheese and top with the accompanying marinated rapini and cherry-peach compote.
While there are just five pasta dishes to choose from right now, Zalar is planning on introducing some short noodles — think macaroni and rigatoni — into the rotation. But for now, standouts include the agnolotti (half $13, full $21). During our visit, the delicate pasta was stuffed with a hazelnut ricotta and butternut squash filling and topped with crispy Brussels sprouts and blue cheese.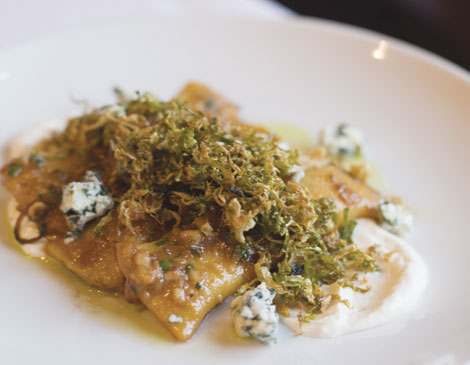 Beet lovers should opt for the ravioli (half $16, full $26). A house-made fennel sausage filling teams up with a Dijon mustard and beet puree, saffron olive oil and candied pistachio crumbles to deliver an earthy, robust knockout punch.
"It's very in your face, but in a good way," says Zalar. "It's an explosion of flavor."
The fettuccini (half $14, full $22) has reached cult status in the Little Italy neighborhood. Toothsome noodles are bathed in a roasted garlic and pancetta carbonara. Topped with fried matchstick potatoes, slices of a salty cured egg and an expertly poached egg, it's easy to see why this dish hits all the right culinary notes.
The half-roasted chicken ($28) gives us the bird in two creative ways. First, a juicy chicken breast rests on a savory bread pudding of Italian bread, broccolini, white wine and chili flakes and a pool of taleggio fondue. Next to it, Zalar pairs a stuffed chicken thigh — deboned and filled with mixture of roasted walnuts, mascarpone and lemon zest.
Daily specials usually include a fish entree such as a recent prosciutto-wrapped halibut ($32) served with crispy polenta fries and a sun-dried tomato and olive tapenade. Other specials gear more toward featuring different kinds of meat such as a espresso-rubbed rack of lamb ($34) with a basil almond pesto.
"That one was good," remembers Zalar. "We should probably bring it back."
One item you'll find consistently on the menu is his mother's bombolini ($10) — Zalar's childhood favorite. The house-made sugar-dusted doughnuts paired with lemon gelato and lemon curd is a specialty of his resident pastry chef. She also lovingly bakes a decadent tiramisu ($10), whips up three kinds of gelato and makes a seasonal chocolate tart — all from home while also baby-sitting his daughter three days a week.
Sometimes it takes a village to achieve success.
"We're a small place, we have a chef de cuisine in the kitchen, a dishwasher that is also a prep cook, and we rotate here and there," he says. "It's a year and a half after we've opened, and we're still open so that's big for us. We're just trying to show our version of Italian cuisine."
Try This: The house-made chicken liver mousse is the star of the salumi e fromaggi ($15). Great for sharing, the charcuterie board is loaded with a house-made terrine, various Italian cheeses, pickled vegetables and crusty bread. Good to Know: A small wine list features stellar options such as the crisp, dry 2013 La Scolca Black Label Gavi Di Gavi ($65 per bottle).

When You Go: Nora
2181 Murray Hill Road, Cleveland, 216-231-5977, noracleveland.com, Tue-Thu 5-10 p.m., Fri & Sat 5-11 p.m., Sun 5-9 p.m.