It almost doesn't seem right to call Marble Room just a restaurant. With glamour, glitz and grandeur everywhere you look, it's a living, breathing tribute to Cleveland's past with a bankable culinary twist.
Home to National City Bank for 87 years, the 1898-built Garfield Building signified the height of Cleveland's financial prominence in the 1920s. You can feel that opulence and lavishness the moment you step inside, with modern-day touches such as rich velvet booths cloaked by curtains for privacy and the sexy black-and-white art by well-known fashion and portrait photographer Greg Lotus.
When Millennia Cos. purchased the building in 2015, owner Frank Sinito saw the 13-story building as a real estate opportunity. While he planned to turn the offices into apartment units and retail space, the bank's lobby with its elaborate Italian pink marble columns, intricate chandeliers and gilded ceilings beckoned to him and his wife, Malisse.
As owners of Lockkeepers in Valley View since 1992, the couple knew they could bring the 35,000-square-foot institution back to life and fill it with people who would marvel at the breathtaking Revival and Gothic design just as they first did.
"I couldn't even imagine letting something like that go," says Malisse Sinito, the president of Millennia Hospitality Group. "It is just such a beautiful space, and there is so much that went into the original work of that building: the original construction, the stone, the gilded tiles, the beautiful brass railings. It's something you really want to preserve."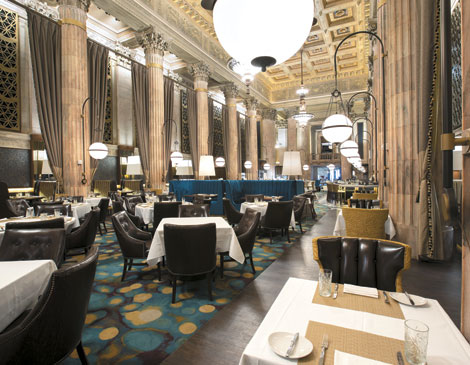 After two years of renovations, Marble Room opened in September and has quickly elevated the Cleveland dining experience — by making it an experience.
In addition to its impressive design touches everywhere, from former check writing tables that serve as high-top dining tables to a curved quartz bar that sits in front of a sleek, glass 1,600 wine bottle refrigerator, Marble Room lays out a lengthy menu of seafood and steak dishes that attempts to match its extravagant surroundings.
Many of the options — while a little more expensive than what Clevelanders may be used to spending — feel special and different. It's not your weekly hangout. This is where you come for those special moments and celebratory occasions. Whenever or however you end up here, it's the type of place you need to experience at least once as a Clevelander.
The raw bar, sushi and sashimi items, crafted by executive sushi chef Paul Inkyun Jung and sushi chef Aaron Chen, highlights Marble Room's attention to detail, precision and technique.
The fish-n-chips sushi roll ($16) is layered with yellowtail amberjack, avocado and tobiko and topped with crispy bits of potato and a red chile tartar sauce. It's delicate, creamy and smooth — and may possibly be the best bite of sushi we've ever had.
The hamachi jalapeno crudo ($16), a raw presentation of the Japanese fish, shows off the buttery rich texture by slicing it paper-thin and dressing it with thinly sliced radishes and jalapeno, and a truffle ponzu sauce.
As for the menu's appetizers, salads, mains and sides, the dishes were conceived by opening executive chef Brandon Veres and current executive chef Kyle Anderson. With experience working at Moxie under his mentor Jonathan Bennett, Anderson strives to let ingredients shine.
"There's something beautiful about just simple food," says the 28-year-old chef. "Like you wouldn't have taken that last bite, but there's something on that plate that keeps you coming back to it. You can't figure out what it is, but it's so simple and it's driving you absolutely crazy. How could something so simple give you that reaction to it?"
Some of that simplicity shines in the beef tartare ($17) topped with a quail egg and caperberry. The artistically plated appetizer comes with an arrangement of house-made everything bagel chips. Break off a piece to scoop up the well-seasoned tartare, made with prime tenderloin, shallots, truffle, mustard vinaigrette, oil, parsley and chives.
Not all of Marble Room's creative ventures pay off. The foie gras ($21) appetizer, which marries the duck liver delicacy with a funnel cake, falls short. Placing the hot, seared foie gras with macerated strawberries and honey on top of the delicate dough turns the airiness of the carnival treat into a soggy mess.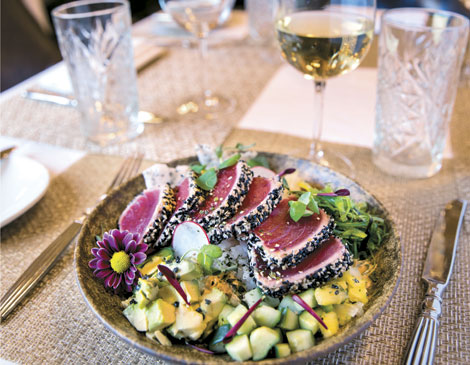 But things start to look up with main dishes, such as the tuna poke bowl ($38). A trendy option, this bright and colorful offering pairs sesame-crusted seared yellowfin tuna (though you can request it served raw) wakame slaw, avocado, radishes, jalapenos, sushi rice and pineapple salsa. It's a feel-good dish you just want to gobble up.
With shaved fennel and an orange-cherry compote, the seared duck breast ($36) felt very comforting in winter's long, dark days. But Anderson plans on tweaking the menu in the next few weeks to incorporate some spring-forward flavors. "I'm trying to play around with what's going to be available," he says, "peas, mushrooms and asparagus."
You won't see too many tweaks to the steak portion of the menu. You'll find a $101 40-ounce porterhouse steak and a $125 42-ounce long-bone tomahawk. If you can't justify spending that much on a single piece of meat, Anderson suggests ordering it as an appetizer to split between your dinner party.
"I think that's a lot of what dining is — having that experience and bond at the table with everybody else," he says. "Just to see that tomahawk coming out, it's that wow experience like, Holy crap."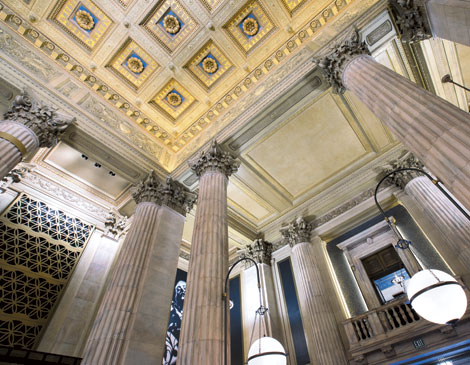 With such heightened expectations, the service better be on-point, polished and in sync. But from inattentive servers to receiving the wrong entree to a quick work lunch that ballooned into a two-hour mess, the service is tarnishing this gem.
Anderson says he's aware that there have been mishaps and hiccups since opening, and he's working to correct it.
"When it comes down to the house side, the servers, the food runners, the bartenders, the hostess — everybody plays a role when it comes to our operations," he says. "If they're failing at something or they just fail to know something, that's on me."
If Marble Room can achieve that restaurant trifecta where dining out is bliss from coat check to dessert, it will truly become a destination for the city. It has the potential to be about more than just what ends up on your plate or how quickly your server refills your glass. It can be a testament to how an investment in a beautifully restored building can bring us together.

When You Go:
623 Euclid Ave., Cleveland, 216-523-7000, marbleroomcle.com
Mon-Thu 11:30 a.m.-10 p.m., Fri 11:30 a.m.-11 p.m., Sat. 5-11 p.m.
Try This: With more than 400 bottles of wine available, Marble Room has some vintage you'll be sure to love. But if searching through the massive menu gets overwhelming, start off with Malisse Sinito's fave — a glass of Moet & Chandon Rose ($35). Party Trick:Really impress your family and friends by setting up a private dinner in the basement vault. Plush yellow velvet chairs command attention around a massive dining table. There's even a private bar made from the brass plates of former safe deposit boxes.