It all started with lunch. Michael Schwartz wasn't thinking about opening a restaurant in Cleveland when he sat down for a meal two years ago with Jonathon Sawyer, chef and owner of Greenhouse Tavern.

Tasked with curating the food experience at what would become the Van Aken District, the multimillion dollar Shaker Heights shopping center, Sawyer hoped to convince Schwartz to bring his growing restaurant empire to Cleveland.

The 2010 James Beard Award-winning chef owns multiple restaurants on the sunny, palm tree-studded Florida shore — including Michael's Genuine Food & Drink, the namesake eatery he opened in 2007.

Before that meeting, Schwartz's only connection to Cleveland was through his friendship with Sawyer, who he'd met at a fundraiser years ago. He found, though, that the city's grit and determination, along with its quickly expanding food scene, reminded him of his hometown of Philadelphia, so Schwartz felt compelled to give it a try.

"It was a chance to infuse a little bit of lighter, brighter flavors into the food here," he says.

The decision to expand his flagship Miami restaurant, which opened at Van Aken in March, was a natural evolution of his own approach to cooking.

Schwartz incorporates a sort of delightfully incongruous variety into everything he creates, including the somewhat miscellaneous menu that serves everything from hand-pulled fettuccine and pastrami sandwiches to wood-fired pizzas, octopus and oysters.

His signature style isn't classified by any one cultural influence or cuisine, but by a contemporary American approach defined by the characteristics of the dishes themselves: identifiable flavors brought together in ways that highlight texture, color and even temperature.

"It's this idea of simple food, presented simply," he says. "Not too challenging, not too weird, not too foreign."

Schwartz, 55, started working in the food industry as a 15-year-old busboy in an Italian restaurant in Philadelphia and became intrigued by the creative process.

"I fell in love with the restaurant business and worked my way up," he says.

He's since worked for Wolfgang Puck and become a foodie TV personality, opening the original Michael's Genuine after making a name for himself in the South Florida food scene. Soon after, The New York Times named the restaurant one of the best in the country. The key to his Miami success, Schwartz says, is going against the city's stereotypical style.

"The Miami food scene was all about trend and flash and fabulousness and much less about substance and [being] genuine," he explains.

He saw an opportunity to fill a void by offering straightforwardness and simplicity through fresh, fun-to-eat food. Now, he hopes to bring that same authenticity to Cleveland. So far, it seems to be working, as the Van Aken locale is frequently jam-packed by happy hour.

In a fairly small dining room, the restaurant's 80 seats are set close together — which makes for a bit of dining claustrophobia — but also for a buzzy, friendly atmosphere.

Curious foodies can grab a seat at the food bar, with views into the open-concept kitchen and wood-fired pizza oven. Wherever you sit, you can peek into the glass-enclosed, temperature-controlled corner room where staff extrudes pasta and pizza dough.

But in this bright, airy space, with its high ceilings and lightly piped '90s alt-rock jams, don't expect a trace of Miami flashiness. Black, white, muted tan and deep maroon hues are mixed with hints of brick and wood, and pops of color come not from showy decor, but from vibrant, colorful dishes.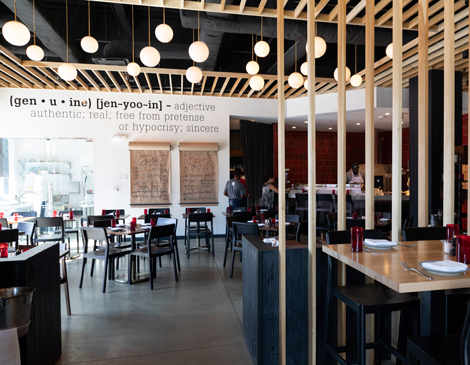 Schwartz's signature variety extends even to the structure of the menu, offering a variety of portion sizes so diners can customize their meal experience. But don't get attached to any one dish: Schwartz changes the menu multiple times a week, as he does in Miami.

Previously, he had a version of the roasted short ribs ($29) on the menu that came with delicate cipollini onions, an almost garlicky romesco sauce and smoked almonds, plus a wedge of lemon to squeeze onto the meat.

If that dish returns in the future, it will retain a few common elements with small changes to the particulars. It starts the same: The short ribs sit overnight in a rub of paprika, ginger, chili powder and porcini powder before being slow-roasted, portioned and chargrilled to order in thick, individual slabs. From there, though, everything's up for grabs.

"We always serve [most entrees] with things that are either room temperature or cold or crunchy," Schwartz says. "The idea is for us to capitalize on ingredients that are abundant and seasonal."

In Miami, that means lots of mango-centric dishes, but because Cleveland isn't exactly known for its citrus, Schwartz is still sorting out the local elements of the menu here. In the spring, he got excited about the abundance of ramps, which he featured on a thin-crust pizza ($16) with fontina, Gruyere, Parmesan and lemon.




Chef and owner Michael Schwartz uses locally sourced ingredients on an ever-rotating menu to create vibrant dishes such as the cheesy house-made casarecce.

"I'm looking forward to figuring out what else I should be looking forward to," Schwartz says. Luckily, he has plenty of tried-and-true dishes from his Miami restaurant to turn to, including a Mediterranean-inspired lamb shank with creamy cucumber tzatziki, steamed clams ($20) with galangal, lemongrass, pork belly grilled sourdough and lemon aioli, and cheesy casarecce ($17) with peas, green beans, pesto and pecorino.

Frequent menu rotation means that some of Schwartz' creations land better than others, with room to rework ones that don't. There are huge hits, like his spring pea toast ($11), a lighter-than-air and downright swoon-worthy alternative to avocado toast made with fluffy whipped peas, creamy burrata, mint and a sprinkling of ground pepper.

Others, like the wood oven-roasted strawberries ($10), with a slightly earthy, cooked-over-a-bonfire taste, feel like unabashed experiments not yet ready for prime time. The shrimp toast banh mi ($9), a petite, open-faced twist on the classic Vietnamese sandwich, is somewhere in the middle, undeniably tasty but not yet hitting the mark.

One long-perfected recipe, though, is Schwartz's popular crispy hominy ($7), individual kernels of fried maize dusted with chili powder and served steaming hot. On the Miami menu since its opening, the dish was inspired by a food critic's review of a New York City restaurant called Cookshop.

"[The food critic] talked about hominy in a way that made me want to try it," Schwartz says. "I'd never been there, but I created the dish from that article, and it became one of those things that's just, you know… a thing."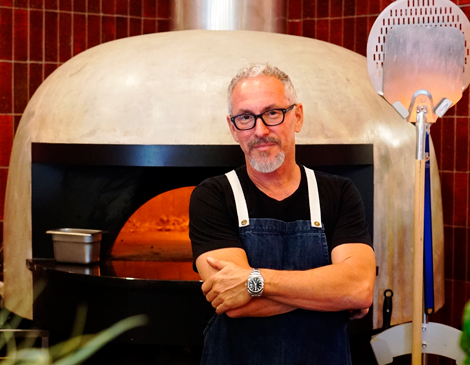 Schwartz, who lives in Miami but travels north every six weeks, has started to feel a real connection to Cleveland and a particular affinity for Shaker Heights.

"It's really for people in that neighborhood to embrace it as their spot — where people will know their name and remember their preferences," he says.

With such a frequently changing repertoire, the latter might be difficult to achieve, but so long as Schwartz continues to churn out more hits than misses, local diners are sure to return to see what creations the city's newest celebrity chef puts on the menu next.

Try This: Schwartz incorporates some of the best pizza creations from his Miami-based Genuine Pizza into the menu at Michael's Genuine. The ricotta and caramelized onion pizza ($16), is a cheesy, understated pie sprinkled with flavorful herbs and sesame seeds.

Wurst City In Cleveland, the Miami restaurant's chicken liver crostini transforms into a Midwestern-inspired liverwurst toast ($8), tweaked to reflect the local culinary aesthetic. "I really just love that old country liverwurst they sell at the West Side Market," says Schwartz.

When You Go:

Michael's Genuine Food & Drink
3427 Tuttle Road, Shaker Heights
216-230-8022
michaelsgenuine.com

Mon-Thu 11:30 a.m.- 9 p.m.
Fri & Sat 11:30 a.m.-10 p.m.
Sun 10:30 a.m.- 2:30 p.m. & 5-9 p.m.