You don't need to be a master of the English language to understand how Americans like to eat.
For Gonzalo Egozcue, the Uruguay-born owner of Molto Bene in Lakewood, all it takes is an appreciation for good food, good people and a good attitude.
"I have to think in Spanish and translate to English, you know," he says with a jovial laugh.
His Italian grandparents made an impression on him with handmade pastas ladled in rich sauces, paper-thin pizzas topped with fresh mozzarella, and branzino.
"So my home always was the one with Italian food on the table," says Egozcue, who moved to Cleveland in 2003.
He got his start at age 14 making gelato at his father's company whenever there was free time and during summers. He later used that experience to build a reputation in Northeast Ohio, making the Italian frozen treat for Presti's Bakery, Vero, Mia Bella and other restaurants.
"The gelato business here in this part of Northeast Ohio was just starting," he says. "I already had experience on that. It was much easier for me to start up with the gelato."
But in the back of his mind, he knew how much he enjoyed those dishes of pasta and slices of pizza growing up. He had a hunch Clevelanders would find the same comfort in that classic Italian cuisine.
About a year ago, the 46-year-old decided to open an Italian restaurant with his wife, Lilliana. They named it Molto Bene, or "very well" in English.
"Mostly all the people can say that," he says. "And that surprised me a lot."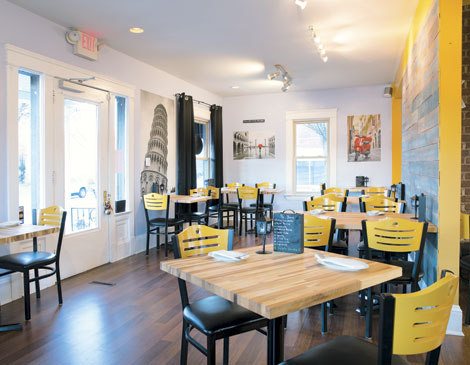 The cozy 30-seat Lakewood spot, which opened in August along Detroit Road, feels familiar with recognizable Italian favorites such as bruschetta, margherita pizza and lasagna, but also pushes the average American to try dishes such as linguine alla diavola — pasta tossed with pomodoro sauce, tuna and herbs.
It also helps that Egozcue collaborates with his longtime friend Vincenzo Piadzza, a native of Lucca, Italy, to achieve a level of authenticity.
"We work together many days in the kitchen," Egozcue says. "Because I like to be in the kitchen. It's a part of my life."
You can't go wrong with the bruschetta ($8). While its preparation may be simple, the payoff is anything but. Crispy toasted bread, rubbed with fresh garlic, bursts with flavor thanks to a fresh mixture of diced tomatoes, extra virgin olive oil and basil. It's proof that sometimes simplicity is a chef's best friend.
For a little variety, order a round of the easily sharable crostini ($9). Four slices of bread each come topped with something different. There's the fun take on a caprese salad — a slice of tomato and mozzarella that's sprinkled with slivers of basil; an earthy mushroom and sausage ragu; an eggplant option slathered in tomato sauce; and an elegant salmon and mascarpone version studded with briny capers.
Although Egozcue is a fan of brick-oven pies, his rectangular pizzas baked in an electric oven are doing very well with customers. The results yield a nice crunch on the bottom. You'll find six varieties on the menu such as the prosciutto e arugula ($14), a salty, layered treat with San Marzano tomato sauce, fresh mozzarella, extra virgin olive oil, prosciutto and arugula.
If you have opposing tastes at your table, opt for the quattro stagioni ($12) to satisfy all cravings. You'll find each quarter of the pie topped with just a single ingredient — either ham, mushrooms, artichokes or Kalamata olives.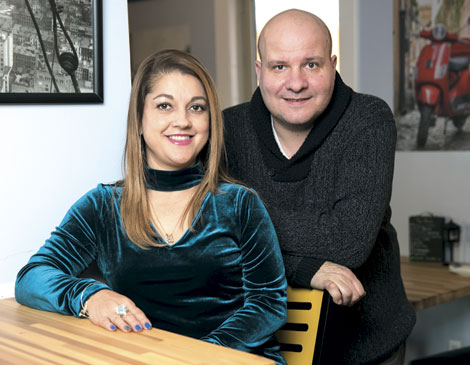 When it comes to plated entrees, it's easy to go for the melanzane alla Parmigiana ($15), otherwise known as eggplant Parmesan, or the pollo alla Parmigiana ($16), aka chicken Parmesan. But expand your palette and dive into the cioppino ($23), a seafood stew swimming with clams, shrimp, mussels, scallops, octopus and white fish. The tomato and wine broth, made with basil and oregano, clings to each piece of seafood to deliver a punch of herby goodness.
The pastas, though, are where Egozcue and Piadzza shine. Although they aren't all made by hand, it's hard to tell. What they can't make in the kitchen, they import from Italy.
The ravioli di aragosta ($19), made in-house, arrives with fluffy chunks of lobster inside. A sauce of burnt butter and sage adds depth and richness. Another option made in-house, the gnocchi al ragu ($15) offers little pillows of dough in a hearty Bolognese or pomodoro sauce.
With a creamy white sauce, the linguine al salmon e pistacchi ($18) artfully marries Alaskan smoked and fresh salmon with crunchy pistachios.
"It works very well with pasta," says Egozcue. "The salmon is not original from Italy, but the dish works very well together."
Twirled into a tower of flavor, the penne alla carbonara ($17) combines many of our favorite things: salty pancetta, a rich, yolky egg and tangy shards of Parmigiano cheese. It's luxurious, bite after bite.
If it's decadence you're after, then Egozcue is your man. He's the mastermind behind the mammoth coppa del mondo ($19). Meant to share (though you don't have to), it combines nine scoops of his house-made gelato with a slathering of toppings such as nuts, fruit, whipped cream, cannoli shell pieces, macarons, chocolate chips and chocolate, strawberry and caramel sauces.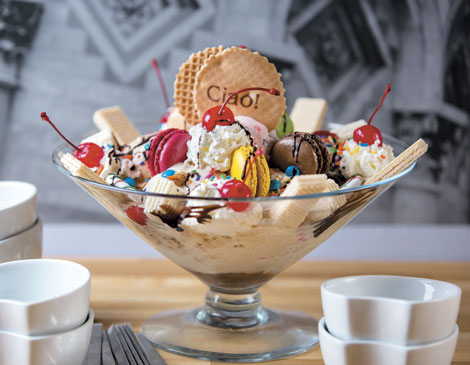 A gelato case at the back of the store, full of up to 18 rotating flavors, holds the key to concocting a treasure trove of tastes. Get the espresso, banana dolce, Brie with figs, passion fruit, pistachio or amaretto — whatever you can imagine.
"The original idea was to have a big gelato to share with friends and family," he says. "Maybe five or six people go to work on the same cup. And that's good. I find that very good."
It's all been very good for Egozcue in the first few months of business. He has plans to keep bringing more of that authentic Italian experience to Molto Bene. He's working to secure a liquor license, and there's talk of opening a patio in time for summer.
"We are already very happy here in the area," he says. "The restaurant is small, but we do it with passion. Every day, every hour, but we enjoy that. We really enjoy that."
Try This: An ample starter, the arancini ($8) arrives piping hot. Quickly cut into one of the six hefty rice balls filled with Asiago cheese and dip into the accompanying house-made sauce before your dining companions beat you to the punch. Good To Know: If you just have a craving for gelato, stop in and order a to-go container of your favorite flavor (single scoop $4, small $9, medium $14, large $20).
When You Go: 18401 Detroit Ave., Lakewood, 216-273-7333, eatmoltobene.com
Tue-Sat 4-10 p.m., Sun 3-8 p.m.