We tend to think of downtown Cleveland and its neighborhoods such as Ohio City, Tremont and Little Italy when extolling our area's great dining scene. But there are pockets of suburbia known in their own right as restaurant destinations: Hudson, Medina, Rocky River and Chagrin Falls, just to name a few.
In a close-knit community like Chagrin Falls, residents fiercely embrace small businesses — fashion boutiques, antique shops, gift stores — making it an ideal place to open up a restaurant.
But as chef Tim Bandon cited when he closed the neighborhood tavern and 2015 Cleveland Magazine Best New Restaurant Grove Hill in June, there comes a point when there's just too much competition for one destination to support.
Jekyll's Kitchen, Lemon Falls, M Italian, Paris Room, Parkside Grille and Umami Asian Kitchen bring vibrancy and stability to the East Side neighborhood known for its picturesque waterfalls, walkable downtown and charming Norman Rockwell atmosphere. But within the last two years, the village has seen an influx of change to its dining scene.
Yours Truly expanded and Aurelia opened in the North Main Diner spot. The legendary Gamekeeper's Taverne closed and reopened this August as Bull & Bird Steakhouse. Forty-year-old institution Rick's Cafe sold and was reborn as Bell & Flower, a chef-driven social kitchen specializing in comforting classics.
That's a lot of shifting plates for a village of just over 4,000 residents.
But regardless of oversaturation or diners' changing tastes, Chagrin Falls remains a place that chefs want to be.
"People love to talk to everybody in town and get to know everybody," says Shawn Monday, who has owned Flipside in Chagrin Falls with business partner Michael Schwartz for the last five years. "It's one of the best communities in Northeast Ohio, if not the best, when it comes to the clientele."
So when the duo, who together own six Flipsides, three 3 Palms Pizzerias and a One Red Door in Hudson, had an opportunity to take over Rick's Cafe in June 2017, they jumped at the chance. But after a few months that included staffing issues and equipment woes, they shuttered the place to revamp it as Bell & Flower, which opened in April.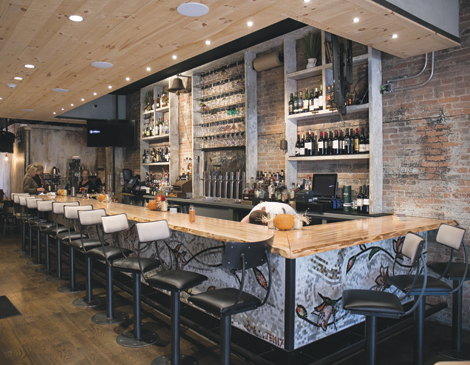 "We just wanted to create this bar concept — kind of a social kitchen atmosphere," says Monday. "That was really what the drive was to kind of fit that neighborhood — just be a neighborhood gem spot."
Opening in the shadows of the beloved Rick's Cafe leaves a lot to be desired. Sure, Rick's was a laid-back diner with subpar food and service. But it had its loyal customers. After four decades, dining at Rick's Cafe was woven into the fabric of Chagrin Falls' identity. So even if your waitress was inattentive or your food cold, you tended to give Rick's a pass.
But for Bell & Flower, the expectations are higher. With two veterans in the restaurant industry and a trendier concept, dining here should be a seamless, enjoyable experience.
The menu of American and Southern classics created by Monday and executive chef Joel Malesnek even suggests it. But there's still a lot of kinks to work out at Bell & Flower eight months into its opening.
Service during both our visits was spotty and inconsistent, with dishes coursed out haphazardly. Our order of ribs was cold and many of the dishes lacked seasoning — or even worse — were exceedingly greasy.
The social kitchen aspect of Bell & Flower works for the most part. It's a lively restaurant, but at times is so loud and rambunctious that it was hard to hear others.
But there's promise for Bell & Flower.
We'd come back time and again for the house-made biscuits ($4). Baked every morning by Malesnek or the sous chef, the recipe comes from pastry chef Kimberley Horner who passed the recipe down to Monday.
"It's important, when you make biscuits, that the butter's cold and cut into cubes," Monday says. "That's what makes the layers, the fluffiness."
Each one arrives piping-hot, buttery and ready to be loaded up with the house-made honey butter, which tastes somehow like movie theater butter, and house-made jam.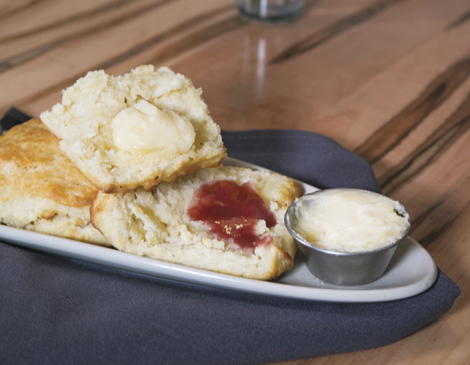 The house-battered chicken tenders ($9) may seem like your run-of-the-mill meal. But Monday brines Ohio chicken overnight before covering them in a buttermilk breading. The tenders get fried in lard just before serving. The house-made ranch is a feat in itself. Made using 30 ingredients, it's cool, creamy and puts any bottled variety to shame.
We really wanted to like the pork banh mi burger ($13), a spin on the French-Vietnamese sandwich that Monday created for his Flipside spots. But the pork patty was bland, even with ginger, shallots and soy sauce mixed in.
The pickled daikon and carrots and sliced jalapenos somehow left the whole burger dry and boring. Our order was missing the spicy mayo. When we finally got it, the sauce still didn't add the zing we were looking for.
The taco section of the menu has been wildly popular and will be expanding in the coming months. The mixed wild mushroom taco ($4.50) features foraged varieties from places such as Killbuck Valley Mushrooms with Lake Erie Creamery goat cheese, a poblano pepper relish, tomatillo verde salsa and toasted almonds.
The New Orleans-style shrimp and grits ($18) hits that Southern comfort spot. The sauce starts with a veal demi-glace. Monday utilizes the shells and heads from the shrimp as well, giving the sauce a layered flavor. The dish comes finished with andouille sausage, creamy grits and three kinds of cheese.
For those who miss Rick Cafe's ribs, Bell & Flower has its own upgraded version (half slab $14, full slab $24). Brined overnight, the ribs are then smoked for about two or three hours and then grilled to order.
With such an elaborate process, it's surprising that our half slab arrived pink in the middle and cold. But once our waitress remedied the situation, our fresh order was tender and tangy thanks to the Memphis-style barbecue sauce.
Monday has a proven track record of successful restaurants and has a good sense of what folks in Chagrin Falls want: familiarity, consistency and good food. He knows he's got to win those regulars of Rick's Cafe over — and has already started to do so — especially in a neighborhood with plenty of other dining options.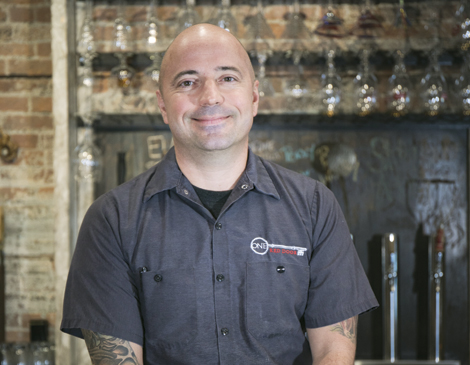 "You just have to make people feel like they're in your home," he says. "Some people miss the old-school, just because they had it in their memory bank that that's what they've been eating for 40 years, and the traditions of Chagrin Falls are important to them. But I think they also embrace the change. And they're happy with the product, even though it is slightly different than Rick's."

Try This: The bruleed lasagna ($17), a 22-layer dish of burrata, ricotta and Parmesan cheese with pasta and Sunday gravy, comes served in an individual clay pot allowing the top and sides to get extra crunchy and charred.

Brunch Bunch: Options such as buttermilk pancakes and waffles along with more creative eats such as Nashville hot chicken eggs Benedict ($15) are available on Sundays.