There are certain rules to sushi.
Don't rub your chopsticks together like you're starting a fire. Don't glob on mounds of soy sauce and wasabi, but do dab soy, if necessary, fishside down before eating the entire piece in one bite. With chopsticks. And probably don't wear a baseball jersey.
But let's face it. Cleveland isn't exactly the sushi capital of the world. Most of us are probably more comfortable with imitation crab than uni, toro or unagi.
That's where Goma comes in.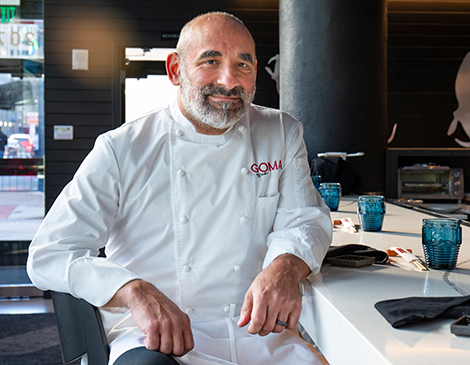 Real sushi heads have already visited Ginko, chef Dante Boccuzzi's transformative sushi bar in the basement of his flagship Tremont restaurant, Dante. There, an extensive-yet-concise menu lets sushi nerds run wild with all the gunkan, nigiri and maki they can inhale. Think of Goma as Ginko's more approachable cousin.
This East Fourth Street sushi oasis is designed to entice the masses en route to Rocket Mortgage FieldHouse or House of Blues. What most sets Goma apart is the hot kitchen. The wok station and grill pump out a much larger menu with excellent wokfried rice and noodles, shabu-shabu at select tables, and udon and ramen ($15). Still, right next to more familiar options, such as the mayo-topped spicy crunch tuna roll ($8-$9), there is more than enough to delight even the biggest sushi aficionado.
"With the location and volume, the intention was to be more mainstream," says Boccuzzi. "In the summer, people were everywhere. I did 200 rolls myself one day. My hands were cramping."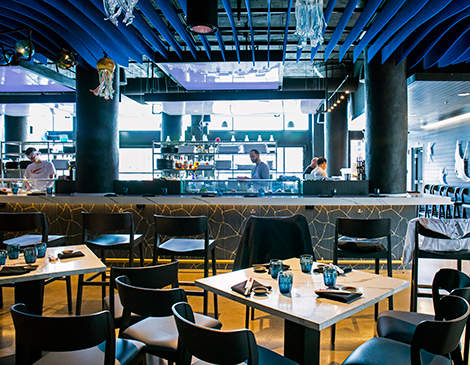 To fully understand Goma, first get to know Nobu, chef Nobu Matsuhisa's California-based Japanese fusion empire with more than 50 locations. Nobu is synonymous with celebrity culture. Whether in Malibu, London or Budapest, its front door is a red carpet for those who hope to be seen. Takeout is done by private plane. The food blends traditional Japanese with Peruvian influ- ences. It's boisterous, loud, pricy and dec- adent — perfect for LeBron James to cel- ebrate winning the NBA Championship or a special night out for the Kardashians.
No wonder Boccuzzi was struck by the place as a young chef in 2000.
Michelin-starred restaurants in London, Paris and Italy already dotted the rising star's resume. Cooking at an event in Florence, Italy, Boccuzzi hit Matsuhisa's radar by being the only chef able to competently translate English to Italian. His skills didn't disappoint either. At the time, Boccuzzi was head of Charlie Palmer's Silks kitchen at the Mandarin Oriental Hotel in San Francisco and exploring the city's Chinatown, where he lived. By the end of the weekend, the Clevelander was the new head chef of Nobu Milan, a soon-to-open branch in Italy co-owned by Giorgio Armani and Robert De Niro.
"The first thing I did was eat at the Lon- don location. It was loud and packed and had all this energy," he says. "I'm hanging out with celebrities. The Rolling Stones walk in. It was nuts, man."
The homage to Nobu at Goma is apparent be- fore you even place an order. Centered around a 28-seat sushi bar is a 3,000-square-foot room painted in deep blues and covered in sleek nauti- cal decor. Like at Ginko, fresh fish from Japan decorate the case. Electronic bass punches through the clamoring of a noisy room. Irasshaimase!
Matsuhisa's influence continues on the plate. Boccuzzi first discovered Tobanyaki — meat, fish or veggies served in a traditional hot, covered ceramic dish — at Nobu. Yellowtail otsukuri ($24) is textbook Nobu in presentation and flavor with a spicy, refreshing swoosh of pureed cilantro and jalapeno outlining cold fish in a puddle of ponzu (a citrusy soy) and topped with jalapeno and pick- led onions. A sprinkle of goma, the Japanese word for sesame, in this case white and black, is the chef's signature.
But Goma has its own sense of whimsy and place. The sesame mussels and crab ($16), bathed in a dark, rich broth, and the certified angus ribeye ($38), for example, use Japanese seasonings to Gomatize meat-and-potato favorites. The spicy chips ($12) with tuna tartare, scallions and tobiko (like caviar) on Pringles, offer a delightful mix of low- and high-brow. The black sesame ice cream sandwich ($9) and crunchy tempura brownie ($12) with a warm, gooey center that dips into cold banana foster puree are musts on a dessert menu that confirms this place doesn't take itself too seriously.
"The dining experience is supposed to be fun," says the chef.
If you haven't drank your fill at Giappone, the basement speakeasy that opened in November, head upstairs and grab one of 23 different sakes — a rabbit hole we're not going down today — or a matcha sangria ($11). Now, throw in a stir-fried beef and rice ($21), a surprising favorite with shiitake and the mushroom- like burdock root made beautiful by green-and-purple sprouts, for the table and get down to the business of ordering sushi.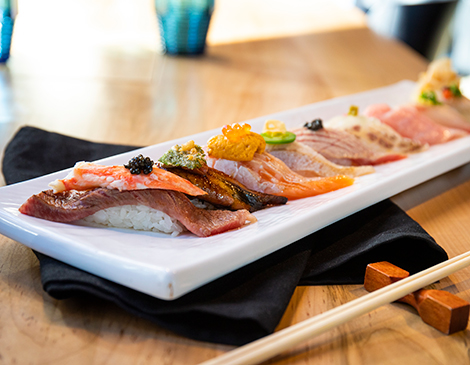 Nigiri, a style of hand-molded sushi, is Goma's specialty, and the unagi foie gras ($14 per piece) might just be the best with barbecue eel, foie gras, shisho and umeboshi, a pickled pear that cuts nicely through the salty duck liver. Sake toro aburi ($14 per piece), which is topped with uni and red caviar, is another tip of the cap to Nobu with its seared salmon belly.
The Goma roll ($16) is a unique option thanks to its tuna, salmon and hamachi being wrapped in hollowed-out cucumber kaiware and thin daikon. Buttery avocado offers a creamy complexity while romaine lettuce adds to the crunch fest. The zen roll ($16) also offers a nice crisp bite thanks to the yamagobo, or pickled burdock root, in the center of hamachi, avocado and jalapeno.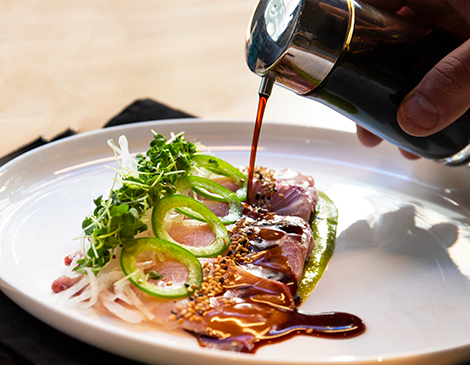 In the section of oishi sushi, a traditional square-pressed style you should try, don't be tempted by the pork belly & salmon belly ($15), which is good but basic. Instead, try the unagi and avocado ($20) with umeboshi, avocado and barbecue eel (especially if you already enjoyed the unagi foie gras).
"The perfect piece of sushi starts with the freshest fish," says Boccuzzi. "My background is mostly Italian food. It's the same mentality: the love of the food and the ingredients from the moment you buy it to the moment you cook it."
Sushi, just like Italian, has its own set of rules, expectations and customs. But maybe the most important lesson Boccuzzi took from Nobu wasn't in presentation or atmosphere.
It was that rules are meant to be broken.