Brian Ruthsatz's friends all told him he was crazy: a restaurant that serves nothing but sliders and pie? It'll never work, people warned.
The 56-year-old heard it enough times that he started to believe it, but still, he pushed forward with his vision of opening the quirky Rood Food & Pie last November on a small corner along Madison Avenue in Lakewood just four blocks shy of the Rocky River.
"I believe in that TED Talk that says there's nothing different out there — but that you can take an idea and really turn it on its side," he says.
Having traveled the world in his youth, he envisioned a menu influenced by international cuisine, but prepared and presented in an accessible way that wouldn't alienate less-traveled diners or those with picky palates.
"I love going some place and falling in love with something new," he says, "and I wanted to challenge myself to do that for other people."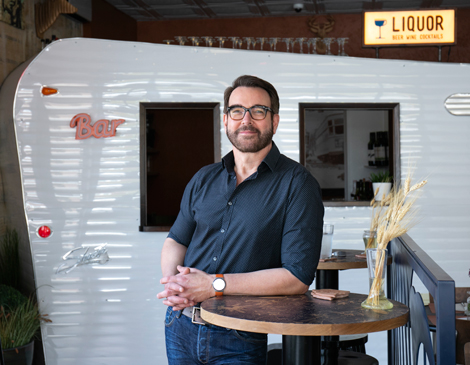 On the cusp of the restaurant's first anniversary, perhaps it's too soon to say for certain whether his skeptics were wrong, but so far, things are looking good for Rood Food & Pie. Everything about the place — from its retro-glam decor to its colorful, family-style spreads and decadent Martha Stewart-esque pies — screams "Photo op!"
That bodes well in the age of Instagram, of course, but the best part is that the food tastes as good as it looks.
That's due in part to Brian's creative culinary team. Lakewood native Mark Wilson, former executive chef of the Great Lakes Science Center, is the man behind the meals, and Katie Ruthsatz, the owner's daughter-in-law, is the pastry chef behind the baked goods. Together, the three of them have assembled a diverse, globally inspired menu that serves up familiar flavors in fun new ways.
"I hoped the food could be really social and that people would share, like in Italy, where they have big, communal tables," says Brian.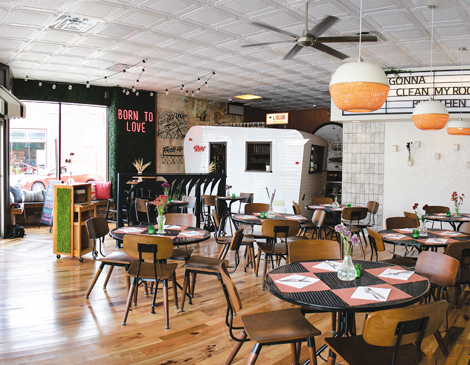 In that vein, Rood Food & Pie offers an assemble-it-yourself, family-style menu that allows diners to pick and choose what goes on their individual sliders. Each protein is served on its own, as is its accompanying slaw, and fresh-baked spicy curry and sweet cardamom rolls that come out in small paper bags for sharing. Want to try your protein but with your friend's slaw? Mix and match! And if you run out of rolls, don't fret: servers pop by often with refills.
"You can eat [the sliders] deconstructed, or you can construct them," Brian says. "It's confusing for people at first, but anything new is confusing."
Know that there are no simple, standard burgers on this menu. Intensely focused on global flavors, Brian didn't want to give wary diners an escape route from trying more adventurous cuisine. Instead, he worked with Wilson to create recipes that could gently guide would-be foodies out of their comfort zones.
"We purposely left all the easy angles off the menu," says Brian.
The wagyu beef sliders ($16), for example, are most similar to a standard burger, but with a crunchy, flavorful sesame seed coating. They're seared to a perfect medium and presented three to a tray with two sides: a sour root veggie kimchi and smooth, Cointreau-spiked mushrooms that lend an Asian-influenced twist.
Meanwhile, the Moroccan goat and lamb sliders ($20) are inspired by a burger once ate in an open-air market in Malaga, Spain. The meat is slightly sweet, seasoned with turmeric and cinnamon, but it's served with red peppers, olive tapenade and dehydrated cucumbers for salt and crunch. The result isn't a direct replica of rich, robust Moroccan flavors, but rather a spin meant to appeal to a broader American palate.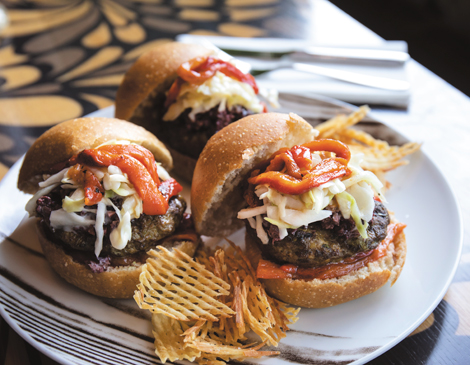 "I want people to come in and enjoy different flavor palates," Brian explains, "and I want to leave them with a flavor memory that they haven't had before."
The Malaysian chicken ($12) stands out as Wilson's play on classic French chicken l'orange, that traditional, somewhat-posh hybrid of great Chinese takeout and kids' menu chicken tenders. Instead of oranges, Wilson uses pomelo, a southwest Asian fruit reminiscent of grapefruit, to create a tangy chili oil glaze that's drizzled atop panko-crusted chicken. The crisp, peppery taste of thin-cut daikon radishes keeps the dish from becoming overly sweet.
The same is true of the Korean barbecue pulled pork ($12), which is rubbed in a mixture of sugar, beet molasses and Szechuan peppers before being roasted for six to eight hours. The result is a smoky-sweet heap of barbecue that's irresistibly tasty. Bordering on cloyingly sweet, a hint of spice and a cold fennel and Spanish onion slaw easily offset the saccharine.
And then there's the pie — oh, the pie.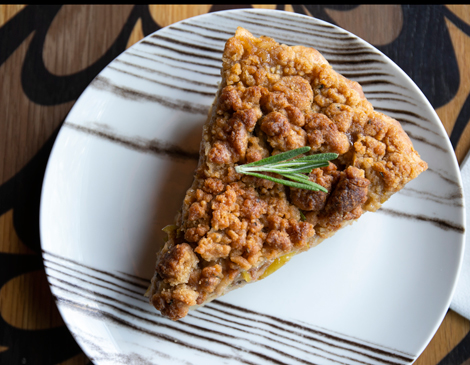 "I had a German grandmother, and at Thanksgiving, she started two days ahead of time making every pie imaginable: coconut cream, pecan, lemon meringue, you name it," Brian recalls. "That's what we looked forward to."
After visiting pie shops in bigger cities such as Los Angeles and Austin, he decided his favorite dessert was the perfect complement to a slider menu.
The restaurant's bestseller is its salt and honey pie ($5.50 per slice; $30 per whole pie), a thick, custardy concoction inspired by a patented recipe from Four & Twenty Blackbirds in Brooklyn, New York. Made with Nielsen-Massey Madagascar Bourbon Vanilla Paste and sweetened with wildflower honey instead of sugar, each slice is served with a tiny glass vial of bee pollen to sprinkle atop before you dig in.
But it's not the only star of the show. Three other pies — apple-pear bourbon walnut, brandy banana cream and whiskey chocolate cream — all appear on the menu year-round, each more indulgent than the last. That they're served on adorably mismatched plates only enhances the restaurant's you've-gotta-share-this-on-social-media vibe.
Two to four new pies rotate out on a seasonal basis, too. This fall's menu includes twists on two Thanksgiving classics: a sweet-meets-savory vegan pumpkin pie ($5.25 per slice; $28 per whole pie) made with fresh-squeezed orange juice and sage, and a baklava pie ($5.75 per slice; $32 per whole pie) made with pistachio and wildflower honey. For an added bonus, add a dollop of rosemary-infused whipped cream.
"I could talk about pie for days," says Brian. "I'd like for us to be the best in Cleveland, but I want there to be 10 other great pie places here, too, just so I can go there and eat their pie."
As the restaurant celebrates its first anniversary, Brian looks forward to continuing to create and innovate, but he's also focused on spreading the word and driving traffic to his little corner of Madison Avenue, one whose activity is growing fast, but is still far less bustling than the rest of Lakewood.
With its unconventional menu format, its endearingly offbeat atmosphere, and those freaking pies, Rood Food & Pie is unquestionably worth the detour.
Try This: Herbivores and meat-lovers alike will love the '90s nostalgia of the unexpectedly upscale sloppy tofu sliders ($12) with finely ground crumbles coated in a sweet and spicy (but not-too-sloppy) pepper sauce.

For The 'Gram: Leave yourself time to pose with some of Rood Food & Pie's spunkiest decor, including a bar made of a converted camper trailer and a faux grass wall bearing neon pink signs that declare "Born To Love."

When You Go:
Rood Food & Pie 17001 Madison Ave., Lakewood, 216-712- 4506, rfpie.com, Mon-Thu 4:30- 10 p.m., Fri & Sat 11:30 a.m.-11 p.m.