Our meal is almost over at Serenite. Our bellies are full with French-style delights and hearts light after catching up with loved ones all evening. But we can't forget about dessert.
We order the bananas Foster — an event that turns heads throughout the Medina restaurant as the decadent dessert is prepared tableside with plenty of flames and showmanship by one of the chefs.
But as he flips and flambes bananas into a caramelized treat, we slowly become more captivated by his words than the masterpiece he's creating right in front of us.
"You know what this place is all about?" he asks, referencing the restaurant's mission of helping individuals recover from substance abuse. We nod our heads in agreement as he continues browning butter.
"I've made a few mistakes in my life, and this place has helped give me a second chance," he says with confidence. "I want to be an ambassador for this program and show that it can do good."
As we scoop heaps of the warm fruit onto our spoons, we pause to digest that thought.
As diners, we're constantly thinking about where those ripe, red tomatoes or hunks of blue cheese come from, but rarely do we stop and consider the path the server, chef or dishwasher had to walk to bring us the food we're enjoying.
But Brandon Chrostowski, the founder and CEO of Edwins Leadership & Restaurant Institute in Cleveland, has made people the focus of his work.
Using a model similar to Edwins, where the formerly incarcerated seeking a reformed life learn culinary skills, Chrostowski opened Serenite in March as a restaurant and culinary institute for those recovering from drug and alcohol addiction.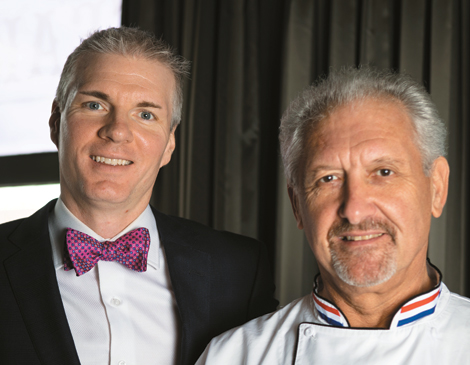 "I wanted to make a dent in the opioid epidemic that's plaguing the United States, especially Ohio," he says. "The No. 1 reason to take this on was to make sure people knew they could fight back."
Choosing the suburb of Medina as a home for the restaurant wasn't just by happenstance. In 2016, Medina County reported 260 drug overdoses resulting in 34 deaths. With the help of Recovery Center of Medina County, which received a $300,000 state grant, and the support of Medina County Common Pleas judges Christopher Collier and Joyce Kimbler, Serenite works to teach students the fundamentals of the culinary arts.
For the last eight months, six students have taken classes, had access to counseling and peer support and worked in Serenite's 65-seat restaurant serving its French brasserie menu. They will graduate this month having learned a newfound passion for cooking, food and hospitality.
"There's a real joy knowing that it feeds the soul and that it's not just providing nourishment," Chrostowski says of cooking. "If you know how to cook and you cook a certain way, it can really transform a person. It can turn their day around. It can turn their health around. It can turn their outlook around."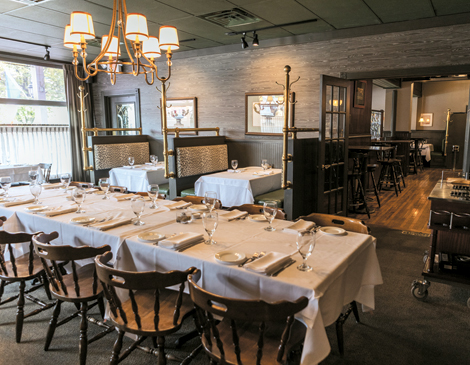 What happens in and around the plate at Serenite is grounded in a profound understanding of more than just good food. It's a statement that the restaurant can be a transformational experience — not just for the guest, but also for staff.
You can see the hustle, determination and desire to excel in every aspect, from the hostess to the busboy. You may not always have a five-star experience here, but as a diner you're helping someone learn a skill that will hopefully change his or her life for the better.
"Hard work doesn't have a language," Chrostowski says. "We want to serve you. We want you to be our guest."
The wait staff is very knowledgeable when it comes to the French brasserie menu created by Chrostowski and executive chef Gilbert Brenot, a French native.
Using traditional approaches and classic ingredients, Serenite offers frog legs ($15), chicken cordon bleu ($23) and other true French dishes along with a variety of steaks such as an 8-ounce filet mignon ($42) that you can pair with your choice of sauce — think bearnaise, a butter sauce made with tarragon, vinegar and shallots.
Start with the artichokes a la barigoule ($11). These braised baby artichokes, served with sauteed onions, carrots and garlic, arrive fork-tender and flavorful thanks to a white wine butter sauce. "It's a nice balance of acid and fat," Chrostowski says.
For a real treat, don't shy away from the escargot ($12). Different than how Chrostowski prepares the delicacy at Edwins, Serenite takes a more French countryside approach by packing a ceramic escargot dish with a garlic-parsley butter mixture and breadcrumbs that infuses the snails with a deep, buttery flavor.
"You have this sponge of a snail soaking up all the parsley and butter," he says.
With winter approaching, there are plenty of dishes here to take comfort in on those colder nights. Cozy up to the braised leg of rabbit ($29), a hearty portion with a side of wilted spinach, grilled polenta and Dijon mustard cream sauce.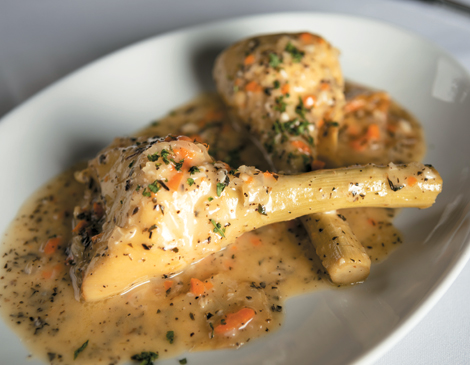 Prepared over two to three days using rabbit from Briarwood Valley Farms in Sullivan, Ohio, the kitchen brines the legs overnight in salt, sugar and water. Then, the game meat is pan-seared before undergoing a four-hour braise with onions, wine, mustard and cream. After letting it cool, the rabbit is cooked sous-vide in its braising liquids.
The elaborate process elevates the humble protein into a very luxurious entree that delicately marries each ingredient.
Fans of Julia Child will want to try the coq au vin ($24), a rich, layered stew that Chrostowski calls "culinary 101."
Serenite's version starts with chicken seared in bacon fat and olive oil before getting braised in chicken stock and burgundy wine with bacon, mushrooms, pearl onions and carrots.
You can easily pull pieces of the moist chicken apart to dunk in the thick, earthy sauce. Rustic and stick-to-your-bones good, it proves that not all French cooking has to be pristine and delicate. It's really about heart and soul.
That's truly the mission behind Serenite — making connections on the plate and with the people who make, serve and eat it.
The model has proven successful at Edwins, and Chrostowski believes it can work in Medina and anywhere else in the world. It comes down to the basic principles of being a good person: work hard, learn to forgive and be supportive.
"We want people to feel cared for," Chrostowski says. "You want to take a bite and it to feed the inner part of your body — your soul. If you can do that and make a connection with somebody, oftentimes you come away moved, changed or inspired." Serenite 538 W. Liberty St., Medina, 330-952-2611, sereniterestaurant.com.

Try This:

The sauce game is strong at Serenite. Taste the evidence in the scallops entree ($30), where the accompanying shrimp cream sauce brilliantly combines white wine, fish stock, heavy cream and shrimp shells.

Good to Know:
Brunch fans rejoice — Serenite just launched a weekend brunch buffet in October featuring omelets, Belgian waffles and crepes.