It's easy to be attracted to the big, shiny new toy.
We want the newest iPhones, coolest cars, trendiest clothes. The same goes for food — a new restaurant opens, and we flock there in droves. Our fear of missing out swells the popularity of a place, masking any flaws in the process.
That's the case for Square 22 Restaurant and Bar in Strongsville. Hyped as a little piece of Tremont or Ohio City in the suburbs, it's been swoon-worthy among locals since its October opening. Reservations are a must. If you're lucky enough to score a table on the weekends, the energy inside is a mix of downtown cool and suburban block party.
With a sleek black walnut bar and wood rafters throughout, the urban industrial space is ripe for activity and can easily handle 200 guests. But what the hip 4,500-square-foot spot near the corner of routes 42 and 82 has in attitude, it's still struggling to find in attentive service and expertly crafted food.
For 38-year-old executive chef Chris Bruder, who made the 315-foot walk from Don's Pomeroy House where he worked as its sous chef for 15 years, navigating that road has been a challenge.
The Strongsville native has struggled to find a dependable kitchen staff to execute his comfort food menu that's "cutting-edge but still down-to-earth," as he calls it.
"It's just a high turnover rate and not qualified individuals," he says. "I've been putting in about 80 hours a week with me and my sous chef just trying to keep things going smoothly."
Almost any chef will tell you opening a new restaurant has its kinks to work out, especially in the first couple of months. And as a chef running a kitchen for his first time, there's a learning curve not only with how to manage a staff but also how to bridle that sense of creative freedom.
Bruder worked on the extensive menu for months with operating partner Dan Stroemple, the former general manager at Don's Pomeroy House, and co-owner Mike Catan of Pat Catan's Craft Centers. After lots of back and forth — about 29 iterations of the menu — the trio settled on the lineup of dishes.
"A lot of dishes got thrown out," Bruder says. "There was a lot of trial and error involved. After you've been cooking for so long, you just kind of know what goes together. Certain things kind of pop together."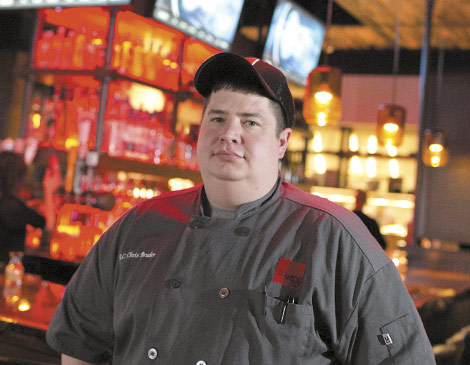 In a sea of fast-casual options — especially in its Westwood Commons strip that's home to Hot Head Burritos, Tom+Chee and Master Pizza — Square 22 has the potential to offer a more refined, upscale choice among the suburb's recent restaurant boom. It's trying to market to those resident foodies accustomed to traveling to Cleveland for a modern dining experience.
"They can go five minutes up the road and get that kind of food they expect to get out on West Sixth or the Tremont area," he says.
On paper, the dinner menu sounds exciting and enticing. Bruder hits on nostalgic flavors such as the chicken paprikash soup ($7) and attempts to elevate other traditional dishes such as a shrimp cocktail ($15) by grilling the shrimp instead. But the execution falls short on many of the preparations, which either lacked overall flavor, needed more salt or were too oily.
With nine appetizers to choose from, this is where Bruder takes the most risks. His play on the trendy ahi tuna poke ($13) introduces radishes and scallions to the mix of raw fish salad with a little ponzu sauce and sesame oil. Fried wontons are added to help scoop up everything. "It's almost like a chip and salsa kind of thing," he says.
The pig wing ($9) — a small pork shank shellacked in a Thai chili sauce — was tender, but the Asian-inspired dressing didn't pack as much wallop as we had wished. Served on a nest of Ohio City Pasta soba noodles and topped with cashews, it is hard to share among a table and tricky to grab all the components in one single bite.
There are some successes here. The cheesesteak lollipops ($12) are a fun, shareable addition with shredded short rib, diced bell peppers, melted fontina cheese and diced sweet onions wrapped in a crispy wonton that's deep-fried and skewered. Dip a piece in the house-made spicy ketchup for a kick.
The Rust Belt frites ($9) seem more like Bruder's interpretation of Canada's much-loved poutine than Belgium's Old World-style fries. Thick-cut fries are doused with brown gravy, dotted with white cheddar curd and flecks of pork belly, and topped with a fried egg and a dollop of whole grain mustard. It's a messy good dish that will keep you digging back in for more.
Four flatbreads offer diners another shareable option. There's the Brie and enoki mushroom ($13) with basil and a balsamic reduction, and a vegetarian-friendly garden party ($10) with mix of grilled veggies under a layer of lemon ricotta. But the most unique — and seemingly indulgent — is the Road to Hell flatbread ($13).
"The combination is right up the chef's alley — the fried chicken skin, prosciutto, bacon and pork belly," Bruder says.
Yet, our order fell short. With such decadent ingredients, we expected a mingling of rich, lush flavors enhanced by the accompanying Gruyere cheese and scallions. But what we received was a one-note soggy sin.
While the entrees are hit-or-miss, there's bound to be something for every customer with steaks, seafood and pasta represented.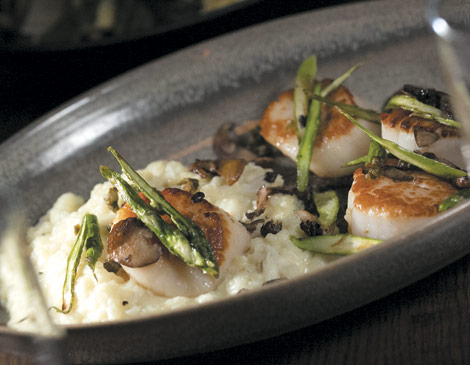 The jumbo pan-seared Maine sea scallops ($31) with a blue crab risotto, wild mushrooms, asparagus and capers stand out as Bruder's best dish. The scallops were seared to perfection and each ingredient brings complexity and depth to the dish — sweetness from the scallops, saltiness from the capers, earthiness from the mushrooms and richness from the risotto.
Part of the fun is also in how Bruder varies up plating his creation.
"If one table gets three scallops, we'll grab three different miscellaneous plates and plate it three different ways," he says. "Tables really love it."
For his chicken and grits ($22), Bruder starts by sous-viding chicken thighs for six hours in a light buttermilk marinade before pan-frying. He then pairs the thighs with wilted Swiss chard, creamy cheddar grits and a tangy Tabasco corn remoulade.
We order the short rib wherever we go. Square 22 was no exception. Its boneless bourbon-braised certified Angus beef short rib ($25) touted garlic and butter spaetzle, broccolini and a Knob Creek bourbon au jus. A departure from your traditional mashed potato or polenta sides, the spaetzle intrigued us but arrived greasy and overdone.
As for the short rib, even after a six-hour braise in bourbon and a bourbon au jus, the woody, full-bodied flavor of the liquor dissipated, leaving us with a tender but flavorless piece of meat.
If staffing issues are the reason for inconsistent preparations and a failure for Bruder's vision and creativity accurately making its way onto the plate, then there's hope for Square 22 to elevate itself to the modern, trendy foodie destination it wants to become. Otherwise, when that new-car smell wears off, there won't be much left under the hood.
But until Square 22 finds the right gear, a solution could be paring down the large variety of dishes into a smaller, curated menu — like those you will find at the many successful restaurants in Tremont and Ohio City. It might give Bruder and the new kitchen staff he must train the chance to put out quality dishes on a consistent basis — regardless of who is in the kitchen.
As for Bruder, he has plenty of ideas and the experience to deliver. He just needs time to grow into a head chef. And he's already developed a thick skin for criticism.
"You always have your couple people out there that put in their two cents that's negative," he says. "I try to let it roll off my back. I still have a lot of tricks up my sleeve."
Seat Check: As soon as the temperature start to rise, Square 22 will open its two patios — an all-year patio with rolling garage doors, which seats about 60 and an open-air space that fits about 40. Lunch Rush: Crowds have been stopping in for its weekday lunch menu featuring salads, sandwiches and entrees. Try the Cleveland Hot Brown ($14), an open-faced grilled chicken sandwich on a baguette with bacon, tomato and Mornay sauce.

When You Go: Square 22 Restaurant and Bar, 13485 Pearl Road, Strongsville, 440-268-8322, thesquare22.com, Lunch Mon-Fri 11:30 a.m.-2:30 p.m.; Dinner Mon-Fri 5 p.m.-close, Sat 4 p.m.-close