The first thing you notice when you walk through the door of Thyme Table in Bay Village is just how homey it feels. From the forest green walls to the plush couch in the waiting area to the tall bookshelves behind the bar, it feels like stepping inside a friend's home: cozy and conversant, filled with chatter and buzz.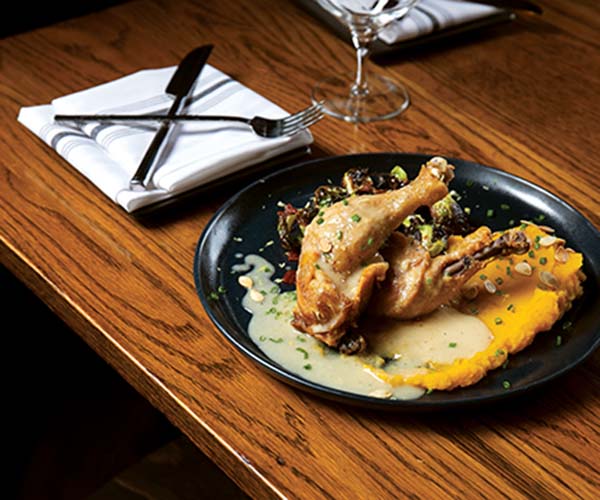 That's the point, says chef and owner Mike Smith, the 39-year-old Bay Village native who opened Thyme Table last April.
"The idea was to create a living room — that feeling of friends getting together," he says. "It's just that idea of a place to gather."
Indeed, Smith conceived of Thyme Table, with its recognizable American fare and dinner-party-with-friends vibe, to remedy the lack of mid-range restaurants between Market in Rocky River and Nemo Grille in Avon.
"We wanted it to be like that Starbucks concept of the third space," he says. "Just somewhere to go and relax and enjoy."
Ironically, the idea of relaxation is a bit foreign to Smith himself, who admits that he thrives on chaos. The father of five also owns both a popular food truck, Thyme Traveler, and a thriving event business, Thyme Catering and Special Events, which he opened in the fall of 2017 after a decade of working at Marigold Catering.
"I kind of like the insanity of it," he says, laughing. "In college, I told my parents that I'm not a 9-to-5 sort of person. Now I start my day at 5 a.m. doing paperwork and don't finish work until 9 p.m. — so they joke that I'm a 5-to-9 person."
And yet, for all his busyness, Smith and his staff are fairly laid-back.
"We don't take ourselves very seriously, but we take what we do very seriously," he says. Although he's quick to point out the many differences between catering, food truck service and restaurant operation, he credits his former businesses with preparing him for the latter, namely in teaching him the art of remaining calm under pressure.
"In catering, we prepare for everything we possibly can so that when unexpected things happen, we're ready to deal with them," he says. "That mentality has been a big part of us being able to maintain some consistency at the restaurant."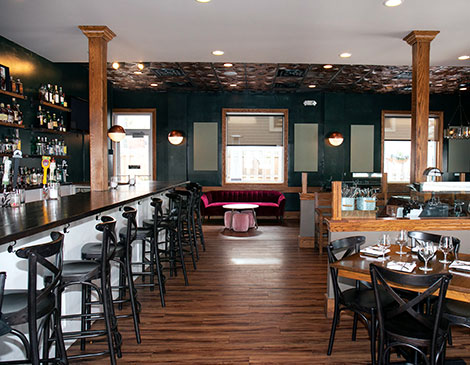 Of course, much of the food translates be- tween ventures, too, like the barbecue-and beer-braised short ribs ($24). One of Thyme Table's most popular dishes, it was lifted directly from Smith's catering repertoire.
The ribs are braised in a sauce made with whichever light beer is on tap the day it's assembled, usually an Ohio-based Pilsner or IPA. They're seared, baked, double-braised and ultimately served atop thick, cheesy grits, making for an impossibly cozy, warm-your-bones meal that, despite its richness, manages not to be too heavy.

"[The meat] gets to sit in its own braising liquid forever, which intensifies that flavor and is part of the reason why it's so good," Smith says.

Another bestseller, the loaded lobster tater tots ($9 small, $12 entree), comes straight from the food truck playbook: Run-of-the-mill Ore-Ida tots are cooked to crispy, culinary-level perfection and piled high with chunks of pristine claw meat, crumbled bacon, scallions, house-made cheese sauce and a drizzle of chipotle aioli. The dish feels surprisingly apropos in Thyme Table's upscale setting, but it could easily come in a paper boat served out of a mobile kitchen window.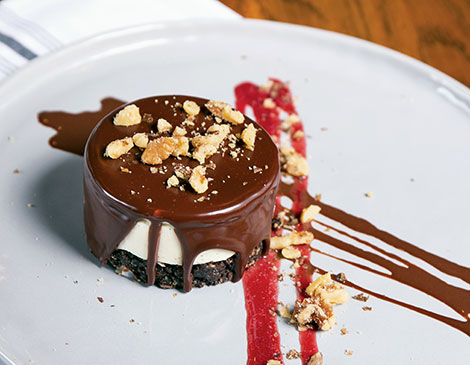 "It was just for fun, but it's turned into this crazy thing," Smith says of the tots' popularity. "It's not a serious dish, but it's a really freaking good dish."
He deftly juggles that high-low aesthetic across the menu, melding a chic dining experience with accessible dishes that won't scare away locals looking for a casual night out. At the top of the menu, ahead of the "fancy" entrees, are some true classics: burgers.
"We needed burgers on the menu if we were going to be the neighborhood spot," Smith says. "And the way it's placed on the menu is intentional — that on the backside, it's the first thing you see. It sets the tone."
Have napkins handy for the BBQ Burger ($14), a big, messy affair topped with ba- con, crispy onions, a luscious cherry barbecue sauce and smoked Gouda. The Thyme Burger ($13), meanwhile, is a bit more neat and refined but just as good, with grilled balsamic red onion and aged cheddar. The only burger-related disappointment is the herbed fries that accompany them, with nary an herb to be seen and slightly undercooked.
Throughout the rest of the menu, Smith hits a playful tone with just-creative-enough takes on other familiar favorites, such as the Sunny Side F.C.S. ($14), a fried chicken sandwich in the style of a gooey, hearty, fast food breakfast. A crispy Amish chicken thigh is cushioned between a hearty house-made buttermilk bun with an impeccably cooked egg, zingy pickled red onions and to-die-for maple hot sauce and house-made ranch that hits all the right sweet and savory notes.
His other chicken dish, the crispy chicken confit ($19), is a gussied-up version of one the Smith family enjoys at home, with chick- en legs braised in coriander-laced duck fat and served with juicy bacon, roasted Brussels sprouts and a smooth, silky squash puree.
Chef and owner Mike Smith combines catering expertise with homegrown modern cooking to create dishes like the Nanaimo, a light and fluffy dessert.
"It pulls in that warm feeling of what you want to eat when it's like this outside," he says amid an early November snowstorm.
And while the entire menu is, frankly, an effervescent thrill, the cocktail menu is the Luxardo cherry on top. Thyme Table's drinks perhaps best exemplify the restaurant's founding ethos: a carefree attitude melded with careful attention to detail, imagination and quality.
Bar manager Eric Scott, a member of the elite United States Bartenders Guild, clearly has fun with his work, serving wittily named cocktails made with top-notch ingredients, such as the Maker Bayfield ($10), an impec- cably neat Manhattan, and the Superfly Snuka ($11), a light-as-air daiquiri made with pineapple rum, serrano chilies and brown sugar.
"The cocktails are a huge part of what's been successful for us," says Smith. "The names are fun, the flavors are fun and the drinks play in together with everything else we're doing."
Scott's sense of humor is evident in the Serious Problems libation, a marigold-toned vodka and passionfruit cocktail served with a sidecar of rose wine. Its name comes from one of Thyme Table's few bad Yelp reviews, in which a diner lamented, "The place has serious problems. I mean, SERIOUS!"
Scott gave the disappointed staff a laugh by turning the negative feedback into the name of a new drink, which has become a hit.
In fact, with very few missteps to be found, it's hard to believe that Thyme Table isn't yet a year into its service. Small enough to feel intimate but big enough not to feel exclusionary, it ticks all the right boxes for a nice night out: friendly, prompt staff, appropriate prices and consistently tasty eats in a cozy, jovial setting.
"At the end of the day, we're not trying to reinvent the wheel," says Smith. "We're just trying to serve really good food."

Try This: Finish your meal with the Nanaimo ($9), pastry chef Laura Potts' fancified interpretation of a traditional Canadian dessert bar. The circular pastry with a cookie crust has a thick layer of Bavarian cream and a coating of chocolate ganache, almost like an artisanal MoonPie.

Late Arrival: With a no-reservations policy and fewer than 50 seats, Thyme Table fills up quickly. Avoid the backup by coming a little later, as the crowd thins out around 8 p.m.
When You Go: Thyme Table, 583 Dover Center Road, Bay Village, 440-617- 6964, thymextable.com Mon-Thu 4-11 p.m., Fri & Sat 4 p.m.- midnight.