On the drive out to Osso Farm Restaurant in Hambden Township, as you pass through small towns and the rolling, bucolic countryside, the anticipation builds as you ponder what to expect from your mysterious dinner destination.
Near rural Chardon and a 45-minute drive from downtown Cleveland, it's so far removed from the city's dining scene that, at first, it doesn't all compute. A restaurant that primarily offers prix-fixe meals and requires reservations on Saturdays? It sounds intriguing, a touch mysterious and even a little confusing.
Will it be high-end or rustic? Epicurean or country? Turns out, it's all of the above.
Located in an unassuming, barnlike structure in the middle of a farm, Osso offers a beautifully refined culinary experience in a thoroughly rural setting. It's the epitome of the farm-to-table concept, but the folks here take that terminology a step further, describing what they do as "pasture to plate."
And truly, the distance between their pasture and your plate is just a few steps. That cow meandering by the window as you enjoy your dinner? She'll be on the menu next month — and executive chef Maggie Demko says that's the point.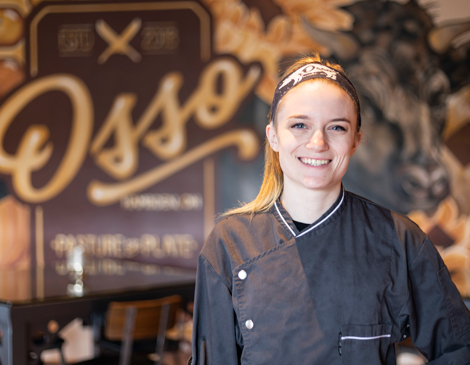 "Our whole goal was to be able to show people, Hey, this is the food you're getting. You're not getting it from a store or a vendor," Demko says. "For us, it shows transparency: We're doing this right here, and you get to see where this food is coming from."
Demko joined the restaurant's executive team two years ago, long before Osso opened to the public in February. At that time, the restaurant was in the early planning stages, helmed by Painesville Township natives Scott and Tara Webster. They co-own Flying W Farm, where the restaurant is now located.
Together, the three designed and planned Osso from the ground up — literally. They didn't just conceptualize the restaurant or envision the interior decor; they also physically built much of the space themselves.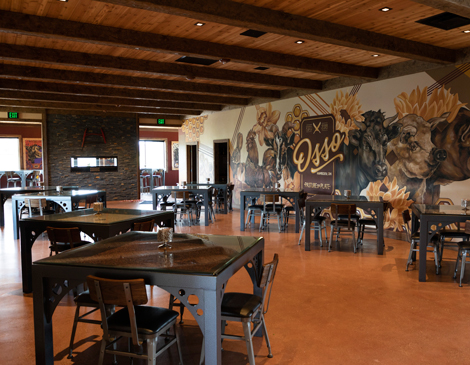 Demko, who worked alongside contractors and Amish workers, learned to pour concrete and helped construct the restaurant's 16-by-20-foot coolers, along with its charcuterie room, cheese cave and wine cave.
"Being so hands-on makes it our baby, almost," she says. "We've been working our asses off to get this place up and running."
With a menu that's constantly evolving, Demko and her chefs have free reign to experiment. Because the food served at Osso relies on which ingredients are available on the farm at any given time, Demko has to plan out her menus nearly a month in advance, factoring in animal maturation and produce seasonality. As a result, Osso's menu structure is both extremely unusual and incredibly time- and labor-intensive.
"We wanted to make this more of an experience, rather than just going out to eat," Demko explains. "We wanted people to sit down and see the farm — to actually see where the food is coming from, to know that everything is made from scratch."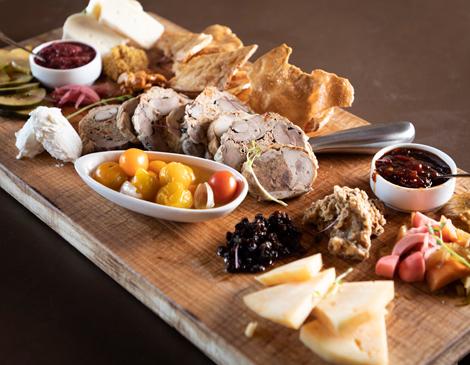 Because of the time and effort that requires, the restaurant is only open three nights a week. On Thursdays and Fridays, guests can order from a rotating a la carte menu, but Saturdays are hosted by reservation only, with multicourse, prix-fixe meals. Diners get six to 10 dishes — and prices vary not only night to night but week to week, as does the menu itself.
That means that on any given night, the meal you eat has the potential to look entirely different than the meal served at Osso the night before.
The only constant — aside from creativity and quality — is the popular meat and cheese board usually served as the first course. It comes on a massive wooden board half the length of the dinner table and could be an entire meal unto itself.
Though the specifics rotate, the general structure remains the same: Each board features meats (think terrines, ballotines or pates) in flavors such as curried, Italian or chipotle. "I really wanted to go back to the roots of where food originally came from, a very Old World style of cooking," she says.
The boards also include two kinds of house-made bread or crackers (like rosemary lavash crackers or miniature brioches) and either confit tomatoes or marinated Italian olives. It's loaded with spreads — frequent condiments include green-tea mustard, spiced apple chutney and a sweet, zingy red pepper jelly — along with assorted pickled vegetables and cheeses from local creameries.
Demko's culinary team is experimenting with cheese making — and even have a cheese cave in which to do so — but for now, Osso mostly serves cheeses from nearby spots like Rowdy Cow in Burton and Mackenzie Creamery in Hiram.
The cheeses, though, are one of the few items that come from outside the farm. Demko estimates that 65 to 70% of Osso's products come from Flying W or from local farms — her goal is 80%. Her team makes its own ketchup, dressings, breads, vinaigrettes, cheeses, sausage and more — and their meat comes from the animals raised right outside the restaurant's doors.
Flying W raises free-range heritage breed animals, which are traditional, purebred and relatively uncommon. Their Japanese wagyu cattle might become 24-hour marinated short ribs served over a red pepper pappardelle pasta, while Aylesbury ducks could be turned into a confit served over the unusual but palatable pairing of wild rice pilaf with cranberries and chestnuts.
The farm is also home to about 400 hogs: Mangalitsas, which produce a dark, marbled meat and have thick back fat that becomes the lard used in most of Osso's pastry cooking; and Ossabaw Islands, which are ideal for dry-curing meats and produce a dark-red pork chop.
"We respect our animals," says Demko, who butchers the animals herself alongside Scott Webster. "They're not just a meal. We helped raise them." Part of that respect means not wasting food, so Osso's menus often include creative ways to use the whole animal, such as chicharrones with smoked jalapeno aioli, and crispy fried chicken skins with a scallion gastrique. Any leftover veggies, too, are given back to the animals to eat.
At just 26, Demko is excited about the opportunities to keep honing her craft, and to just keep learning. With no formal culinary training, she's mostly learned on the job and through an office full of cookbooks. She continues to build her already robust skill set by taking classes on cheese making, butchery and the like. She also wants to hone her expertise in dry-curing, dry-aging, sausage-making, pickling — the list goes on.
"This is my dream. This place has my heart and soul. I don't know if I will ever leave, honestly," she says. "I want to master all of this — and that might take years."


When You Go:
Osso Farm Restaurant, 9145 Old State Road, Hambden, 440-230-3600, ossofarmrestaurant.com. Thu & Fri 5-10 p.m., a la carte; Sat 5-9 p.m. reservations-only dinner, 9-11 p.m. late-night menu