We are a handful of days into what is looking to be a scorching summer, and on top of that, the current air quality is horrible.
If you are anything like me, now is the time of the year where you would normally reconfigure your skincare routine; more dollops of sunscreen here, less [insert winter's trending product] there, but with the added stresser of recent unhealthy air advisories upon us, checking in on one's skin wellness may be rising to the top of the priorities list.
This past week, we spoke with Dr. Rachel Mistur, board-certified dermatologist and Medical Director for the recently opened The Skin Center in Shaker Heights in order to get some answers to frequently asked questions, as well as some recommendations on how best to look after our skin.
From guarding against the effects of Canadian wildfire smoke to befriending summer conditions to maximize that 'healthy glow,' here are the top tips we're implementing this season.
1. Get On The UV Protection Train
"The basics of self protection during the summer would be to stay diligent with applying sunscreen every morning, and I recommend people to be very generous with their application," says Mistur who cheers for Team Sunscreen year-round, but cannot stress it enough for the summertime. "Be sure not to skip any areas like the ears, scalp and neck, and remember to reapply every 2 hours."
What to Look For:
A broad spectrum sunscreen that offers UVA and UVB protection with a minimum SPF of 30 or higher is recommended.
Expert Recommendations:
- EltaMD UV Suncare
- La Roche Posay Sunscreen Line

Bonus Tips and Busting Myths:
Re-upping your sun protectant more often than once every 2 hours is ideal if you are sweating or swimming (i.e. being active, and enjoying your summer to the fullest). In sum, summer is not the time to shy away from sunscreen.

"One mistake many people make is to rely solely on the SPF in their makeup," shares Mistur, "but most of us just don't apply nearly enough to get the desired amount of sun protection, so I would suggest layering your makeup products on top of your sunscreen."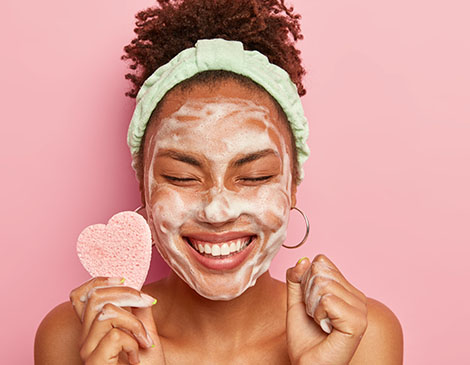 (Photo courtesy Cast of Thousands)

2. Don't Skimp on Your Basics
In this case, we're talking about washing your face with a gentle cleanser. The heat of summer can result in increased oil production which can result in more breakouts, particularly in those with acne-prone skin, but this every-morning-and-night routine is doubly important when we factor in our current conditions of poor air quality, as it helps remove debris and dead skin cells.
What to Look For:
"I often suggest switching to oil-free products or gel moisturizers as opposed to thicker creams that we would often use in winter months," says Mistur.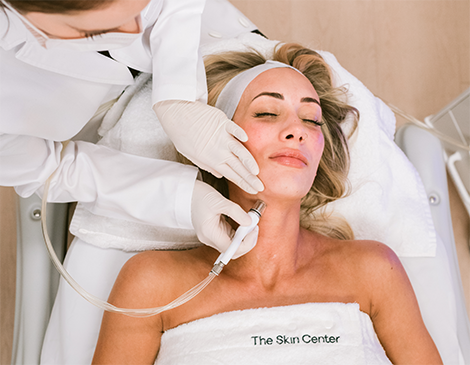 (Photo courtesy The Skin Center)
3. Fine-Tune Your Facial Fave List
With added layers of sun creams, Mistur let us know that there is no better time for a facial. Think of them as a detox for your pores, without any downtime!
Expert Recommendations:
The Skin Center offers facials to boot, and a personal recommendation from Mistur is the Diamond Glow Facial. "It provides the trifecta of gentle exfoliation, extraction and infusion while leaving patients feeling fresh and dewy."
Fun Fact:
"We use serums as part of this treatment, which can be customized based on a patient's skincare concerns. A nice choice would be the vitamin C serum, which contains antioxidants that can help prevent and repair photodamage."
5. Identify Helpful Ingredients
Skincare products rich in antioxidants will become increasingly important in the summer months. "This is because UV radiation causes oxidative damage to our skin cells which can have negative downstream effects such as photoaging and skin cancer — both of which we don't want," Mistur states before speaking to Cleveland's air quality in regard to the city's smokey skies. "In particular, these pollutants — much like UV radiation — strip our skin of vital antioxidants, and can cause oxidative damage."
What to Look For:
- Vitamins A, C and E can be found in a variety of different serums and moisturizers like topical retinoids which can be found both over the counter and via prescription.
6. Hydrate In, Hydrate Out
"Hydration is so important during the summer months," says Mistur, reminding us all to drink water, and stay moisturized. "Moisturization helps keep our skin barrier intact, making it less susceptible to damage from unwanted pollutants in the air."
What to Look For:
- Moisturizers with ingredients like ceramide and hyaluronic acid
Get ahead of the weekend by signing up for our free weekly "In the CLE" newsletter — your guide to fun throughout The Land. Arriving in your inbox every Wednesday, this weekend to-do list fills you in on everything from concerts to museum exhibits — and more. Click here to subscribe.