Clean Remedies' Avon headquarters is a well-oiled cannabis operation.
In a sleek, inviting lobby, customers shop for gummies, fruit tarts, chocolates, tinctures, drink mixes and dabs made from hemp-derived CBD and delta-8 distillate. In the back, employees donning lab coats and hair nets work a gummy machine, coating multi-colored delta-8 THC gummies with sugar, then placing them into jars. The hemp business's stated mission is to provide customers, especially those in old age or recovering from surgeries, with relief.
Meredith Farrow, owner of Clean Remedies, says delta-8 relaxes her and makes her happy and giggly. It provides a buzz, and that's what many consumers are looking for when they walk in the business's doors or purchase its products online.
"Most of our customers, once they've tried a delta-8 or a delta-9 product, they tend to stick with that rather than to go back to the full-spectrum CBD," Farrow says. "We're all stressed out — inflation and the economy and politics and just everything."
There's a good chance you've heard of delta-8 or seen it on the shelves of wellness stores, gas stations and vape shops. When the U.S. government legalized hemp in 2018, it opened the door for products with small amounts of cannabis's active ingredients, such as delta-8 and delta-9. With psychoactive properties that range from subtle to strong, it's the latest craze drawing in cannabis consumers — especially in states like Ohio, where recreational cannabis is not yet legal.
Yet, not every company goes to the same lengths as Clean Remedies to ensure a safe experience.
Products with mislabeled potency can provoke unexpected anxiety and paranoia, and according to industry experts, a lack of federal regulations in the delta-8 industry means the onus is often on the consumer to perform their own research.
"I literally know hundreds of people that derive benefit from delta-8 products," says Chris Hudalla, president and chief scientific officer of ProVerde Laboratories. "But it's a little bit like Russian roulette."
One concern surrounds the inhalation of delta products through vaping. In 2019, the Centers for Disease Control and Prevention blamed vaping for a series of lung injuries that hospitalized more than 2,500 people and killed 68. Those injuries were linked to mostly black-market vape cartridges containing the chemical vitamin E acetate.
"I would call that criminal negligence," he says.
Since then, vitamin E acetate's connection to that public health outbreak has been widely publicized. Yet, Hudalla, a Ph.D. scientist whose company in Massachusetts has tested approximately 5,000 delta-8 products, says many products still test positive for vitamin E acetate.
Still, in the past two years, there have only been 104 hospitalizations directly linked to delta-8. More than half of those involve edibles, such as gummies or chocolates.
However rare, it remains a worst-case scenario. But its for that reason Clean Remedies doesn't sell vapes.
"I don't feel there's enough research of the ramifications are of vaping all day," Farrow says
Clean Remedies has its own lab to test products for other companies, and it also puts its products through a third-party lab test. It sources ingredients like hemp flower, CBD isolate and delta-8 distillate from a USDA Certified Organic farm in Oregon. By contrast, delta-8 retailers and out-of-state and underground producers are often able to bypass industry standards. Though Ohio follows federal laws in when it comes to delta-8, such as requiring purchasers to be 21 years of age, delta-8 products are not regulated by the Food and Drug Administration.
"There are so many companies that are fly by night," says Meredith, whose company also tests products from across the country. "They could be making it in their basement, they could be making it in their garage. You want to make sure that where you're getting it from is a reputable company that's been around, that didn't just pop up overnight, and that they have protocols, that they're not just making stuff over the fire with no hair nets, no beard nets."
Certification is important because the hemp plant is known to bioaccumulate undesirable contaminants such as heavy metals and pesticides. Consumers should look on their delta-8 product packaging for a QR code to scan, Meredith says.
"If you're going to buy a product, delta-8, delta-9, whatever it may be, that doesn't have a QR code, run, because this is going to link you to all the third-party lab results to make sure it's safe, the purity is what we're advertising it on the front, there's no heavy metals, pesticides, mildews, any of that stuff in the product," she says.
David Magnus, manager and partner of hemp product retailer EV Naturals in Parma, works to ensure people who buy products at EV Naturals can feel confident in them.
Part of Magnus' role is to scrutinize vendors and the lab reports they attach to products. He says he has turned away several companies that aren't trying to do things right. Typically, he's looking for batch-specific lab results.
"A lot of companies will say they have third-party testing, but it's just one general lab report," he says. "You want to make sure that they test every batch."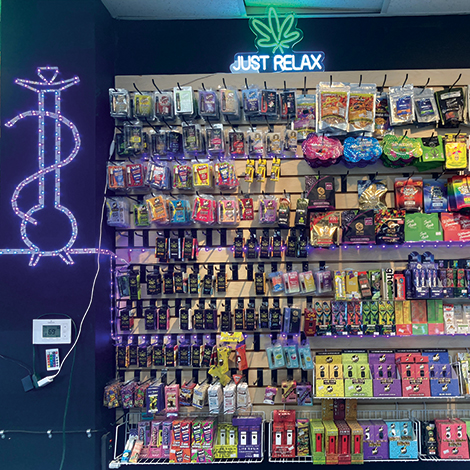 Jon Svigel, manager of Magic Wizards Smoke and Vape Shop in Middleburg Heights, says every day he's been in the store since starting work there in early 2022, customers have come in for delta-8.
Svigel lets customers look at the menu and decide what they want, as he's not there to tell them what to buy. He agrees that customers should scan product QR codes and verify information about products online He cautions that no matter how much due diligence, mislabeled products do make their way into the market.
For Greater Clevelanders eager to try cannabis as medicine, there is another route: Ohio's Medical Marijuana Program. Though it is somewhat limited, has been slow to expand and is often costlier than programs in other states or black market solutions, it is likely the safest option.
"Testing is part of regulation," says Matt Close, executive director of the Ohio Medical Cannabis Industry Association. "I would urge people to understand that there is a medical marijuana program in the state where you can purchase medicine that is highly, highly tested."
For those who can't or don't want to access the medicinal program, delta-8 remains an option. "A lot of people don't have a medical card," Svigel says. "And they don't want to drive to Michigan (where cannabis is legal)."
Still, Brandon Nemec, government and regulatory affairs associate director at PharmaCann, a medical and recreational/adult-use cannabis company that operates in Ohio, warns that hemp companies can stoke consumer confusion.
"What is on those labels is very often inaccurate and misleading as far as the potency," he says, "as well as the potential contaminants that may still be existing in those products."
Get ahead of the weekend by signing up for our free weekly "In the CLE" newsletter — your guide to fun throughout The Land. Arriving in your inbox every Wednesday, this weekend to-do list fills you in on everything from concerts to museum exhibits — and more. Click here to subscribe.