A tech-themed, red-caped superhero magnet sticks next to Stevie Frank's door at Laurel Lake in Hudson.
The "CATIE Champion" symbol means her third-floor apartment neighbors can knock any time to ask for help using the community's customized iPads, which are outfitted with apps specific to Laurel Lake.
The apps include a video gallery with the Laurel Lake Today program, where the residents' association and staff announce updates and news, and post a calendar full of events and activities.
"I love that feature," says Frank, adding that residents can use the iPads to create contact groups and communicate by email or messaging. "I have created four groups — one for bridge, neighbors, autobiography and CATIE."
The introduction of customized iPads for residents is just one way that senior living communities are integrating technology to solve problems and open new opportunities for residents who might be unfamiliar with virtual options. These solutions are helping residents discover new ways to order groceries, connect with relatives, visit the doctor and more.
Frank, a former English teacher and guidance counselor, loves her role as a CATIE Champion and helped roll out the Laurel Lake system in January 2020. She teaches new residents how to use CATIE (short for Communication and Access To Information Everywhere), too.
"My children think it's hysterical that I've become a CATIE expert because, before, I used email and that was it," Frank says. That was before Status Solutions, the company that provides CATIE, conducted in-depth training last year with resident volunteers and staff. "We got our CATIE (training) two months before everyone else, and we were able to work through it and identify things we thought were unclear," she says. "We got the kinks out, and then we went to every apartment and showed residents how CATIE works and even how to find a place to plug it in."
The CATIE iPads are information central, with residents using them for maintenance requests, the dining menu, videos, news and events. "Our residents wanted to have news in a timely manner and more connection, so having a device that allows them to contact each other, send messages and stay in touch is so valuable," says Susan Busko, Laurel Lake's programming manager.
"We are starting to see baby boomers moving in and, of course, they have more smart technology, so we worked hard to increase our broadband speed to accommodate everything from smart phones and computers to Roombas," Busko adds.
Shishir Kapadia says his life "revolves around technology." Along with using his phone and iPad to read news and stream content from Netflix, Amazon Prime and HBO Max, he also uses his phone to order groceries from Instacart and connect with friends on Facebook. Kapadia, who lives at Springwood in Hudson (a part of Danbury Senior Living), is an engineer, so, while he might be better versed in technology than other residents, he sees plenty of people who are willing and open to learning more. "Quite often, residents will ask me for help going on Amazon," says Kapadia, 75. "Technology is really helpful for seniors — it's almost essential," he says.
Texting among residents has become commonplace. "A few years ago, many felt like their smart phones were like an electronic leash so their kids could check in on them — they wouldn't carry them, or they wouldn't be charged," says Bob Pontius, Danbury's regional director of business development. "Now, they've upgraded to faster, smarter phones, and they are ready to FaceTime their kids and grandkids."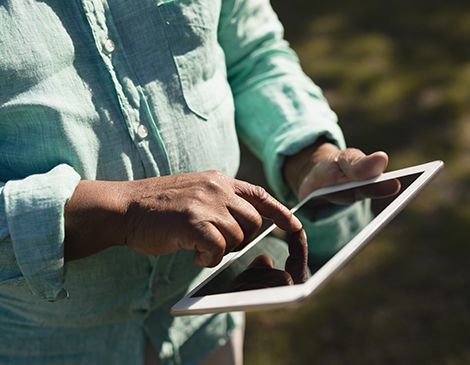 Get with the Program
That newfound appreciation for texting is evident at The Normandy's Breakwater Apartments, as there are numerous groups of residents who arrange plans through group texts. "They text and chat with each other — (sometimes) they arrange to meet up at The Pub at 4 p.m. or to take a walk," says Jasmina Mehmedagic, The Normandy's activities director.
On Saturdays, Mehmedagic holds "Tech Time with Jasmina," where residents can ask any questions about their devices. "Sometimes, it's helping them maneuver apps like Instacart to have their groceries delivered, or I will go to their apartments to show them how to use Netflix," she says. "It may seem simple, but after I show them how to do it, they are much more comfortable with technology."
Unlike years prior, Mehmedagic says, the newer residents are already adjusted to technology, so things like FaceTime and texting are ways of life. "Some residents like to journal, and they use the notes app on their iPads to write down their thoughts," she says.
As a community, The Normandy leverages technology to bring concerts to residents through its "Music around the Globe" series — which was especially helpful during the height of the pandemic and continues to provide a way to introduce orchestras and artists from all over the world.
Community YouTube channels with programming specifically for residents is another way independent and senior living facilities are using technology to engage, entertain and deliver information to residents. For instance, Danbury has its own YouTube channel (aptly titled "The Danbury Difference") that features videos about exercise, arts and crafts, cooking and brain games. "We use it to connect and keep them active," Pontius says. "Our teams don't need to scramble to find a play list for morning exercise — they just pull it up on their phones, connect to the Bluetooth, and everyone is happy," he says. "Same with movies. We use the smart TV in our theater, and everyone gets to vote on movie to stream."
For those less comfortable with technology, Danbury set up a general resident email account so families could send notes and pictures. "We would print them and pass them along," Pontius says. "Those without computers or other technology appreciated getting a note printed. So, it's a little bit of old school and new school."
Pontius says staff acts as tech support for anyone who needs a tutorial. "During the pandemic, our employees programmed more smart TVs, tablets and smartphones than you can imagine," he says. That teaching was extended to a resident's extended family as well, as the children of some older residents might have needed to learn technology.
To help residents with extra technology support, The Welsh Home in Rocky River created a tech-help cart featuring a large screen and a device so residents could make video calls. "Families could get a time through our website, and I'd pull up the schedule, and our staff would move the machine from room to room for virtual calls," says Sheryl Kinser, The Welsh Home's life enrichment director and a certified dementia practitioner.
Along with having a smart TV (with laminated instructions so everyone can learn how to use it), The Welsh Home also has an Xbox. "Some of our residents like the bowling game — others like the cowboy shooting games," Kinser says
A Connected Life
One of the most important things that Pontius and other retirement home directors have been trying to remember that is residents' comfort levels with technology vary — with age not being the primary factor. "We have 90-year-olds who have never owned a computer or smart phone and have no desire to learn now — and there are 90-year-olds with Apple Watches they wear to monitor their health and to keep track of appointments," he says.
More residents are growing used to virtual meetings and appointments, driven by the pandemic's freeze on in-person gatherings that drove people to use telehealth and other virtual tools like Zoom.
These days, video meetings are a regular affair for Ben Ammons, an 86-year-old resident of Hudson's Springwood who serves on a number of business and nonprofit boards ranging from The University of Akron to his church. "I feel like I've learned a lot by being required to use it a lot more," he says.
Ammons also takes advantage of telehealth appointments by using his iPad for virtual checkups and to connect with his daughters. The same is true for Charles McBride, who moved into Springwood with his wife, Susan, in February. Since then, they've used technology to bring the world to their doorstep. "We use the internet for getting food, clothes, medicine," says McBride, 67.
After a career in the biotech industry, McBride is somewhat of a tech native for his generation. "There is a little bit of reticence with adopting it because some people are scared they are going to break it or maybe afraid to give it a try," he says. "The other day, someone wanted help hooking up the laptop to a TV to do a presentation. So, we figured it out. If all else fails, we unplug the TV and start over."
With technology more ingrained in community life, seniors who might have felt intimated by it are recognizing that even simple tools can be satisfying. Frank shares how Laurel Lake added a solitaire app to its CATIE tablets, which attracted those who were reluctant to accept the platform. "One of the women I worked with who was in her mid-90s was terrified of CATIE, but I told her, if you need any help at all, I'm right down the hall," she says, adding that the solitaire feature won her over. "The other day she said to me, 'I like CATIE. I like CATIE a lot.'"
A similar sentiment was shared by Danbury Senior Living residents when staff worked with local churches to stream services. "We have residents who have attended their weekly services every Sunday for 50 years, so we met with local church deacons and trained them on how to stream so we could bring it to our residents," Pontius says. "Now, they can stream from their iPads in their apartments, and there were literally tears in their eyes the first time we did it. They could see their deacon. Once we facilitated it, they wanted to keep doing it."
While every resident's background with technology is different, Pontius has begun to see more Danbury Senior Living residents working to embrace technology.
"They can stay in better contact with their families and doctors, they can watch their favorite movies or get groceries," he says. "As people get more used to it, it makes living their best life that much easier."