Cody wags his fluffy tail and does a Snoopy-style jig in his owner Barbara Peskin's apartment at Judson Park, a senior living community in Cleveland. "Roof! Roof!" he barks, telling his 82-year-old companion it's dinnertime.

Following a recent colon cancer surgery, Peskin's doctor recommended that she walk Cody every day. She calls the pup the best therapy she's ever had. His companionship is second to none, she says. "I think that's why I'm doing so well," says Peskin. "I'm not just sitting at home."

Peskin originally got the dog as a gift for her husband, Allan, on his 80th birthday. Since Allan died a year ago, Cody has been stuck to her side ever since.

"If I'm on the couch, he wants to be right next to me," she says. "He has a bed in my bedroom, and a bed in the study where his pet squeaky animals stay: Fido, Duckie, Squirrely."

The 14-year-old Shih Tzu is a social butterfly. The front desk knows when Peskin is coming by the jingle Cody's tags make. He begs for attention from the other residents and Judson's staff, and Peskin says he's helped her meet people in her community.

"Everyone here knows Cody," says Peskin. "They might not know me, but they love him!"

Jessica Kulczycki, Judson Park's community life and care director, helps run the therapy dog program there. She says the dogs create an element of fun and spontaneity in the community.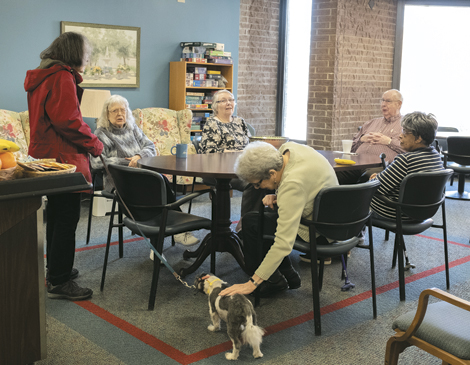 "It's like being out in your own neighborhood where you might watch dogs go by," she relates. "It brings a sense of community to life here, and our animals are a big part of our community. You can see residents connecting with the animals — going up to people they don't even know and asking, 'What's your dog's name?' "

Pet ownership among older adults brings much more than just joy and sociability, though. Studies from Harvard Medical School have found physical and mental health benefits such as lowered blood pressure and stress and alleviation of depression and anxiety. Feeding, taking walks and simply cuddling with a pup can provide a sense of purpose and companionship. Adult pet owners who volunteer with their animals get an extra dose of good, with a University of Calgary study relating volunteering to cognitive health benefits.

John Mendenhall thanks Lucy, his 8-year-old dachshund mix, for those benefits. When the 70-year-old retired in 2009, he asked his wife for a dog. Now a certified therapy dog, Lucy visits local assisted living facilities.

"She has a great effect on me, her handler, because she keeps me very active," he says. "Otherwise, I might just be sitting in a chair watching television or reading a magazine."

The University Heights resident adopted Lucy through a rescue group in Macedonia. The following summer, she took obedience classes where the trainer told Mendenhall that Lucy had what it takes to be a great therapy dog. So he enrolled her in the classes.

The rigorous coursework to become a certified therapy dog isn't for every pooch. "They have to be calm, quiet and can't jump on people during visits," Mendenhall says.

But Lucy was a perfect fit. Her long, silky-black coat provides pet therapy — literally.

"One thing that is very special to people we visit is when they can touch her soft coat," Mendenhall says. Plus, Lucy's a licker. "She loves to give kisses!"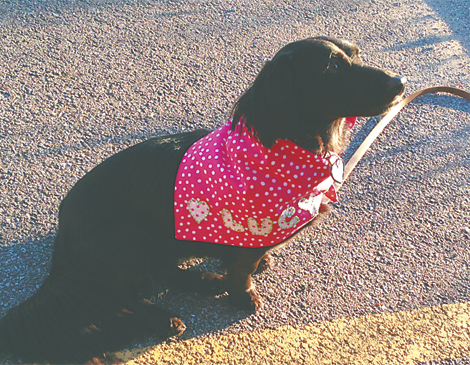 Benefits, No Bones About It

Patricia Chapek's certified therapy dog, Finnegan, is a licker, too. The 10-pound poodle mix has a deep black coat and warm brown eyes. He gets invited to sit in laps and even cuddle with residents of Judson while they're sitting in bed. "Their faces light up when they see him," Chapek says.

She remembers one special moment with a woman who asked if Finnegan could walk with her down the hallway to her room.

"She had a cramp in the back of her leg, and she asked me to rub it and wondered if Finnegan could sit on her bed," Chapek says. "I said, 'If I put him too close to your face, he's going to lick you. Is that OK?' And she said, 'That would make my day!' "

Chapek nearly welled up with tears. "I thanked her for letting us visit and she said, 'I would be so happy if you visited every day.' That touched me so much."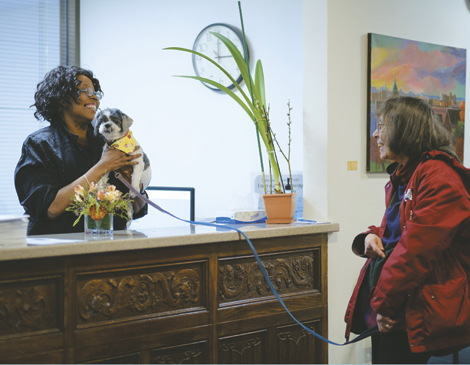 Harvard Medical School's Get Healthy, Get a Dog study emphasizes the health benefits of canine companionship. Dog ownership can reduce feelings of isolation and loneliness as well as help calm the nerves and improve the lives of older adults.

Even petting a dog can lower blood pressure and heart rate. Dr. Marwan Sabbagh, Cleveland Clinic director of the Lou Ruvo Center for Brain Health, says there is a physiological explanation for animals being great therapists.

"Simply petting an animal can decrease the level of stress hormone cortisol and boost release of the neurotransmitter serotonin, resulting in lowered blood pressure and heart rate and, possibly, in elevated mood," said Sabbagh in a Health Essentials report.

Before retiring from a career in the Cleveland Clinic's graduate medical education department, Chapek began preparing Finnegan for volunteer work But she didn't expect the health and wellness benefits she would gain throughout the process of training Finnegan.

"Dogs just love you," says the 69-year-old. "There is a bonding that occurs between the dog and handler — you grow a connection."

She remembers having a moment of realization during an exercise called "watch me," where one looks directly in the dog's eyes and directs it to look back. Chapek felt a special connection with Finnegan. She felt that the dog, refocused, understood the importance of his therapeutic role.

"He has to understand what others need from him when he visits," Chapek says.

Finnegan has a way of knowing when to cuddle, sit still and be present — as well as when to dance, which he does by standing up on his hind legs and twirling in circles.

Residents at Judson Park get a laugh out of the spectacle.

"Sometimes, he'll go back and forth with me holding his front paws," Chapek says. "They can see him doing that whether they are laying in bed, sitting in a wheelchair, or walking."

Pets take seniors to a happy place, says Tomiko Whitby, life enrichment coordinator at The McGregor Home, an assisted living facility in East Cleveland.

"They bring up memories of when they were living in their homes or of the pets they owned," she says. "So it generates a lot of good thoughts for them."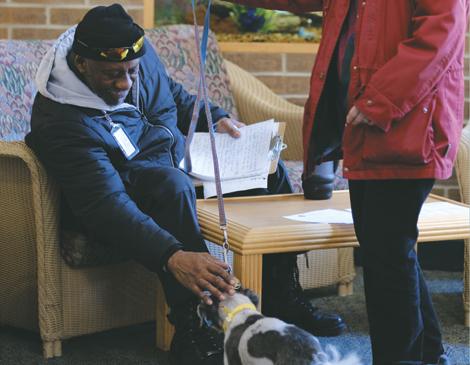 The McGregor Home often hosts Loving Hands Dog Care Foundation, a pet care provider in Bay Village which brings certified dogs to pay seniors a special visit. Residents are also allowed to have their own pets live with them. This gives seniors a sense of belonging and duty, Whitby says.

"One thing I've noticed is a lot of the residents who have pets as companions have a sense of responsibility," she says. "They have to care for others, they are communicating with their pets, and they do everything for them as they would a child."

Melissa Crouse, director of rehabilitation at Jennings Center for Older Adults, brings her dog, Annie, to work. The 8-year-old vizsla, a medium-sized Hungarian breed with a short, smooth, golden coat, has her own fan club of residents. The pup makes therapy more enjoyable for patients.

"They want to come into the gym if they know the dog will be there," says Crouse. "You can see them feel relaxed and a little less stressed."

Peskin and Mendenhall have also found their pooches to be good workout partners. Cody gives Peskins reason to take walks at Chestnut Hill, where she has gotten to know other dogs and owners. Meanwhile, Mendenhall estimates that he's taken Lucy on more than 4,000 walks in their six years together.

In a University of Victoria study, dog owners averaged 300 minutes of walking per week compared to non-dog owners, who walked an average of 168 minutes. The Centers for Disease Control and Prevention recommends at least 2 1/2 hours of moderate aerobic activity for good health and double that for greater health benefits.

Additionally, pets can ease major life transitions. Caring for a pet can create or continue the type of structured lifestyle residents were used to.

"They walk their dog, feed their dog, the dog sits with them while they read the newspaper, and so on," Kulczycki says. "It gives older adults purpose and maintains a routine."

There are always losses when a senior decides to move from a home into independent living or an assisted care environment.

"There are things they have to give up," Kulczycki says, "but one thing they don't have to let go of is that companionship from their pet."

In fact, Kulczycki says Judson works with residents who have pets to build a care plan for their animals, too. They might need help walking the dog, for example. "We work with families and be sure we support even our senior dogs because we know it brings their owners comfort."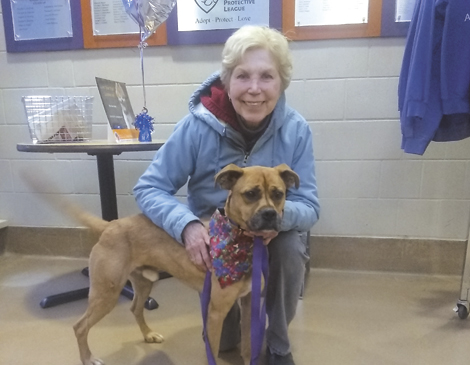 Welcoming Home a Pet Companion
Finding a four-legged companion suitable for an older adult is easier then you think.The Cleveland APL's Pets for the Elderly program gives adults 60 and older $50 off the adoption fee, which is $125 for most dogs. Last year, the organization found homes for 357 pets through the program.

Katherine Schneider, shelter operations and client care manager at the Cleveland APL, tries to match people with pets that fit their lifestyle.

"Smaller dogs are better if you have restricted mobility or decreased strength," she says. "Others want a more active dog to keep their spirits up and keep them moving."

Consider activity level and outside help before adopting, Schneider suggests. If friends and family can assist with walking and taking out the dog, a senior might feel better able to cater to the animal's energy level. On the other hand, if the older adult is solely responsible for walking the dog, maybe a "senior dog" is a better match.

Beverly Schwieterman, who runs Almost Home's Senior-to-Senior program, raves about the many benefits of an older dog for adults who are in their golden years.

"With a senior dog, you have a dog that will be quite happy to walk slowly with you," she says. "You don't have to worry about training and housebreaking an older dog like you do a puppy."

The Columbus organization focuses on collies and shelties but adopts dogs of all ages. It currently has 10 adoptive parents from across the state and beyond in its Senior-to-Senior program.

"A lot of the seniors we work with are lonely," Schwieterman says. "But not once they adopt a four-legged friend."