With decades of experiences and memories to go along with them, moving after living in the same home for 40 years can feel like mission impossible. So, the idea of packing up and relocating several times while aging wasn't going to work for Robert Harrison, 91, who moved to Altenheim Senior Living's Shurmer Place in Strongsville two years ago.
"What triggered us to come here is the fact that you have independent living, assisted living, skilled nursing and memory care — the whole gamut of senior needs in one facility," says Harrison. His wife, Mary Louise, was diagnosed with a terminal brain tumor that prompted their decision to relocate. Meanwhile, Harrison had suffered a few falls in his Hinckley home, and his grown children wanted the family to have peace of mind that mom and dad would be safe.
The Harrisons moved into the independent apartments, and later Mary Louise was in skilled nursing, eventually moving to memory care.
"I was able to be here, visit her and have dinner with her every night," he says of the six months she was under care at Shurmer Place.
Meanwhile, Harrison shed the responsibilities of home ownership and, after his wife's passing, tapped into the community at Shurmer Place, enjoying activities such as entertainment or trips to restaurants.
He feels at home and fits in.
"When we first toured here, they interviewed us too, and said they wanted to see what kind of personalities we have," he says. "Which shows they were taking good care that people here are compatible."
Finding the best place to live out your retirement years is a personal decision. It's based on lifestyle, activity level, health status, location, amenities and that intangible and often unexplainable feeling you get when you step into a lobby.
"You want to find a place that when you walk through the door, you feel comfortable and at home," says Kim Schulz, resident director of Shurmer Place.
If you think senior living and equate the concept with a hospital-like high-rise, think again.
"There's still a really dated understanding of what senior living options really provide," says Christy Cunningham, Judson Senior Living's vice president of sales and marketing. "Those with limited experience who have only seen senior living when someone is affected health-wise might not realize what options are available."
Modern senior living offers the chance for residents to progress from independent apartment or home living to skilled nursing and memory care. That's what Harrison liked about Shurmer Place.
Meanwhile, for Caren and Rye Dalton, residents of Judson's South Franklin Circle in Chagrin Falls, their priorities were culture, dining, exercise and a social life.
"Had we known we could find all of that, we would have moved five years ago," Dalton, 88, says.
Rather than doing laundry, you could be taking advantage of a distance learning class. As opposed to dealing with kitchen cleanup, you could dine in a restaurant that's on campus or get meals delivered to your door.
"There is accessibility of interesting things to do and people to meet," Cunningham says.
Considering the complexity of how COVID-19 completely shifted these communities' approaches to delivering services and care, there is value in allowing a professional staff to oversee health, safety and wellbeing.
"We did our best to make sure everyone felt like they were part of a community and not alone," Schulz says.
Choosing a community to grow old in is not just about finding a place to live.
"Many people look for senior living like they would shop for real estate, looking for tangibles like rooms, square footage," Cunningham says. "One of the risks of approaching it that way is that walls don't create a life."
Connections can play a big role in linking residents to the greater community.
This includes intergenerational activities that invite young people to campus and give older residents opportunities to engage in their environments. For example, Anthology makes connections with area schools and groups such as the Chagrin Valley Little Theatre to arrange practices and performances.
Before selecting a place to live, ask someone who actually lives there and participates in activities about it, Dalton suggests.
"Have lunch with someone who lives there and find out what it's like," she says.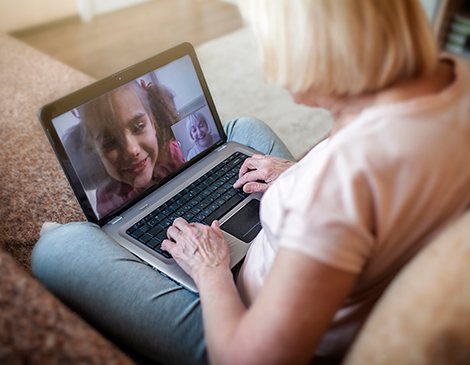 Finding Community
When looking for a place to call home in retirement, it's best to ask yourself what you want your encore to be.
"This can be a baseline for finding a compatible place to live that will help you maximize your vision," Cunningham says.
Look at what your average day looks like now and consider what would be ideal several years down the road.
"Regardless of how dependent a person might be in their later years, they still want to retain a feeling of individuality," Schulz says.
That means providing transportation to places residents like to visit, and bringing in entertainment and cultural events so they can participate without leaving campus.
Indeed, amenities are a game-changing sell for many who choose to move to a community with independent and assisted living.
Active adults prioritize features like an exercise room, swimming pool, golf simulator, pickleball course and walking trails.
At Anthology of Mayfield Heights, which opened this fall, residents can enjoy gardening, theater and the arts.
"We have four libraries in this community and a business center, because some of the residents who are moving in still work and need to have access to technology," says Anthology executive director Kim Wosotowsky.
At a number of communities, innovative programs and partnerships with universities and nonprofits give residents access to classes and experiences, from auditing a history class to volunteering.
"Features and amenities should support a variety of interests and goals," Cunningham says.


Care, COVID & Connection
During the early months of the pandemic, video calls replaced in-person visitation as older adults living in senior communities tried to maintain connections. Meanwhile, grim statistics about the virus spreading through nursing homes were on the news.
Communication has been, and will be, paramount for restoring peace of mind.
"Those wanting to make a decision about where to live need to know the facility has created a safe environment," says Peggy Brekke, vice president of clinical services for Anthology Senior Living, which operates Anthology of Mayfield Heights.
That includes a comprehensive COVID-19 management plan with screening and temperature checks for residents and visitors. At Anthology, clinicians perform symptomatic testing for residents. All individuals are tested for COVID-19 prior to moving in, as well.
Shurmer Place carefully adheres to all Centers for Disease Control and Prevention and Ohio Department of Health guidelines. Residents were provided with masks, staff wear proper personal protective equipment and visitation is strictly limited.
"I have a computer that I use to email with family, and I use FaceTime," Harrison says.
Dalton says she and her husband had meals delivered from South Franklin Circle's bistro to their home on campus, and they also took advantage of services such as Instacart for groceries. Daily walks around the property still allow the couple to socialize.
"Everyone has been very considerate of fellow residents," Dalton says.
At Shurmer Place, efforts to create a sense of connectiveness kept the activities staff busy. Not only did staff deliver things to do like crossword puzzles, they also helped coordinate video calls.
"We did our best to make sure everyone felt like they were part of a community and not alone," Schulz says.
Transparency and consistency with communication was key during the initial months of quarantine and continues to be.
"We have made great efforts to regularly communicate with our residents, families and associates to keep them up to date on COVID-19 activity related to our campuses," Cunningham says.
Beyond the pandemic, older adults considering a move into a community should also find out how the facility coordinates and delivers care. For example, Anthology has a monitoring system to help track residents who are susceptible to falls.
"We are able to identify areas of concern in more of a prompt manner," Brekke says.
Proactive communities also coordinate with health care providers. Potential residents should ask to attend staff training.
"That way they can understand how to participate in their own care," she says.
This emphasizes ongoing independence that is supported by professionals and can be modified as residents age. Ultimately, the purpose of moving into a modern senior living environment is to stay independent and enjoy a good life for as long as possible.
"There is a lot of life to be had, so really think about what you want that next chapter to look like," Cunningham says.