We get it. Holiday shopping is rarely anyone's idea of jolly. But like Rudolph's red nose, local pop-up markets can guide us out of the retail blizzard to a more festive and meaningful giving (and buying!) season. "Because it's so popular, people need to pick their own adventure," says Stephanie Sheldon, founder of the Cleveland Flea. So whether your nice list includes quirky, vintage fare, handmade jewelry and wares, hometown pride tees or an unexpected surprise, we unwrap the secrets that will make you feel like Santa's little helper at this month's holiday markets.

SHOP RULES
Plan Ahead: What's good goes quick. So start your shopping trip online by perusing the market's vendors list and checking out individual Etsy sites or Instagram feeds to create a wish list. Then scout the market map to find popular items such as purses, soaps and toys. The limited space at these markets also helps create competition among vendors and their offerings. "Our market is carefully juried," says Cheryl Hopkins, market manager of Akron's Crafty Mart. "These are things you aren't going to find in your local malls."
Buy Up: Consider attending the market's VIP party or early bird showing before the public opening. While there's a price for admission (usually between $5 and $20), the benefits can be worth it. "They get specific access to all of the new stuff first," says Sheldon. "Makers will sell out of a really popular item very quickly." In addition, the limited attendance creates a relaxed atmosphere and your ticket sometimes includes a free beverage. "It's for people who like to party and shop at the same time," she says.
Cash In: While most vendors have Square Readers or other electronic means to accept credit cards, Sheldon suggests bringing a small reserve of cash for quick purchases. "If I was an expert shopper, I'd bring $20 to $40 for food and just breeze through the line."
Play Along: These markets are much more than a trip to the mall. With cocktail bars, local food vendors and live music, the festivities appeal to even the most retail-phobic friend or significant other. "If people don't rush it, they'll really enjoy the spirit that's happening," says Hopkins.
Talk Shop: The market experience is a great way to add value to your gift giving. Talk with artists about their process and get the story behind their items, suggests Shannon Okey, founder of the Cleveland Bazaar. "Even things that look simple often take a considerable amount of work," she says. "Artists love to connect with people who are interested in their work."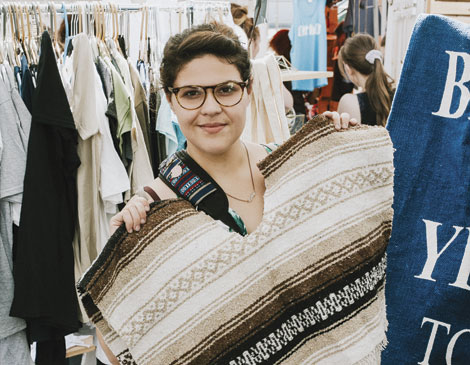 MARKET ANALYSIS

Twenty-five-year-old wedding and lifestyle photographer Julianna Arendash loves the Cleveland Flea for its delectable food, vintage thrift finds and all the makers. Here's some of what she's learned as a frequent market attendee.
Treasure hunters. They're some of the first people that come through at the beginning of the day. They're the ones that come for the antiques, the thrift finds. You have to get there early to get those things.
I've seen some pretty awesome stuff just slip through your fingers.
You can get those big glowing Santas and snowmen — all of those novelty holiday items that you used to decorate with. Your grandma
probably has one.
There's always a signature cocktail and a signature slush for every Flea.
I always love the VIP parties. It makes it special. When there's less people, you get to talk to the vendors and learn about the people who sell the stuff. I think that's the best part.
This is their passion. Sometimes, it's their side hustle. But it's something they really love.

DON'T MISS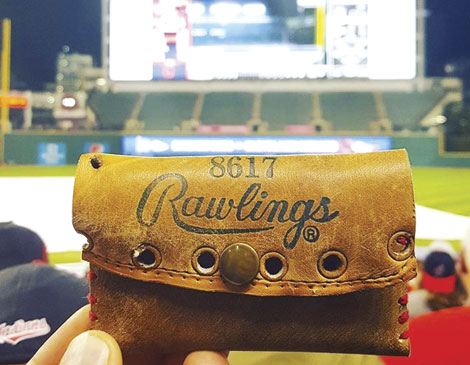 Yurko Stitch Co. at Crafty Mart
Hit a home run with the baseball fan in your life with Brad Yurkovich's leather wallets, key chains and magnets made from recycled
baseball mitts.


The Robot Consortium at Cleveland Bazaar
Patrick Gerber transforms reclaimed materials into block-headed wooden robots depicting your favorite pop culture characters.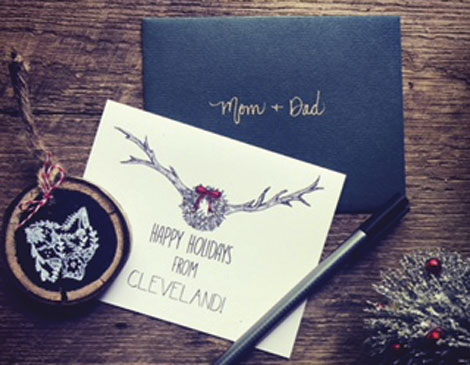 Inked & Dotted at the Cleveland Flea
Whitney Ralston Adelman's hand-lettered cards and prints make holiday greetings feel a little less traditional with witty messages and naughty list-worthy spunk.