Clevelanders ain't afraid of a little cold. Thousands of them proved that by packing the West Bank of the Flats Saturday night for the 11th annual Brite Winter music and arts festival. With more than 40 acts on five stages, food trucks and immersive art exhibits, the festival once again showcased the region's great breadth of diverse talent and demonstrated with a very well-attended event that winter can be a blast. Here are five quick takeaways from the event.
The Appetizers
Energizing headliner sets from Ra Ra Riot, Red Rose Panic and The Vindys, who had The Stage On Elm Ave. so jam-packed the crowd nearly hit Main Street, were well worth the wait. But if you didn't show up early for the bottom of the bill, you missed out as Brite Winter continues to slate an all-star lineup top to bottom. Lively daytime sets from Mimi Arden, Jul Big Green and the Buffalo Ryders were a great way to kickoff the day — and a great reward for the punctual.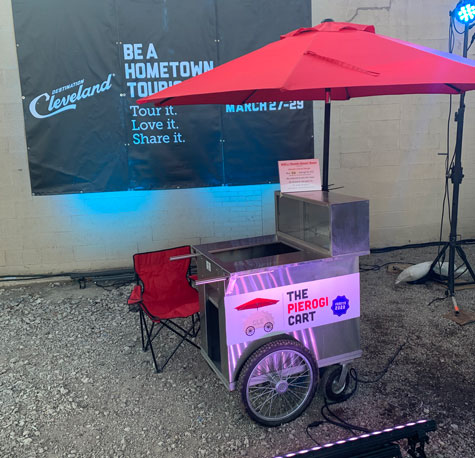 Rose-Colored Pierogies
The
Pierogi Joe's
pierogi cart, made famous on ABC's
The Bachelor,
had its first-ever public appearance at Brite Winter. While right now the cart is merely a prop for fans to take photos with owner Joe Becker, who was featured in the show, the company hopes to have it functional some day soon.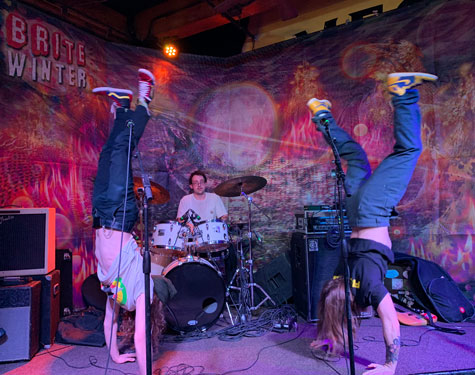 Solid Addition
A last-minute cancelation was a blessing in disguise as it opened up a last-second slot for veteran Cleveland band C-Level in a 7:55 p.m. slot on the McCarthy's Stage. But the blues- and reggae-inspired rockers, whose third album
Burn Your Own Gasoline
released earlier this year, didn't look like a bubble band. It delivered a spirited and dynamic set featuring ripping instrumentals led by singer-guitarist Dave Ziggy on 12-string acoustic guitar and lap slide guitar and harmonious hooks sang by a chorus of backup singers.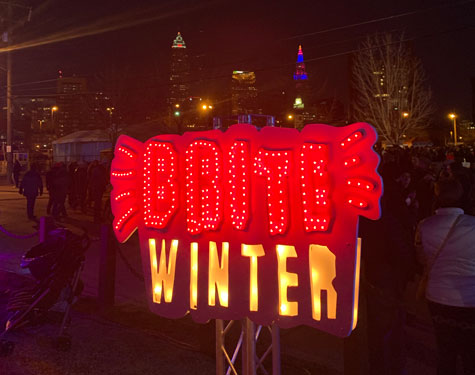 A Little Too Cozy
It was a good attempt at keeping us warmer, but Brite Winter's shrunk-down grounds made it feel a little more crowded this year. Venues that had been included in the past such as Music Box Supper Club and Mulberry's immersive, sandy stage were axed. This made the typically immersive indoor art exhibits much more limited and created long lines at indoor venues such as McCarthy's Downtown and the Harbor Inn.
Ground Breakers
Uptowne Buddha did that thing Uptowne Buddha does: turn heads, deliver groovy funk hip-hop and make people dance. But in case its set wasn't enough to prove why it's one of the most important and interesting hip-hop acts in Cleveland, activist and rapper Archie Green introduced the band by reminiscing about how far it has come. In 2017, Uptowne Buddha became Brite Winter's first rap act, playing with Green on the Cover My Meds stage. Three years and the addition of many hip-hop acts later, the trailblazers commanded the bigger Stage Under The Bridge with ease.
Read More: Jam out to these 5 Brite Winter bands — even if you missed their Saturday night sets.