Tinnerman Lofts on Fulton Road is embedded in the neighborhood. Different art installations weave between the halls and common areas of the building, and the apartments hug in close with the rest of the surrounding homes. That was the goal for Dalad Group, a Cleveland-based real estate developer. When construction began in 2019, the goal was to create a place for residents to live, play and stay for a while. And there's plenty of reasons to do it.

"These neighborhoods are so unique, and they have so much character," says vice president of development and construction Andrew Iarussi. "Anytime you're coming in, as a developer, I think you really have a responsibility to be sensitive to that. I think people appreciate it more if you're open to their ideas, meet with the community and block clubs to talk about the project and take in their considerations as well."

One way they've communicated the feeling of communal living and the creative synergy, was through art. With more than 50 different local art installations, sculptures, prints, photography and more throughout the building, the pieces not only serve as a practical use but also a thematic one. "I think it's really about trying to create a feel that's unique," says Iarussi. "And I think you see a lot of common areas that have clearly had some investment in them but they're not maybe as welcoming, fun, playful or as welcoming for people."
The building, which is now at around 50% capacity, is continuing to grow as well, with current construction ongoing for an outdoor space which will include a bocce ball court, grilling area, plenty of shaded seating, a restored brick building soon to be a restaurant and an overall close proximity to the community. "It brings good energy," says Iarussi. Here are five things to know about Tinnerman Lofts.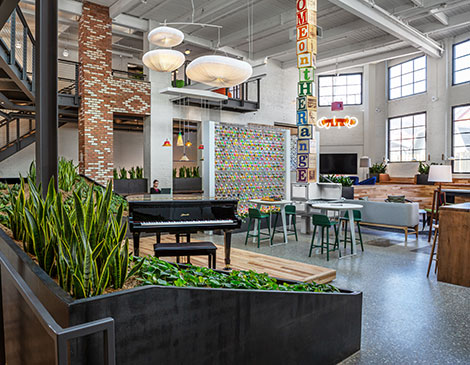 Front and A Center
The piece titled Home on The Range: Homage to Brewster Higley by artists Dana Depew and Michael Loderstedt is a nod to the building's past life, when it was the Tinnerman Steel Range Company. The large sculpture of blocks vertically read "Home On The Range" down from the ceiling and on top of an original Tinnerman stove. "We just thought it was really punny that it's now a new home, so 'home on the range' just really has that sort of double meaning," says art curator Liz Maugans. "They created this really playful and beautiful structure and centerpiece that's really fun. I think it speaks to themes of entertaining and this being a multi-use space."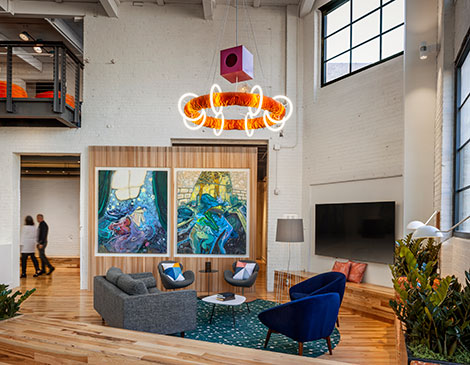 Mix and Match
Along with the many hanging art pieces throughout the hallways and foyer, the various communal areas feature unique furniture and decor that serve both as a comfortable gathering area, as well as a statement of its own. Pieces such as a vibrant, orange colored overhead light by Ed Raffel not only create an abundance of light but pairs elegantly with the green, gray and blue chairs and Dana Oldfather's oil, acrylic and spray-painted linen paintings. On the other end of the lobby, a fully functioning wood and varnish cuckoo clock sculpture by Michael Loderstedt, hangs on the wall, which was inspired by native cuckoo birds of the area, as well as the surrounding architecture. "Just having artists as storytellers of place, and of time, there's a lot of poignancy to how we move ahead from this point," says Liz Maugans. "To have something that is colorful and joyful, and that celebrates other species, specific to this area. I think that is sort of captured."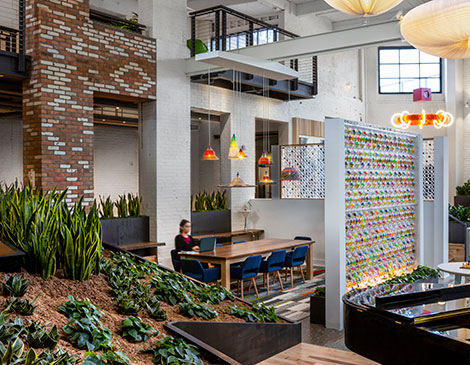 Study Hall
There are many ways to break up an open-concept space. But the element that creates a private, yet inspiring area for studying or working from home for tenants is made possible by artist Ed Raffel, who created a partially see-through screen made with multi-colored wine glasses, resin and pingpong balls. Paired with lush velvet chairs and multiple overhead lights by Raffel, this space was meant to add an extra flair to the communal area. "It's very lofty, so we wanted to create a kind of a place that was somewhat unique, separate and communal and with a table that people can work at," says Iarussi. "But we didn't want to have it feel like this little confined tight space. So the idea was that we can have screens that go up to a certain point, and make it something that has some visual connection to what's going on around you, so you're not just boxed in."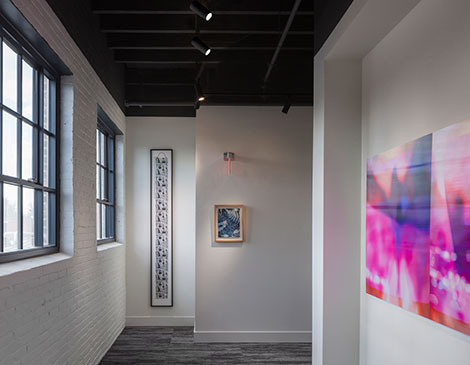 Gallery Walls
Whether you just moved in or are visiting a friend, getting lost in the hallways and lobby area is easy due to the abundance of art at every corner. Whether it's photography pieces such as Daniel Levin's Covid Day 68 or an acrylic and pastel piece by Douglas Max Utter, each part of the wall causes you to stop and stare. "We designed the lighting within the halls with an intention of being able to put art on the walls, and to focus lighting on them in the appropriate way," says Iarussi. Plus, don't miss the Ed Raffel piece, Peek Hole, which is a built-in art installation on the first floor where viewers can literally peek into the wall and see a dancing diorama of a disco party.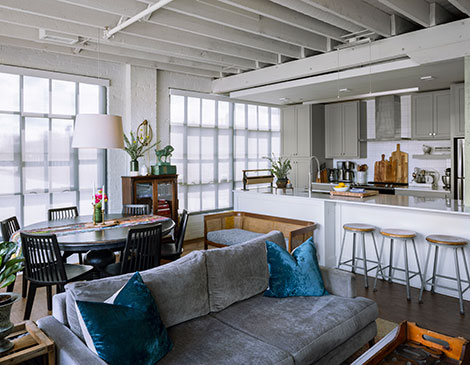 Home Sweet Home
Each of the 52 units boast tall ceilings, large kitchen islands, and industrial-wide windows to let plenty of natural light in. While each space is customizable to each future tenant, there is a touch of local flair in each bathroom with a wooden midcentury style vanity made by local furniture maker, Lane 17 Design Co. "It's really great to have everything that's really primarily sort of centered in this region," says Maugans. Whether you're in a one-bedroom, two-bedroom or even a spacious two-story loft unit, each living space overlooks neighbors from Ohio City and Clark-Fulton as well as surrounding trees and neighborhoods for a truly communal feel.