Shelley and John Pippin stand at Detroit Avenue and West 65th Street jiggling a gold lock on a deep emerald green metal door. Next to them a white sign in the window announces, "Brewnuts — Fresh Donuts and Beer Coming Soon."
The couple fights through their early-morning drowsiness with half smiles — a small sign of their excitement and dedication — as they hurry inside the 1,700-square-foot Gordon Square space on this gloomy, cold December day.
They are greeted with concrete floors and piles of bricks from demolished walls. It will soon be home to a bakery and bar hybrid filled with the guiltiest of pleasures: doughnuts, beer, coffee and doughnut-crusted chicken wings.
"This is as raw as we've been able to see it," says Shelley. "It's really exciting."
As they walk around the building that was formerly a bank, they mentally check off tasks their contracting crew had been working on, such as installing new plumbing and knocking down the rest of the old framing.
"I was helping them get all the demo out," says John as he points to the left wall of the soon-to-be bar area.
While the two signed a lease for the spot in November 2015, their doughnut dreams started more than three years ago in their Warehouse District apartment.
In their early 30s with established careers in accounting and corporate consulting, they wanted to do something more creative with their time. "We were both burnt out and always complaining about our jobs," says Shelley.
After a trip to the West Side Market, the couple felt inspired to think up something that they could make their own. It was then that Shelley had the idea to pair beer and doughnuts.
"I thought, Cleveland has got this whole beer movement that's booming right now and a food renaissance," she explains. "I always describe it as the love child of all of our favorite guilty pleasures with a Cleveland spin on it."
After buying a countertop fryer, doughnut pans and ingredients, the two attempted to make their first doughnut — a yeast version topped with a glaze made from Great Lakes Brewing Co.'s Dortmunder Gold.
The couple tried it and was pleasantly surprised with the outcome.
"There was never a huge fail or moment of disaster," says Shelley. "It was more of if it was unique [or] was the consistency right."
Within six months, they moved out of their own kitchen and into Cleveland Culinary Launch & Kitchen where they've since experimented with more than 200 doughnut flavors made with hints of craft beer. They've created an orange blossom glaze with pistachios from Platform Beer Co.'s Orange Blossom Gose and a maple caramel apple doughnut using Griffin Cider House's hard cider.
"I don't even think you would say, 'Oh I can taste [the beer],' as much as like, 'Yeah I can tell this is what inspired it,' " explains
Shelley.
"It's the characteristics of that specific beer," adds John. "It's an ingredient."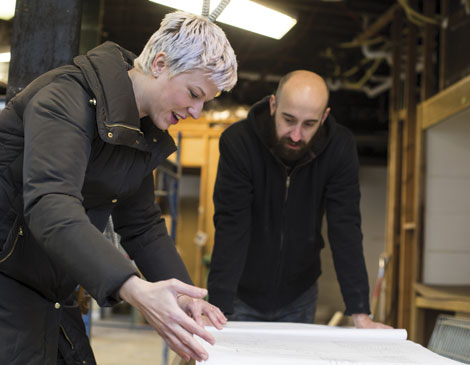 In 2013, Shelley joined Bad Girl Ventures, a nine-week program that helps women find success in launching local businesses. She learned about how to manage finances and to create successful business pitches. Soon after, the couple won a Tremont West Development Corp. small business incubator competition after Shelley stumbled upon the program in a local newsletter. The prize was a year lease of a Tremont storefront.
"It was a huge opportunity for us," says Shelley. "It was an understanding on our part, because we saw the demand was there and that we needed to find a way to capture it and then scale up."
While things were moving in the right direction, it wasn't until the couple got a call from Great Lakes Brewing Co. in fall 2013 to work together that they knew the business would really stick.
"I felt very excited and humbled that they would know who we were and want to work with us," says Shelley. "It felt like an Aha! We made it kind of moment."
Now without a brick-and-mortar space, Brewnuts has been able to keep Clevelanders craving their creations. In addition to catering every Cleveland Cavaliers' home game, monthly appearances at the Cleveland Flea and stocking their doughnuts at Phoenix Coffee, Rising Star Coffee Roasters and the Flying Fig, they've made lasting relationships with other breweries such as Platform Beer Co. and Fat Head's Brewery.
The company's popularity has given rise to a lot of early, yet rewarding, mornings for the couple. They head to the Cleveland Culinary Launch & Kitchen around 4 or 5 a.m. three times a week to crank out about 10-15 dozen doughnuts from their current menu. They teeter between a dozen rotating flavors with about four mainstays such as the maple bacon bourbon ale made with Elevator Brewing Co.'s Angry Goat Nut Brown Ale and the double chocolate made from Hoppin' Frog Brewery's Boris the Crusher Oatmeal-Imperial stout.
Whenever something piques their interest, they experiment in their home kitchen. The burgeoning local beer scene also helps — the couple just taps into what brewers are doing here.
"It happens organically," says Shelley. "I remember being in Rozi's in Lakewood and they had a rum-aged beer. I was instantly like, Let's do something with eggnog."
A recent muse has been Platform Beer Co.'s Yammy Yammy sweet potato ale.
"I really want to do a sweet potato doughnut with a brown butter glaze and a torched marshmallow drizzle," says Shelley. "You see pumpkin ales and ciders and stuff for fall, but this was a unique spin they were putting on a seasonal. It gave me the opportunity to do something more original and be creative."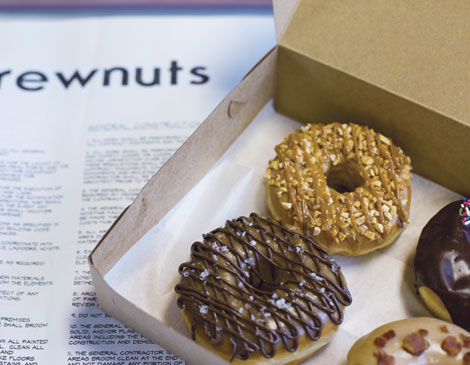 But first they're focused on the electrical and framing for the new space, then picking out finishes and figuring out the operation side.
"We've never done a project of this size," says Shelley.
A grand opening is in the works for late February or early March. When complete, the space will have a long bar with side communal seating along the large windows. An old-school jukebox will play tunes and a vintage bowling game will offer continuous entertainment. People can come in the morning for a cup of Phoenix coffee or at night for a pint of beer — always with a doughnut, of course.
"We'll have a TV on the wall so people can watch morning cartoons and sporting events," Shelley says. "It will really be a hangout spot."

Points of Interest
Wake-up call: At first, adjusting to being bakers had John and Shelley's natural clocks out of whack. "You're never ready for it. We are getting up at 4 or 5 a.m. every day to produce the doughnuts," explains John. "But then we're doing work up until 10 p.m. like marketing or getting events set up. We never go to sleep when we should."
Dearly beloved: The two had their hands full catering about 40 weddings in 2015 — while they were planning their own nuptials. "We were basically booked every Saturday of wedding season. It was a wild time," Shelley says. "I think us getting married was the easiest part of 2015," laughs John.
Free range: Surprisingly, the couple doesn't really eat doughnuts. On mornings when they're not in the kitchen, they enjoy a heartier breakfast at Lucky's Cafe. "We're both such meat-and-potatoes kind of people," says Shelley.