East Fourth Street beckons Clevelanders with its eclectic mix of entertainment and food options in a setting reminiscent of Brooklyn's Short Vincent. With the concert halls, the comedy clubs and the food, this sliver of the city is iconic Cleveland.
Every scene from East Fourth Street looks like a celebration of life itself, but a party is truly in order this month to honor 20 years of entertainment at Pickwick and Frolic, one establishment that helped lay the foundation for the East Fourth climate.

All September, comics, drag queens and murder mysteries will take the stage to celebrate 20 years of entertainment in Cleveland.

The man behind it all? Nick Kostis. He made a 28,000 square foot haven for entertainment in Downtown Cleveland that is larger than life, even with its unassuming exterior.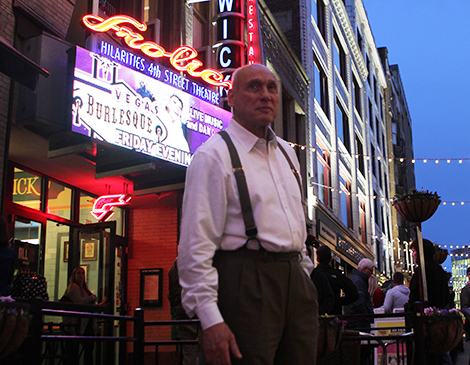 "It's a little Alice in Wonderland-ish in the sense that you come in through an entryway on East Fourth, which is set tight and intimate, and as you journey through, it starts unfolding into our grand gathering space," says Kostis.

Inspired by local lore and Charles Dickens literature, Pickwick and Frolic came to be on East Fourth Street in 2002, bringing the preexisting Hilarities theater – opened in 1985 – with it, and an ambition from Kostis to make it a one stop shop for an evening out on the town.
"It's Pickwick and Frolic; Pickwick being the restaurant and Frolic is what you do here, as evidenced by the Frolic Cabaret Room, where we perform our own stage shows," says Kostis.

People have frolicked their way through the venue for two decades now, enjoying the restaurant upstairs before dispersing to other forms of entertainment whether it's comedy at Hilarities accompanied by a drink at the champagne bar, or a stop at the martini bar before sitting down for a drag show at Frolic cabaret.

From a warehouse comedy club to a staple venue on one of Cleveland's most prominent streets, Kostis has made strides from his Brooklyn, New York, roots to becoming the king of entertainment in his adopted hometown.

It only makes sense that a celebration for such an iconic location would be filled with entertainment and good times, and that is exactly what the stage is set for.

On the Hilarities side, enjoy comics such as Brad Wenzel, Josh Wolf and Ms. Pat. At Frolic cabaret, see Curtis Cook bring the house down with laughter and the Delusional Divas of Drag rock the stage with their glamour.

Entertainment in its various forms has been Kostis' mission for 20 years, and now it is time to celebrate this milestone with the neighbors and friends who show up to the club and help shape it into an icon of Cleveland.

"I love this town for its authenticity, its unpretentiousness and how deeply rooted the people are in its community," says Kostis. "There's a lot of great bones here and a lot to be proud of."