For Dale Schwartz, bowling has never gone out of style. His fondest memories of the sport harken back to when he was 2 years old, rolling a bowling ball down Pepper Lanes where Eton Chagrin Boulevard shopping center now stands.

When Schwartz got older, his parents would drop him off to meet friends at the lanes, where they'd spend hours knocking down pins.

"There's just something a little magical when those pins fly," says the 57-year-old Beachwood native. "Sharing that experience with others is a lot of fun."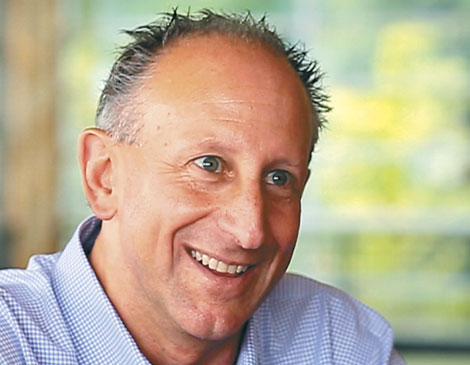 This month, about a mile from where they were made, Schwartz's cherished childhood memories come full circle as he opens his 10th location of Pinstripes, a national entertainment complex that marries an American bistro with bowling and bocce.

With locations in Chicago, Washington, D.C., and Bethesda, Maryland, Schwartz's concept is designed to simplify the often over-stimulating gaming-dining mashup experience by getting back to the basics.

"There's no shuffleboard, there's no video games, there's no laser tag," he says. "We just stay true to bowling and bocce, and we deliver that experience in a sophisticated manner."

The gaming space fits among the suburban streetscape of Orange Village's Pinecrest development. With 87 high-end apartments, a 145-room hotel, a Whole Foods Market, a 10-screen Silverspot Cinemas and still-to-be-filled retail and office space on 58 acres, the 400,000-square-foot mixed-use complex is a prime location for his first spot in Ohio.

"There's an element of going back to the future," he says. "Our venues just kind of re-create those tremendous connections that we've always enjoyed with friends and families."

The two-story building has 14 bowling lanes on the first floor and nine indoor and outdoor bocce courts on the first and second floors. The bistro holds an exposed pizza oven, open-concept bar and enough banquet space to host parties for up to 300 people. First- and second-floor patios with wood-burning fire pits help top off the experience's relaxed atmosphere.

"At all of our locations, there's always an element of an oasis to our settings," says Schwartz.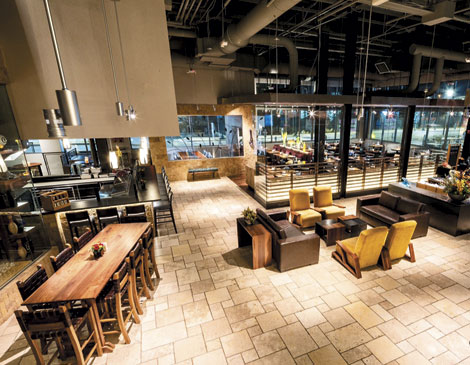 Although Schwartz plans to open four or five locations across the country each year over the next 20 years, this long-awaited homecoming is the pinnacle of his success.

"It's good to be coming home," he says. "The real, true human-to-human connection is what we're really all for."