Jim Miketo realizes shuffleboard gets a bad rap. As the owner of Forest City Shuffleboard in Ohio City, he hears it all the time: "I played this with my grandparents."
Yet in a pegged pants and funky facial hair kind of way, the official sport of retirement communities and beachfront resorts is embarking on a retro-cool revival. "This is a toast to peeling it back a little bit," Miketo says. "I think the younger generations are more open to trying new things."
Miketo, who also owns the Erie Social Shuffleboard Club & Bar in Marblehead, opened the massive space on Lorain Avenue in May. It houses two outdoor and five indoor courts, two tabletop versions to play while you wait, a kitchen featuring a monthly pop-up chef — look for Nawlins City Express this month — and a bar with 20 beers on draft.
"We try to make it an interactive experience," he says. "You're not just at a bar. You're not just at a bowling alley. It's a mix of the two."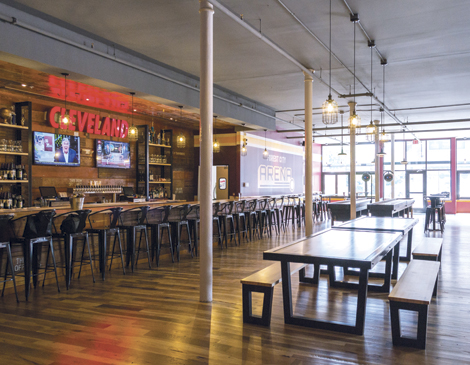 Game On
Shuffleboard feels like bowling, but requires half the talent as each player or team of two attempts to reach 75 points. "If you woke up and brushed your own teeth today, you can probably play shuffleboard," says Miketo. Although the technique is easy, these tips should help you become a shuffleboard hero.


Find your groove: Like bowling, the approach should be relaxed but purposeful. Take small, comfortable steps without overextending. "If you're tense, you're going to push it one way or another, like a pool shot," he says. "You want to try to get into a rhythm."

Put the tang in the biscuit: The paddle-ended stick, known as the tang, is used to guide the disc, called a biscuit, down the narrow court. "Beginners will often hit the biscuit," he says. "Put the tang in the biscuit right from the starting position and push."


Think of your next shot: While the first one to 75 points wins, the game is surprisingly defensive. Experienced players protect biscuits in high scoring positions from getting knocked off the board by placing a second shot in front. "A block is as good as scoring," he says.


What to drink: Lunch Pail Bucket, $12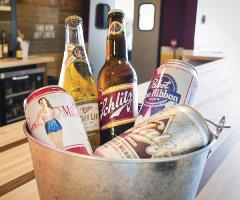 Forest City Shuffleboard's '70s gym class decor includes a restored scoreboard from Magnificat High School, but the Lunch Pail Bucket with five Blatz, Miller High Life, Old Milwaukee, Pabst Blue Ribbon or Schlitz is the real cherry on top. "It'll make you feel like a coal miner," Miketo says.