Colorful colonials, white picket fences and wraparound porches line the Hough neighborhood's Newton Avenue. The quaint road between East 101st Street and East 97th Street is one of Chris Ronayne's favorites, but something about streets like Newton, Logan Court, Woodward Avenue and Lamont Avenue bothers him.
"It's a very curious thing that our street infrastructure in an urban grid is chock-full of cul-de-sacs in the Hough neighborhood," says the president of University Circle Inc. "Something was designed by intent, which seemed to create an insular mobility pattern. It doesn't square with me."
To Hough residents, those dead-end streets — along with a steep, unruly landscape and a wall of back-of-the-house architecture along Martin Luther King Jr. Drive on Case Western Reserve University's southern campus — was a message: "Keep out." But a few dozen steps away, Ronayne sees the Nord Family Greenway as "a physical statement about our intentionality to connect."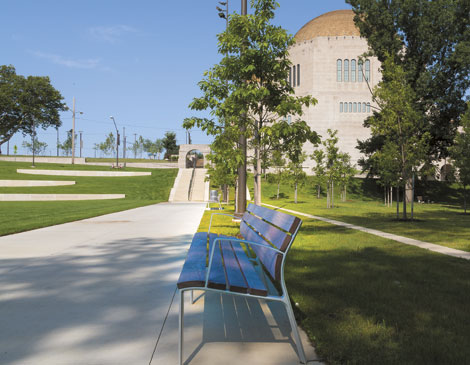 Completed in June, the 15-acre green space links CWRU's Tinkham Veale University Center and the reformed 1920s-era temple that now houses the Maltz Performing Arts Center. Running through the Cleveland Museum of Art's Fine Arts Garden, the 2,200-foot-long stretch of grass, trees, tiered walkways and picnic areas expands a traditionally north-south campus to the east and west. Designed by Sasaki, the $15 million landscape project is the result of collaboration between the university, the art museum, the Cleveland Foundation and principal donors Eric and Jane Nord.
But beyond a campus pathway and event space, the Greenway, which replaces that inward-facing design, is an overdue welcoming of the Hough neighborhood into University Circle's cultural mecca.
"Right now places feel a world away that are only five blocks away," says Ronayne. "It's on all of us if a kid within a mile of the Circle has never experienced a Circle institution."
Yet, truly embracing Hough means matching brick-and-mortar efforts with social infrastructure. As examples, Ronayne mentions UCI's Circle Scholars, an after-school program where seventh- and eighth-graders visit the museums and learn about local history from curators, or Future Connections, an eight-week course that teaches career skills to local high school seniors.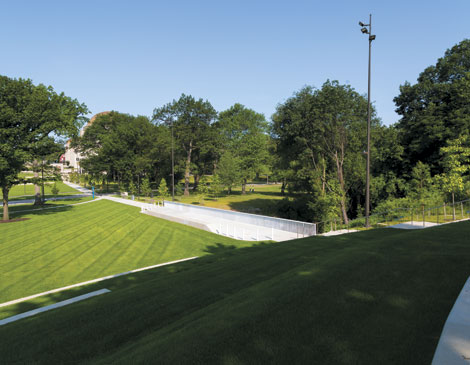 "We've got open jobs in the field of nursing and too few applicants," he says. "We'd be remiss if we're not locally teaching kids about the job opportunities of tomorrow."
Strolling past the Chinese Cultural Garden, which may soon welcome more ethnic monuments as neighbors, the former Cleveland planning director points back to the space between East 105th Street and those dead-end Hough streets.
Ronayne hopes the Greenway eventually reaches past Maltz to those streets. He also hopes to see the health care industry create hubs of economic innovation — things like the forthcoming Cleveland Clinic and CWRU dental clinic — in spaces like Mount Sinai.
"Now the next step is, 'OK, I can get there, but now give me a reason to go,' " Ronayne says. "Obviously culture is a reason, but how about a job?"